When he was a teenage apprentice in the weighing room, the 45 year old jockeys paraded with an air of authority.
To the wide-eyed youngster, they seemed like relics of a bygone era.
Then he rode his third Met winner in the year he turned 54 and the vintage perspective shifted.
On Friday the KZN Champion trainer celebrates his 70th birthday.
Crowned champion conditioner in the holiday province for the second consecutive season at Hollywoodbets Greyville on Monday, the Hollywoodbets-sponsored Garth Puller is a straightshooting professional – a man who has made a science of the extremely testing business of training racehorses.
The lifetime teetotaler, who says that he can still do handstands and push-ups and the like, is something of a health and fitness fanatic, who has always prided himself on living a life of physical fitness.
Garth only retired from the saddle at the of 54, and his last ever ride on 27 December 2005 was a winner – so he was hardly a battling 'old toppie' jock with aches and pains, who puffed and gasped to finish off his races.
His first runner as a trainer was a winner – that was back in the relative glory days of Clairwood in 2012.
"I am not sure what 70 years old is meant to feel like, but I can say that I am fortunate to be in excellent health. I am on my way to stables before 03h00 every day and don't get home before 19h00. That also means that I don't have time to run and exercise like I used to. So if anything, I feel a touch overweight and I could be fitter!"
Garth, who was accompanied by his partner Wendy Heyns to the KZN awards racemeeting, said that he was pleased and very proud to have clinched the champion trainer title for the second year running.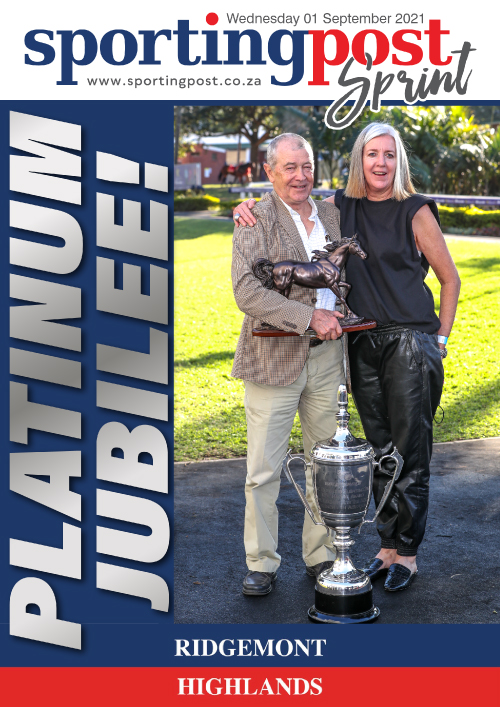 But the harsh reality is that in terms of pure numbers, he is probably the biggest owner in the province.
He observes that nobody quite realises the lot of trainers in keeping the wheels of racing turning.
"Believe me, it's tough! Mathematically, I own over 40 horses in my own yard. My accountant keeps reminding me. But it's a reality of the tough times in which we live. Years ago we could spec at the sales and put a horse together with a few owners. Now I buy, take it on risk and prep the horse towards racing. Then I can assess the progress and say with confidence to interested parties that the horse is showing promise. Then folk are more willing to get involved."
He says that he often reads on the forums about various sectors of the sport claiming strategic importance.
"The whole is greater than the sum of the parts in racing. The game can't survive, in no particular order, without grooms, without jockeys, without owners, without trainers, without punters, without breeders, without horses. Every sector plays a strategic role – we could throw the big sponsors in too."
Despite the uphill battle, Garth concedes that if he wasn't training and enjoying the horses as he always has, that he would be a 'much older' 70 year old come Friday.
"I am really fortunate to enjoy the support of a dedicated team of hardworking staff, vets, a top farrier and some loyal owners, as well as a top sponsor in Hollywoodbets. I have always been competitive and love these beautiful animals."
Garth's success is founded in his ability to keep his horses sound and placing them well. It doesn't come from feature race strikes.
That said, he'd  really like to train a few more top horses.
Watch the Wednesday replay here:
"The 4yo Captain Fontane is the kind of horse that could go on to greater things. He is a classy and really smart sort. He won well at Hollywoodbets Greyville on Wednesday. He is unbeaten in 4 starts and this looks likely to be his last start here as David Ferraris wants him in Hong Kong. I would have enjoyed sending him to the Cape for the summer but have no doubt he will be very competitive in Hong Kong."
About the awards afternoon, the veteran said that he was particularly pleased for the Reynolds family and for Harold Crawford and his daughter Michelle Rix, on their big victory in the Vodacom Durban July with Kommetdieding.
"Harold is one of the best around. One can't buy experience and knowledge. I am really very happy for my old friend and colleague."
He is also happy to have seen his sponsors being acknowledged for the massive role they play.
Anthony Delpech accepted the award for the Hollywood Syndicate as Champion Owner.
The former multiple champion jockey said that he was proud of the results after their big season and was looking to up the standard further.
"It's wonderful being a part of a professional winning team and thanks to Owen Heffer who puts his money down for the benefit of racing," added Delpech.
Garth is looking forward to two weeks off – he and Wendy leave for Botswana on 8 September.
His long-time assistant and equine dentist Michael Clarke, will be managing the Puller yard.
"Michael knows what he is doing, so I can go away and know that things are running like clockwork. The holiday is a chance of a lifetime and we managed to get it at a vastly discounted rate. We are going with two couples and will be based near the Okavango Delta. We are living in tents and it's back to basics. No phones or wifi connections. No TV. No running water. No fences. Just plenty of wildlife on land and crocs and hippo in the rivers. I can't wait!"
‹ Previous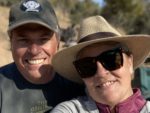 The Arundels – Just Loving Racing