A healthily nervous knot in the stomach and maybe slightly less talkative than he usually is.
That's how five times SA champion trainer Geoff Woodruff describes his likely state of being on his arrival at Turffontein on Saturday where he stands on the cusp of becoming the first man in South African horseracing history to saddle five consecutive winners of a major race.
The man they call 'The Guv', a 61 year old father of three with over 70 Gr1 winners on his office honours board, a Southampton supporter and son-in-law to legend Terrance Millard, says that while not trying to sound smug, the pressure of rewriting the history books is not going to change the way he will be doing anything.
"All the the fuss and acknowledgement is a real honour. But it has taken a massive team effort, loyal owners and top horses to get us to this point. And nothing much changes on Saturday. We have a busy card of runners and three very competitive horses in the Summer Cup. We will be going all out as we do at every racemeeting," he added, saying that every year statistics suggested that it was tougher to maintain the streak.
"I am not much of a statistics student, but would guess that history is a bit against us. But my trio are peaking at the right time and now we are looking for a bit of luck in running and hoping that the racing gods are on our side on the day."
Modest words, given the extraordinary Woodruff dominance in recent years of the Gauteng flagship.
The Guv has won the race six times, with Robbie Hill riding his first winner on the gutsy Argentinian-bred El Picha in 1999. Piere Strydom, who partners Master Switch for him on Saturday, won on the Jaffee's Eventuail in 2002 – as well as the top-class Louis The King in 2014.
The Woodruff Summer storm started gathering momentum in 2013 when he saddled four of the first five past the post. The yard went first and second in 2014 and 2015, including surviving a stablemate objection, and then celebrated first and third last year.
Our sketchy turf history books show that we have to go back over a century to find Fred Murray, who was the first to achieve four-in-a-row in a major when he trained the winner of the Durban July every year from 1910 to 1913.
While the prestigious race is not classed as a major, the now retired Mike Bass trained Pocket Power to win the Queen's Plate four times in succession from 2007 to 2010. The Queen's Plate is South Africa's premier WFA mile.
We asked Geoff to define the kind of horse needed to win the Summer Cup.
"He needs to stay every inch of the 2000m – and even a little more! One doesn't get away with a miler in a race like this. It's a big field and the pace is on from the break, so it's a serious test.  Fitness and having a handy weight helps a lot too. El Picha and Louis The King were class horses and they could carry the pudding. And of course, as in every horse race, a bit of luck in running always helps!"
He adds that his trio this year rank on a par in terms of the quality of his recent winners.
The master Piere Strydom rides the 2016 Summer Cup third placer Master Switch .
"I liked the way he finished his race in the Victory Moon Stakes.  He has drawn wide but Piere is the master of overcoming that and the right man for the job."
The former Glen Kotzen Cape-based stayer Banner Hill ran a cracking prep over a mile last month.
"He ran a short head behind Abashiri and while I realise that the Azzie star was not race ready, Banner Hill does meet him on better weight terms. He put up some super work last week. Grant van Niekerk rode the Charity Mile winner and won the Lanzerac Ready To Run Stakes on Saturday. So he is a young man in good form!"
He says that Pagoda looks a decent runner off his light weight.
"He just doesn't travel in his races so there is some pressure on JP van der Merwe to get him into the right position. He not a horse who sets the tracks alight at home but he worked with Banner Hill and showed some nice enthusiasm,"' he said, confirming that there was little to choose between his three-pronged bid for a record.
Despite all the expectation and pressure, Geoff is adamant that the Summer Cup raceday is like any other – 'just a very busy and competitive one', he adds.
"Being based in Gauteng, one can get a bit overwhelmed by trying to remain competitive in three different provinces and the often overlapping seasons. It's tough on the horses. It's tough on the staff but naturally if we feel we have the horsepower, then we will take in the big races."
When taxed on the R1 million incentive offered by Phumelela for a Summer Cup – Sun Met double, he said that this was not really part of any planning.
"As I said, it is tough on the horses who are aimed specifically at the Summer Cup. And with the Met now a genuine pure weight-for-age affair, the chances of getting a nice handicapper to achieve this double seems an even longer shot.  But any bonus initiative is welcomed. One can never say never in this game!"
Geoff flew to Cape Town on Friday to watch his Met horse Deo Juvente in a grass gallop.
"I went down for the Ready To Run Sale and we galloped Deo Juvente. He is a class horse and the Met is his target," he confirmed.
We pointed out the succession planning already evident in the De Kock and Azzie yards, with sons Matthew and Adam respectively  taking on more responsibility. Was that in the Woodruff plans, too?
"Hey, I'm only 61! But yes I am very fortunate to be in a similar position as the two Mikes. Tim and Lulu have proven themselves to have the ambition and the passion for the game to succeed. They are under no false illusions as regards what it takes. Most people only really see us in suits in front of the camera. It's not quite as glamorous as it may look a lot of the time," he laughed.
Geoff proudly says that he is looking to hand over the reins of this highly successful family business to his children and adds with a smile that he would ideally like to step down when the time is right, rather than 'die in my boots at work!'
"Tim is 29 and he is my assistant up here. He decided at 18 that he was going to make a career of the game. That's a brave call and he has grown in stature to become an integral part of the team. Lucinda, or Lulu as we call her, has always been into the horses. She is 23 and runs my Milnerton satellite base. She finished sixth on the Cape log last term. A great result from limited opportunity! Then there is Jessica who has a real job – outside of the game. She is a journalist and is doing well for herself.  Carol and I are truly proud of them all and as a family we love the horses and the game."
So are they all set for Saturday?
"Just having gotten this far is an achievement in our book. Win, lose or draw, it will be a great day of racing. The hard work has already been done.  Let's hope that the horses peak on the day!"
‹ Previous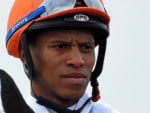 Louis Mxothwa