Former Bellville resident Andre van Schaik is as opinionated about horseracing as his deep love for the game.
He relishes a good punt and enjoys to take on the Bookies. There can't be too many East Cape racing owners who are resident in the artistically endowed capital city of the Netherlands either.
A refreshingly outspoken yet low-profile man of racing, Andre van Schaik calls it as he sees it. Some may even know him as 'two lips from Amsterdam'!
We started by asking him to nominate a pet irritation. He didn't hesitate!
"Punters who can't take their losses on the chin, and who send trainers and presenters nasty whatsapps and sms'es, threatening them. If you bet on horses, you have to understand it is a gamble. Nothing in life, beyond death and taxes, is a certainty. You must only play with money you are prepared to lose, otherwise don't bet on horses. That's my simple advice."
He says that a day without a good punt 'is a losing day…'
PE veteran Jacques Strydom trains for Andre and the Money Talks Syndicate. Jacques says that the best thing about the man from Amsterdam is that he is not only a good owner – he is an understanding owner.
"There is nothing worse than making excuses to an owner after a race when things have genuinely gone awry. But Andre has been there and done it. He can read a race –so when they are  boxed in, run wide or are left at the start, there is no need to make excuses. We chat every day, so we have become friends through a love of the game. And he has been a bit of a dealmaker and lifechanger for my yard too," adds Jacques.
He says that the business mechanics for a trainer – like he used to be – who was able to own many of his horses have changed in recent times.
"Let's face it – the stakes situation and Covid has changed the world as we knew it. Francois Jacobs introduced us and Andre went from being involved in one or two horses, to ten, then fifteen, and now he is over thirty strong with me. We need another 25 Andre van Schaiks here in the Eastern Cape and we'd be strong," laughed former SA champion Piere Stydom's younger brother.
We created the 'two lips from Amsterdam' moniker after chatting to the 39 year old. But he tells us that his mates know him as 'Hollander' or 'The Mad Dutchman'. Andre is naturally gregarious and talks without hesitation. Not a  common trait of many of our interview subjects!
Asked to sketch a brief background of his origins, he tells that he was born on Boxing Day 1980. That was a year after his Northern Suburbs hometown of Bellville was proclaimed a city.
"The good old days! I attended Belpark Primary School and then went on to Bellville High School. But the school thing wasn't really for me. I never even passed Standard 8 – or Grade 10, as you guys know it today. I moved to Amsterdam in 1999. My Dad was Dutch. My Mom and Sister still live in Bellville. I enjoy going back and seeing how the urban sprawl has created endless development and traffic. But that's progress in many parts of the globe," he adds seriously.
His straightforward streak comes to the fore when we ask him about his marital status.
"Not married and not looking for problems," he laughs.
Andre is one of those few guys who can call himself a professional punter, beyond his cryptocurrency trading and 'some other streams' of trading income.
"I love to give the Bookies a hiding. And trust me they know me very well. That's one of my sources of income as well. I love a challenge. It keeps me on my toes!"
He says that he owns horses, because he loves the sport and it is 'good fun' for him.
"I love to have a gamble on my horses," he says with confidence as he recalls his first winner
"I remember it like yesterday. It was 15 December 2004. A horse called Dual Honour, ridden by Francois Naude for Corne Spies at Hollywoodbets Scottsville. I started off with Corne and we are still very good friends and, like Jacques, we have daily contact. Corne is blessed with an incredibly good eye for a horse, and can buy a good horse for a decent price. He was here in Amsterdam in 2007. A good man!"
But as much as he is fond of his trainers, the NHRA fees and costs get Andre's goat.
"I find it a disgrace that one has to pay R4120 to get a name registered and become a colour holder, and then you also have to pay annual renewal costs of R1580 – every twelve months. Then you don't even have your silks made up yet – that's around R1200 and then don't forget a change of ownership – R930. And throw in the Authority To Act which will set you back R860. So it will cost a new owner roughly R7110 to get started!"
He feels that these fees are unnecessarily high.
"Surely the NHRA can have a look at the prices they are charging owners? I decided to take over the syndication with Jacques and I can register new owners for a small fee. We have a lot of small shares available for the small or new owner at a good price. Anybody who is interested can contact us via the Jacques Strydom Racing Facebook page. I hope you don't mind giving my top trainer from the bay some free air-time!"
Andre is involved with 43 horses in total at the moment.
We all love PE racing – but why would a big owner from Europe actually be interested in this minor centre?
"Most of my horses are in PE. I also have some in the Cape and KZN. Because of my good relationship with Francois Jacobs, Lucas Bester and Jacques, I decided that we would work as a team together and I introduced a lot of new horses into the Strydom yard. They are doing an awesome job and all I can advise your readers is – watch out for the stable in the coming months!"
He enjoys Jacques Strydom's business style and says they 'understand each other 100%'.
"I'm very happy with the service and feedback that I receive. Every morning he calls me – every day he sends me videos of how they work. I really couldn't ask for a better relationship and communication!"
Andre says that he also has a good couple of horses at Milnerton.
"We have some smart horses that should step out in a couple of months. The fun of the Dare2dream Racing Stables is that it feels like we are all family and everyone is happy. We also have a lot of small shares available. If anybody is interested in joining us with a small share they can contact Nicole via the Dare2dream Facebook page. It's great fun to all race as a family together."
We asked him for a few ideas to turn racing around.
"That's a very sensitive subject. As I said earlier, I feel the NHRA should have a look at the cost structure for owners. The small/new owner can't pay these exhorbitant entrance and ongoing costs. Often the new/small owner decides to rather not join the game when they hear about these fees. And what about Tellytrack offering a service to owners abroad? The rand makes South Africa a relatively affordable place to race for an overseas owner. They don't seem to be attracting too many locally, so sell the local product properly abroad – starting with Tellytrack!"
And what about his fancies for the WSB Gauteng Summer Cup next Saturday?
"I'm not a tipster but I am hoping for the Slack family that Summer Pudding will remain unbeaten. The daughter of Silvano has the wow factor and is good for racing. But she has never raced against older males, and there is no real value for me at her current price. So I'll look further afield and I'll decide between the Tarry pair of  defending champion Zillzaal and Cornish Pomodoro, with Charles and Pack Leader in that order."
‹ Previous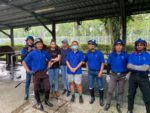 A Saffer In Singapore!