An institution in Cape racing for longer than most of us care to remember, the 70 year old Greg 'Genuine' Ennion travels up the Garden Route on Thursday to raid the East Cape Derby at Fairview on Saturday with his good staying 3yo, Cedar Man.
An 'old beebopper', in his own words, the energetic septuagenarian speaks enthusiastically about his plans for the Hemel 'n Aarde Stud-bred Pomodoro 3yo, who, like his greying boss, has been a model of consistency over testing trips.
"He's a lovely horse and was a touch unlucky to run second at his last two starts. He was a little green and hesitated late in the running. He ran second in the Kenilworth Cup and was fourth behind Snaith's older hardknocker Magnificent Seven in the Western Cape Stayers. I rate him and in the staying ranks one always has a shout. I think he and Brett Crawford's St Vladimir are the pair to beat. And the Cape raiders have historically done well in this race."
And the first time on the right-handed track?
"That doesn't worry me. We work right-handed on the cinders here at Milnerton anyway. By the way, he worked like a jet on Monday. Very encouraging!"
Asked about his plans for Cedar Man, Greg says that he is looking ahead to the R1,25 million Gold Cup at Greyville on 27 July.
His previous Gold Cup runner was the top-class Sangria Girl who ran fifth in the staying spectacle behind Ancestral Fore in 2010 after almost severing a tendon.
"Look, if I wasn't intending going on to Durban on Monday with him, I probably wouldn't have raided the Fairview feature. I take my hat off to the likes of the Snaiths and Kotzens and the other guys who do it with regularity. It costs a lot of money – about R20 000 –  entails 14 days in quarantine, then there are bloods that have to be taken and the horse is out of work. Maybe  I'm getting grumpy, but that is a lot of rigmarole!" he laughs.
Cedar Man is likely to have a prep start at Greyville in the Gold Vase – the same route taken by It's My Turn last season. He may also ship the stakes placed CTS 1200 runner-up Elusive Trader up to KZN.
Greg's smart Master Plan won the Champions Cup in 2012 – watch the clip below:
The conversation turns to the inevitable state of racing.
"It's the worst I have ever experienced things. We are in dire straits here in the Cape. There are probably 400 boxes standing vacant just here at Milnerton. I blame the programmers as a  start. We have been talking for years. Nobody listens. We need lower-rated MR Handicaps here. The empty boxes used to be occupied by those mediocre horses who have emigrated to PE, Durban and Joburg, where they are properly catered for. Even my good client Braam van Huyssteen is focussing his string in the Eastern Cape. Owners pay the bills – who can blame them?"
Greg, who is assisted by Roderick Fredericks – whom he labels a very accomplished workrider – says that his own string is down to 20 horses. While he has some nice young horses, he is still paying for his 20 vacant boxes.
"I have more smaller owners these days, although the likes of Marsh Shirtliff and Bryn Ressell have maintained their loyal support. I have some decent unraced horses. Hidden Strings ran in the Listed Perfect Promise on Sunday. She raced a bit freely up-front and burnt up unnecessary energy. She finished fifth. Don't write her off – she's a nice sort."
On the topical question of grooms and staff problems, Greg says he has never had any issues.
"I have had the same team with me for the past 25 years. They work hard and get the job done. I believe in sorting out issues when they arise – we communicate readily and I think we sometimes forget that respect is a two-way street. If you demand and expect it, then you should be prepared to give it."
With horses and music his passion, Greg, a talented rock 'n roll singer, still does gigs on invitation and says it's a great outlet for life's everyday frustrations and stresses. He also enjoys a bit of fishing on the side.
Always known as a top conditioner of a stayer, Greg was tagged 'Genuine' by the charismatic Marsh Shirtliff thirty years ago when he was the first trainer for the Motor Insurance tycoon.
Greg's grandfather, George Ennion was a trainer and a farrier in the early 1900's and his father started out as an apprentice jockey, but didn't go through with it.  Dad became the South African representative for Black & White Whiskey, which is where the famous Ennion silks originated.
Greg was a journalist for the first half of his professional life, working for a motoring magazine, and for SA Associated Newspapers.
The young journalist got involved in Cape Hunt racing. "Lionel Witkowsky taught me to ride short on a sack of oats with a pair of reins tied to a chaff cutter," he reminisces.
"I became the leading rider in the Cape Hunt.  In fact, the rest of the guys signed a petition against me for being too professional.  I used to get up at 4am and go and ride work for guys like Lionel Witkowsky, Johnny Cawcutt, Lesley Cawcutt, Terence D'Arcy, Baby Killa – all those guys.  I rode 6 winners on a card once," he recalls proudly.
After being banned from Cape Hunt racing he took out an owner-trainer's license which you could still do in those days, and that was his entrance ticket into racing.
His first horse was Galilee.
"I bought him for R500 as a one-time winner.  He was a full brother to Ocean City and I won 8 races over ground with him.  I had another good horse called Symbolize that I bought as a 5yo for R3 000.  He was by Brer Rabbit and had been campaigning over sprint distances.  I put him over 2000m and won 9 features with him.  He won the Ralph Price Handicap over 2000m at Milnerton and broke the course record.  He won the Syd Garrett and broke Occult's unbeaten streak when downing him in the Appeal Court Handicap.  He also ran 5th in the Met.  He was drawn wide and raced wide and was only 3 lengths off Wild West at the finish – it was only the draw that beat him.  His next start after the Met, he won the Milnerton Administrator's Trophy beating Shu Shine Boy and then went to Joburg for the Sun International.  Gary Alexander helped me and he dead-heated for 5th with Mauritzfontein.  Freddie Macaskill rode him for me that day."
His foundation patrons were the likes of Giuseppe Mercorio, Wouter Brink and Fred and Mariaane Ilze who owned Model School. 
She won the Gr1 Paddock Stakes and was Model Man's first Gr1 winner. Greg trained her 3-parts brother too – Dramdor.  He was a good stayer and I won 8 races with him, including the Gr3 Abe Bloomberg Handicap.
Greg is married to Nazley and lives on the West Coast.
"Naz worked for the turf club and used to do the cheques after races – that's how we met.  We've been together a long time and she's a wonderful person."
He's 70 – what about retirement?
"I'm still fit and going fairly strong. And retirement will only be an option when I can afford it. So I will probably be around for quite awhile yet!"
‹ Previous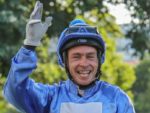 Ace Of Pace!