It's clearly going to take more than the current lockdown or a staff crisis to get leading owner Hedley McGrath to call it quits and desert the game he has loved since a child.
The Port Elizabeth-based businessman has held his famous gold and black silks, proudly raced by his famous Grandfather, for a quarter century – and he is looking forward to the next twenty-five years with enthusiasm.
Racing's in Hedley's blood.
His late Dad Frank McGrath was a stipendiary steward and his grandfather a jockey and trainer- the latter rode a July winner at the age of 12 – a record that still stands. He romped home aboard the heavily backed Collet, carrying a mere 40kg back in 1922.
As a trainer he triumphed in the Durban Gold Cup, saddling the winner Polybasite.
2020 will go down as something of a year of living dangerously for Hedley. He prefers to label the Dippin Blu unprotected strike and the lockdown as challenges that 'just make us better people and stronger in character'.
"Racing is not a game for sissies. Every day brings something new. It's a rollercoaster of thrills and disappointment. When dealing with flesh and blood – both the two legged and four legged variety – one can expect to be pleasantly surprised one day, and dreadfully disappointed the next. But, let's be honest – we love this game, we love our horses and we love the people that make it great. If it was like pressing buttons, it would be boring and we wouldn't be here everyday before the sun rises," he laughs.
In February, Hedley's partner, top East Cape trainer Yvette Bremner, endured an unprotected strike at her Dippin Blu Stables yard after a staffmember was dismissed for alleged cruelty to one of their horses.
Hedley is reluctant to talk about it.
"We are now on day 95 without our original staff. The challenges of the time forced us to adapt and do things differently. We have had some really remarkable folk working for us. They are now friends and family. It's sad the way it all evolved, but we have horses to care for and a business to run. We could not be dictated to by people with agendas that put these beautiful animals at risk."
Then the lockdown came.
Fairview's meeting of 27 March was abandoned. We haven't raced since.
Hedley is amazingly upbeat and positive, despite the powerful Dippin Blu string having undergone a rationalisation of some impact.
"We were determined not to euthanize our horses and have thankfully been fortunate as we are very attached to our faithful warriors. For example, we gave three juveniles to trainer Juan Nel this week. Our string has been trimmed from 120 horses at the start of 2020 to 66 today. Of those 66, it is both sobering and heartening at the same time, that 32 are 2yo's."
He explains that the sobering part is the fact that some are not ready to race, while it bodes positively for the future that Dippin Blu has a youthful foundation for the seasons ahead.
"But if our string has effectively halved, how are we going to field the 14-18 runners per meeting that we used to? And the other yards are in much the same boat. That is a real concern for field sizes,"  he adds thoughtfully.
Hedley says that despite the current uncertainty, as a team they have lots to be thankful for.
"Bad times bring out the true colours in us all. I just want to thank staunch loyal owners like Braam van Huyssteen – a superstar of a human being! Then Mark Wright, Bryn Ressell and the International Racing Club, amongst our band of real soldiers. I read horror stories in the press, but we have mostly only had open and transparent engagement with our patrons. We have been very fortunate!"
He was also at pains to commend the Fairview grounds team and Luciano 'China' Passerini.
"These guys have been working under stressful conditions. But the track and the facilities have never looked better. What a team that Phumelela fields right here and it's a privilege having them look after our centre," he adds.
On the way forward, Hedley says he was thrilled to hear that there was a commitment from the operator and the sponsor to run the Vodacom Durban July, but said he was worried about the sales.
"We want to start racing and we will get on the road soon. But the broader economic picture means that the buying power of the 'leisure rand' has been cut back dramatically. There is also so much negativity in the broader news landscape, that we will take time to bounce back and go out there with cheque books waving. I worry about the breeders," he adds with a frown.
As to the Dippin Blu big guns, Hedley immediately brightens up.
"Top-class National Park had a slight setback but he is well and doing good work. We had hoped to raid Joburg, but that is on the back-burner now. Our champion Legal Eagle is jumping out of his skin and behaving like a 2yo. What a character of a horse he is. We will keep him ticking over and see what opportunities arise down the line. Our fairer sex star Princess Rebel had no luck during the Cape Summer but she is burning up the work strip as she always does. Nobody can ever say we have let our ammunition rust," he laughs.
And while on the subject of champions, he asked that we give a special mention to Carl Hewitson and Rocky Agrella, as well  as their jockeys Wayne Agrella and Eldin Webber.
"The guys were with me this morning to offload 180 bags of shavings. Stable management is an exacting job. But it's rewarding,too. That's something I have learnt in the past five months!"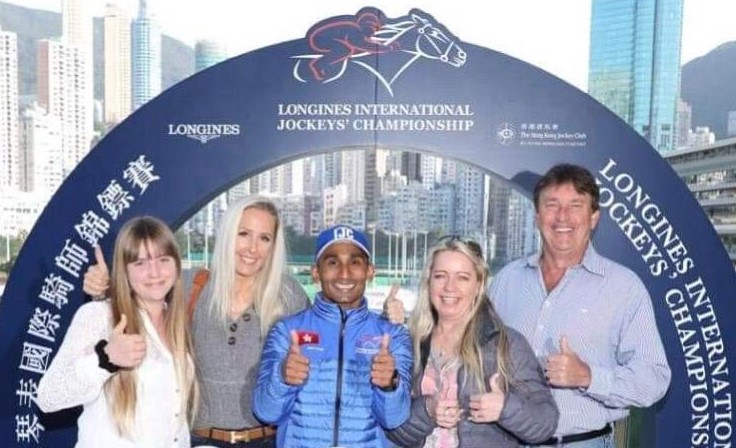 Hedley is just holding thumbs with the whole team that racing can get started and that we can regain the glory years – even if takes time.
"The real passionate racing people will never just fall by the wayside. I'd need to have a full blood transfusion to get out the game. Even though, as I said previously, it has tested my mind and pocket at times over the past 25 years, we that love it always come back for more. Let's leave the past in the past and focus on building a brighter future for everybody involved."
‹ Previous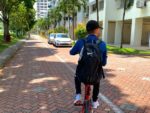 JP & Abbi – Circuits In Singapore