Tony Cruz was spotted moving around on foot not so long ago.
In the grave reality of the world's current state, seeing Hong Kong racing's original 'living legend' walking between his stable and the Sha Tin trainers' stand is light years removed from being the most unusual consequence but it is unusual nonetheless; Cruz without his bicycle at morning trackwork is just one miniscule sign in a million that the world is not as it should be.
Bicycles are everywhere at Sha Tin.
Several trainers, a few jockeys, and plenty of work riders, mafoos and security folk, zip around the site on two wheels and Cruz, aside from a brief spell a couple of seasons ago when he cruised on a motorised electric scooter, is always on his bike.
But the handler took to 'Shanks's pony' as a knock-on effect from the Hong Kong government's prudent and necessary shutdown of public leisure facilities in the time of Covid-19, including the city's golf courses. Cruz is a golf fanatic.
"He's very good, he's competitive and takes it very seriously," says champion jockey Zac Purton, himself a fair wielder of wood and iron. "He can do everything, he drives the ball well, he hits his irons well, he's a good putter, he's an all-round good player."
Without the twice a week – sometimes more – exercise derived from his 18-hole walks, Cruz, 63, and nowadays sporting a dark baseball cap emblazoned with a 'T C' logo, ditched the trackwork bike to get the suitable perambulation needed for his rheumatic joints.
But with FWD Champions Day half a week away, the bike is back as part of the daily routine that is nothing without Cruz's unwavering attention to detail.
He stops by the sand yard and watches half a dozen or so of his string move away down the tunnel towards the dirt track; and whereas a week ago he'd have turned on his heels, now once again he pushes feet on pedals and rolls away to park his bike beside the turf course, then strides across to the trainers' stand, a green-painted two-storey building overlooking the inner dirt tracks. From the ground floor, he observes his ever white-bridled charges swinging by.
"If you have a dark bay and the reins and bridle are black or dark brown, you can't see them. The white stands out, it gives me a good visual: It's not for any real reason other than I like it," he says.
Among the group, his grey-wisped tail bouncing at the canter, is Exultant, the current star of a stable that in its time has been home to the likes of Bullish Luck, Pakistan Star, California Memory, Beauty Flash, Beauty Only, Blazing Speed, Peniaphobia and, singularly the most iconic Hong Kong galloper of all time, Silent Witness.
Exultant is being primed for the FWD Queen Elizabeth II Cup, the HK$25 million standout among three Gr1 races at Sha Tin on Champions Day, Sunday. Cruz, who declared the gelding unlucky when second to Japan's Win Bright in last year's edition, is after a third victory as a trainer, having lifted the trophy with Blazing Speed (2015) and Pakistan Star (2018).
Cruz also won it twice during his riding days – before it was opened to international raiders – a first career that yielded six champion jockey titles and numerous major wins among his total 946 in his hometown. That established emphatically his status as Hong Kong's number one homegrown talent, capable even of exporting his skills to snare Group 1 glories in Europe.
On Sunday Exultant was to face Hong Kong racing's rising new force Golden Sixty. But the gelding who swept the Four-Year-Old Classic Series with a sensational Hong Kong Derby (2000m) victory in March was withdrawn last Wednesday (15 April), as connections decided a rest was in order.
Cruz had just sealed a double at Happy Valley when he heard the news and his eyes widened in surprise. But he asserts that he's "not bothered" if Golden Sixty is there or not. By that he means his concern is for his own team and he heads into the FWD QEII Cup with triple G1 winner Time Warp and 2019 Hong Kong Derby victor Furore alongside Exultant.
Golden Sixty's ever-present rider Vincent Ho is left without a ride in the feature. He is arguably the best homegrown jockey prospect since A. S. Cruz emerged as the bright young star of Hong Kong's newly professionalised era 40 and more years ago.
Ho, like all locally-developed riders since 1972, passed through the Hong Kong Jockey Club Apprentice Jockeys' School. All have done so in Cruz's shadow: he was not only the best, but also one among the first intake, back in the year that another Hong Kong hero Bruce Lee's Fist Of Fury hit the cinema – it would be remiss to ignore that 1972 was also one of tragedy in the territory, the year of devastating landslides that killed at least 156 people.
"Tony is really special in Hong Kong," Ho says. "When we were young, we all looked up to him – we'd all heard his name. Even as a young child, before I was even interested in racing, I still knew who Tony Cruz was. Everyone knows Tony Cruz.
"He started here at the apprentice school and it was a really special journey for him because he got a chance to ride in Europe – he rode for the Aga Khan – and he's got so much experience in racing. He knows everything about the history and all that he's learned has made him a really great trainer."
The elite coaching, fitness conditioning and nutritional guidance, and even the purpose-built dormitory facilities of today's apprentice school, are a far cry from Cruz's first-foot days in the fledgling programme.
"It was the Royal Hong Kong Jockey Club in those days and they didn't know where to put us, so they put us in the old clock tower of the Happy Valley grandstand. It was so noisy in there, it was terrible!" Cruz recalls.
"After a while they moved us to a place just under the roof, they tried to make a dormitory up there, they put bunk beds up against the walls. But again, it was so noisy – people sitting around eating, playing mah-jong. How was anyone supposed to sleep? I had to be up for work at 3.30 in the morning to work (Nick) Metrevelli's horses."
A hostel was built in Happy Valley beside the former stables on Shan Kwong Road, just up the hill from the track – the last of the horses stabled there moved to Sha Tin in the mid-1980s as did the apprentice school.
"When we were in Shan Kwong Road, I used to take the car down the hill with Metrevelli," Cruz says. "The public stand had a front gate and I had to get out and push it open for him. That was a really big gate to push – you needed two people to open it. But I opened the gate and then I had to switch on the lights. A whole box of switches, not like now when they're all computerised, I had to push all the buttons before we could work the horses."
Cruz and his older brother Derek followed their father into racing. Johnny Cruz was a successful rider in the amateur era.
"I watched him a few times, I was only about eight years old," Cruz recalls. "He worked in the Hongkong and Shanghai Bank (HSBC) so he'd finish trackwork and then go to the office. They used to race alternate weekends in those days, it wasn't every week.
"He started track work at three o'clock in the morning and you had to take the 'walla-walla' boat across the harbour, there was no cross-harbour tunnel and the ferry wasn't running that early, it started at six o'clock. You were in these little boats with these big waves – the rough sea," he laughs at the memory, "you were lucky to make it across sometimes!"
Cruz, though, made his own wave and rode the crest. It began to swell after his first win on 11 December, 1974 on the George Sofronoff-trained Cirrus, a 20/1 shot in a Class 6 1400m handicap on the long-since defunct Happy Valley sand track.
"Jimmy Lindley was riding it and it finished nowhere and then I got on and it won easy," he says.
"It was like the wild, wild west back in the old days. Some of those jockeys, if you beat them in a race they'd come after you and choke you by the neck, they'd lift you off your feet. I beat them in a finish and they were a lot older than me, I was like 16 or 17 and these guys were in their 30s."
He also remembers the likes of Philippe Paquet and Pat Eddery – "Eddery was in his prime when he came here" – flying into the old Kai Tak airport for the winter. Cruz is a rarity in that he exported his talent in the other direction.
While Silent Witness will always be the standout from his training career, his name as a jockey will be best remembered in tandem with the great race mare Triptych.
Cruz partnered Patrick Biancone's stable star to major wins in such as the Champion Stakes (1986 and 1987) at Newmarket, the Prix Ganay (1987), the Coronation Cup (1987), and the Irish Champion Stakes (1987).
"Every race I won on her was special," he says, "but the Phoenix Park Champion Stakes in Ireland, that was an exciting race. We were running last and she weaved through them all, it was a great feeling."
In 1988 he won the Grand Prix de Paris on Fijar Tango and the Prix Vermeille aboard Indian Rose and the following year he took the Prix de Diane on Lady In Silver; he won the 1991 Yorkshire Oaks with Magnificent Star and rode Turgeon to victory in the same year's Irish St Leger and Prix Royal-Oak.
And, as well as the famous green of the Aga Khan, he was privileged to button up the scarlet, purple and gold braid of the Queen of England.
"I remember my first ride for her was a filly Ian Balding trained called Harmonious at Pontefract; I remember the number seven, I think it was race seven, she was drawn gate number seven – Mrs. Balding, she said 'I think we'd better have £7 on for good luck'. And the horse won – that was in 1991," he says.
Cruz has a remarkable recall of events and facts from his riding days. Harmonious was a first-up two-year-old and that success was on 7 August, 1991 – the filly did indeed break from stall seven.
"There was a lot of prestige to riding for big owners like the Queen – she gave me an opportunity and she was always very nice. I met her when she came here for the QEII Cup in 1986 and I was presented to her."
"The legend," Purton says at the mention of Cruz's name. Hong Kong's three-time champion jockey has plenty of experience riding for him over the past decade, notably G1 wins on Beauty Only, Time Warp and current stable star Exultant.
"He's got the experience, he's been out there, he knows what he's doing, there's no doubt about that," he says.
But the Australian ace believes there's something else to Cruz besides the competitor, the star jockey, the champion trainer, the legend; and it would go some way to explaining his success with what might be termed 'quirky customers', the likes of Pakistan Star, Time Warp and the grey enigma Willie Cazals, who when he first arrived in Hong Kong would lurch left from the barriers and tail off – Cruz got him to run a closing second in a Gr1 Hong Kong Vase.
"One thing I do know about Tony is that he has a real sixth sense," Purton says. "I see it when he's playing with the cats around the stables as well. He's a real animal person and he understands them very well.
"You can see him monitoring their character and their behaviour, and the look of the horse. On race day when he says he thinks a horse will run well, or to forget about its last run because it was disappointing and he expects it to give a good showing, he's pretty spot on. I think he understands his horses very well."
That understanding has helped rekindle Time Warp who in February ended a 15-month run of losses with an all-the-way win in the Gr1 Hong Kong Gold Cup; it might just reinvigorate his new transfer Furore, last year's Hong Kong Derby hero who Cruz says was a "nervous horse" when he arrived at his stable at the end of February; and that same ability to get into a horse's head undoubtedly helped shape Exultant into Hong Kong's champion stayer and standout middle-distance galloper.
"Tony has his routine and they keep going through it," Purton says.
"He doesn't mind giving them a few trials and backing them up in races. He's got the routine sorted out and with his instincts it all comes together."
Cruz reports that his FWD QEII Cup three "are fine, they're working well," as they head into the weekend features.
And, as long as racing keeps on going in the face of Covid-19, the most iconic man in Hong Kong racing will keep on rolling, bicycle or not.
Thanks to Hong Kong Jockey Club
‹ Previous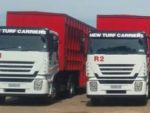 Sham Family Values