A first time ride is often a harrowing and nerve-wracking experience for any young apprentice.
When it's for one of the world's greatest jockeys on a premier Gr1 day on the calendar, there is the added element of expectation, big betting turnovers, public pressure and the best of all disciplines.
On Sunday, greenhorn apprentice Jeffrey Robert Syster – aka 'Jeff' or, as we suggested, 'JR' – was still walking on air trying to digest his big day at Scottsville on Saturday. How he had kept his head, nervously shouted at senior jockeys as he spied a gap – and suddenly saw the winning post appear like an oasis after days without water in the desert!
Some of the country's most recognisable and accomplished names dominated the landscape at one of the SA Champions Season's premier racedays.
Sean Tarry, Chris van Niekerk, Captain Al, Lyle Hewitson, Luke Ferraris – and one Jeffrey Syster. Who?
The 22 year old Jeff is obviously the odd one out in terms of achievement and familiarity on Saturday's honour roll.
Multiple SA champion trainer Sean Tarry trained a Gr1 treble, including a feature trifecta, Chris Van Niekerk owns two of the Tarry Gr1 winners, as well as all three of the Gr1 trifecta. Multiple champion sire Captain Al produced a Gr1 double on the day. Young SA champion jockey Lyle Hewitson rode his fourth and fifth Gr1 winners, while apprentice Luke Ferraris registered his first Gr1 success– pipping Hewitson in a dramatic finish to the Allan Robertson Championship.
But for the Johannesburg-born Syster, it was an extraordinary day – despite the absence of any traditional silverware – the sponsors kindly awarded a small trophy for his race – for his knockout win at his first ever ride aboard the Muis Roberts trained Kingsmead in the Pick 6 opener, a humble MR 82 Handicap.
Jeff only joined the SA Jockey Academy as a 20 year old who had matriculated in Brakpan and initially harboured dreams of making a career in his first love, soccer.
A passionate Orlando Pirates and Manchester United fan, Jeffery, a lethal striker in his own right, had a try out for Orlando Pirates in 2014 and also played for the Liverpool Academy and Samba Boys before joining the SA Jockey Academy in 2018.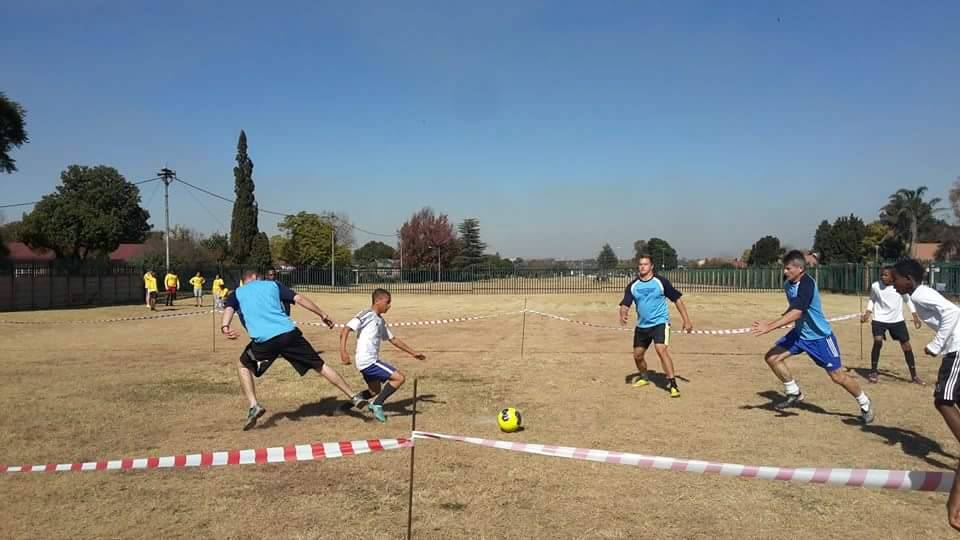 He tells us he woke up on Saturday morning feeling excited, and only a little nervous – but pumped up for the trip up the N3 in the Academy bus to Scottsville to commence the next step in his career.
That first ride normally entails staying aboard, staying balanced, staying out of trouble and enjoying the experience. But young Mr Syster did it differently.
"I have been riding work for Mr Roberts at Summerveld. I was cantering Kingsmead and doing some pace work. I knew he was in the nominations for Saturday. On Monday last week, I felt a bit like Oliver Twist – slightly cheeky– I asked him if I could possibly have the ride on Kingsmead. He looked at me and said he would discuss it with the owner. I wasn't too confident but just prayed that I would get lucky."
Tuesday was Jeff's 22nd birthday. He went to work as usual, took the good wishes calls from his family and friends, and then settled down to enjoy his day.
It was on looking at the final fields sheet when he realised he had been given the nod by Michael Roberts.
"I couldn't believe my luck. My birthday. And my first ride confirmed. What a present. I thought – now the serious stuff starts!"
Jeff explained how Kingsmead was loping behind the field of eleven, when his mount suddenly started tightening up.
"I felt that he was going really well at about the 350m. With his momentum building and the field coming back to me, I thought I really needed to find a gap or we could be running on to heels. I then switched him, gave him one light smack down the shoulder and shouted 'I'm coming through'. I said that a few times – we are trained to do it and naturally it has to be loud – but I felt a bit awkward riding against these senior top jockeys and shouting. So I think it may have had a slightly polite ring to it! I recall Warren Kennedy turning and acknowledging me."
He continues as he says that he saw Muzi Yeni and Anton Marcus to his left and all the time Kingsmead was responding beautifully.
"As we hit the winning line I was quite overwhelmed –  I heard the shouts from the crowd for Muzi and thought he may have got it. But as I pulled up and trotted back the whole world went quiet. I then realised I got it. I just wanted to scream for joy. I couldn't believe it!"
Jeff says the camaraderie and the well-wishes in the jockey room afterwards had been quite emotional. "Especially after my shouting in those final stages!" he laughs.
One of four siblings who grew up in the Boksburg / Brakpan area, the son of a Lecturer and a Primary School employee, Jeff was always the smallest guy in the class at Dalpark Secondary School, where he says he was just an average student. Being a new school, there were no sports facilities.
"My Uncles were instrumental in focussing me on a possible career as a jockey. I had never sat on a horse or had anything to do with these wonderful animals before I went for my interview at the Academy. A few months after I was accepted and somebody suggested that it was probably a good idea that I at least go and look at a horse and sit on one. I went to the Azzie stables. Fortunately, I enjoyed the experience and was excited to get started."
He arrived at the Summerveld based world-famous jockey training facility in January 2018. He recalls the riding masters were inspirational and motivationa and he made special reference to former jockeys Paddy Wynne and Stephen Jupp – the latter  has since left SAJA.
"It can't be an easy job training a mixed bunch of people from different backgrounds, many of whom know little about horses. But the staff create a positive environment and the team spirit builds quickly. I only did my Equine Studies and wrote the Icasa exams."
Jeff says he would probably equally have enjoyed arriving at the academy as a younger high school student, but feels he had an advantage as a more mature individual.
"I was 20 when I arrived. That's the age one is geared to make proper career decisions and you're growing up. I still missed my family – my biggest fans – but at the same time I loved it. I only signed my papers two weeks ago and was the second last guy of my intake to race ride – which was as a result of setbacks along the way. One gets anxious to get going – but I couldn't have dreamt of a better start, I suppose!"
We put it to Jeff that the pressure was now on and we'd be looking for that 'Striker Strydom' cucumber-cool type ride next time.
"Oh great! Nothing like a bit of pressure, then," he laughed.
‹ Previous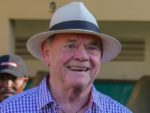 SA Racing's Statesman Of Speed