With a win in the 2017 HSH Princess Charlene Gr1 Empress Club Stakes, Nother Russia seems to be showing every sign of following in her illustrious dam's footsteps.
Mother Russia was the diminutive filly with the distinctive white blaze and fearless, never say die attitude that more or less ruled our tracks for 2008, 2009, 2010 and 2011.  Bred by Veronica Foulkes' Normandy Stud by Windrush out of the Russian Fox mare, Russian Muse, she was a R160,000 purchase at the 2007 GrandWest Yearling Sale.  Initially campaigning for Joey Ramsden's Goodhope Racing and racing in the interests of Klawervlei Stud, she was purchased by Mary Slack and transferred to Mike de Kock for the latter half of her career.  From 27 lifetime starts, she achieved 13 wins and 12 places, including 10 Stakes races and 4 Gr1 's – the Queens Plate, Majorca Stakes, Paddock Stakes and Empress Club Stakes for lifetime earnings of over R5 million.
Mother Russia retired to stud at Mary's beautiful Wilgerbosdrift near Piketberg and was stood to resident sire Tiger Ridge, but sadly only had one foal before dying prematurely.  However, the fact that the filly, Nother Russia, is her only foal only adds lustre to the tale.
Jessica Slack, still clearly thrilled with the win, confessed that she had spent Sunday morning going over the photographs and savouring the moment. "She is such a star.  It's so divine.  We are all on cloud nine, it's definitely not sunk in yet," she enthused warmly.
Purchase
Although it would seem that her destiny has always been written in the stars, Nother Russia, actually had quite a tough start in life.  Jessica relates," Just after Mother Russia foaled, she got post foaling biliary.  She was taken off to the clinic and her milk dried up.  The whole experience affected her ability to mother the foal and so Nother Russia was fostered onto another mare and was actually brought up by somebody else.  It was quite a traumatic start for her, but she was a super friendly foal.  I think it was because so many people worked with her when she was little.  You could cuddle her while she was lying on the ground – luckily she didn't turn into a spoilt brat!"
Jessica purchased Nother Russia as lot 462 on the 2014 National Yearling Sales, for R550k.  Asked how she secured her, Jessica explains, "We all loved her.  Guy and I were looking at upgrading our broodmare band at the time and had a discussion and decided she was surely the best bred filly on the sale.  I spoke to Mike de Kock and Jehan Malherbe and they were both keen, so we decided we would try and have a go at buying her. I never said a word to Mum," she laughs. "In all honesty we never believed in a million years that we would be able to afford her and clearly everyone else must have felt the same way, because as far as I know, it was only us and Mrs Sanne who bid on her.  She was small and slightly unimposing, but she was not a midget and didn't have bad legs – I don't know why no-one else was interested, but what a pleasure and how lucky for us!  When the hammer went down, Mum went over to Mike and said "I didn't know you liked her, who did you buy her for?' and Mike replied, "Your daughter!"  It was a classic moment," she says, warming to her story.
"After the sale, we took her back to Mauritzfontein to chill in a paddock with the other fillies. It was just after the sale that Mum came down to Mauritzfontein and got the call that Mother Russia had died.  It was just awful that she didn't have any other foals, but it does make Nother Russia all the more special."
Challenge
Mike instructed the Mauritzfontein team to give the filly a bit of extra time to mature. However, when she finally did start training, she proved a bit of a challenge.  "The poor thing was scared of the horse box and starting stalls and had all sorts of issues like that.  Craig Zackey came in and worked really hard on her in the pens.  For her first start, Mathew (de Kock) came to me and said, "Craig's been working so hard on her, can I put him on?'  I said yes and that's where that relationship started," she explains, "but the whole team has just been wonderful.  Malan has worked with her and I must also thank Matthew Sham – I think at one stage she had a whole 16 berth box to herself because she wouldn't load," she laughs.
"In between she came back to the farm for a rest and Gail Page put a lot of work into her.  We have some old, unused starting stalls on the farm and every day she practiced going to and from the paddock.  Everybody's been very kind and good, everyone in Mike's yard has been so wonderful and that's made it all the more special."
From 9 starts, Nother Russia now has 5 wins to her credit, including the Gr3 Acacia Handicap and last weekend's Gr1 Empress Club Stakes. She has never come home without a cheque.
"The other thing that is so amazing is that Mum has now bred 3 Gr1 winners in the last few months – Nightingale, Orchid Island and Nother Russia – and Nightingale and Nother Russia are from the same crop," she says proudly.
Smart Call
It would be remiss not to ask after Smart Call and Jessica confirms that her star race mare, now in the care of Sir Michael Stoute, is back on track.  "Smart Call is doing really well.  Alec has just been over to visit and seems very happy.  He says she looks great, her coat looks really good and she's happy and sound.  He watched her have a canter with Queen's Trust, the filly who won the Breeders' Cup race that Smart Call was supposed to run in and she did well.  Michael Stoute has entered her for the Gr2 Dahlia Stakes on 7 May and also for a Gr2 on 18th May.  Of course it does not mean she will run, but he must think she might be ready.  She's definitely good and sound, although I'm saying all this touching wood, but everything seems good," she smiles.  "Michael Stoute is so nice and seems good especially with the older fillies.  It's lovely to have a horse with him and great that he and Alec get on so well, so we're really excited."
National Yearling Sale
Mauritzfontein have a 23 strong draft on offer and stud manager Guy Murdoch highlights their three Var colts in particular.  "The colt I'm really hot about is the one out of Queen Of Persia (lot 118).  Her daughter Persian Rug jumped a shadow in the Thekwini Stakes and finished 3rd instead of winning.  Queen Of Persia is also the dam of the Michael Azzie-trained Isphan, who was 3rd in the SA Nursery.  This is the same family as Marinaresco and I think he's a really special colt."
"We've got one very smart Gimmethegreenlight colt (lot 55) and sadly, only two Ideal World colts, although one is a half-brother to Marinaresco.  We've got a very nice Byword colt (lot 355), out of the full sister to the dam of Smart Call, who I think is a very special horse.  Byword has had 4 runners so far and we've had 3 seconds from about 7 runs, which is not too bad.  He'll have a winner imminently. We have 5 Ideal World fillies that are very nice," he continues, "and we've got a nice Dynasty colt out of a Horse Chestnut damline (lot 165)."
However, what will be foremost in prospective buyers' minds is that 2017 offers the very last crop of Fort Woods. The grand old man of Mauritzfontein produced a very small crop in his final season at stud of which Mauritzfontein are offering 3 colts. Jess picks out lot 77 for a special mention. "Stolen Paradise, a half brother to Derby winner Cape Speed, is quite literally the last Fort Wood ever born. Fort Wood only had about 20 foals in his last year, so there won't be many around. My favourite in our draft is probably the Fort Wood colt out of Franny (lot 411) – he's a beaut – and there is a colt out of Welwitschia at Wilgerbosdrift (lot 253) that must be one of the best looking yearlings I have ever seen. Fort Wood is a proven sire of sires, so let's just hope that one of these boys can fill some of the void that he has left behind."
Stallion roster
Asked about their stallions, Guy confirms that the feedback on Byword is good.  "Glen Kotzen has two he's pleased with, the Bass yard has one, Dennis Drier has a nice colt and Joey Ramsden has a colt that looks above average as well, so we're very happy with what he's doing."
The Byword incentive offers a bonus cheque to the best Byword stakes winner at the end of their three year old career (applicable only to his first two crops – 2014 and 2015 – and only to horses that have passed through the sales ring).  Guy explains that it consists of a R500k bonus of which R400k goes to the owner, R100k to the trainer and a free nomination to the breeder.  "It's quite a nice incentive, but we're hoping that by the time it pays out, we won't need it anymore," he grins.
"Ideal World speaks for himself.  In Saturday's Petra Diamonds Listed Spook Express Handicap, Patchitup Baby was 2nd and Zante 4th, Smart World won at Greyville on Friday, Amazing Strike won at Turffontein on Saturday and Louisiana won the listed Scarlet Lady at Greyville on Sunday, so we're happy."
‹ Previous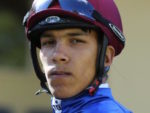 Tristan Godden