Charismatic, outspoken, a top horseman, a sportsman and entertainer, and one of the best human beings one could hope to meet.
The loss to our racing of former multiple champion trainer Joey Ramsden, who flies out to Australia in ten days, is a sad blow for a sport desperate for personalities.
In a world of mostly politically correct yes-men, JR stands tall as a man who stuck to his principles and supported those individuals he believed in – even if he went against the conformist grain at times – and put his foot in it, souring a few suits along the way.
We didn't want to get the chat off on a negative note, but just as often as we have seen Joey smile, we have seen him grinding his teeth in aggravation.
The top of Joey's list of pet frustrations was hardly a surprise.
"How long have you got? Let's say Durban July barrier draws. The culture of non-payment and slow payment that pervades the game, which then ends up being a vicious circle of economic stress for everyone in the supply chain. Then our export/import protocols. I have read positive news about the EU audits. I will be the first person in Australia to raise a glass of Graham Beck cuvee brut when the good news comes through. I love South Africa and I know that It will make a difference!" he says seriously as he moves the focus to their intercontinental shift.
"Please don't talk about me in the past tense. This may end up sounding like an obituary and I always said I would die here. Sadly this happened a little quicker than my long term strategy, but we learn to adapt to change,"he laughs as he welcomes the Sporting Post team to his 'farewell' interview on the eve of the next chapter of a life lived to the fullest, every day.
Joey, his partner Steph Grentell and their gorgeous 2 year old daughter Ruby, fly out later this month to Australia and their new home – 'Club Iveco in Winnebago', as Joey puts it.
It's a lifetime away from the powerful Goodhope Racing machine at its glorious peak – one of South Africa's most respected racing operations who won many of our major races, trained horses of the year, and boasted the support of an illustrious variety of local and international clients.
The demise of Markus Jooste's empire in December 2017 unquestionably impacted heavily on Joey. The unlikely friendship between the 'Boer' and the 'Brit' was a fascinating alliance – and they enjoyed plenty of success.
But when mini armageddon arrived and  Joey  took the sabre in the solar plexus as the man probably most exposed to Jooste, the fact remained etched in history that he was highly successful years before the now maligned springbok silks of the Steinhoff connection dominated every racetrack in the country.
Joey shrugs and says he will rather remember this beautiful country for so many good people – starting with his longserving and longsuffering staff. That was in his own words.
"My staff know who they are.  I have been blessed with extraordinary loyalty. As to naming the good people, I'm sure I'll get a bollocking for leaving someone out! But, as a start, Steph has been a pillar of support. From day one, Martin Wickens and Gisela Burg have been great friends and owners as have Dharmesh and Melissa Naik, and Ian Henson. Although some might disagree, I must add Mayfair Speculators to the list, as well as John Koster, Drakenstein Stud, Bernard Kantor, Glen Hatt, Baker McVeigh and co, and my farrier, Gordon Meyer. I could go on and on. I have been here a long time, you know!"
As to what he will miss most about South Africa, Joey says his two daughters Holly and Zara will be staying here with their Mum.
"I will miss seeing the girls regularly but won't lose touch. I also keep coming back to the unbelievable Goodhope Racing team we managed to assemble over nearly 20 years. I will miss them terribly and without them I  would never have been fortunate enough to have enjoyed the success I did. It has been extremely emotional and tearful in our final weeks. And I'll miss Cape Town. It really is the most beautiful city in the world."
Reflecting  back on the highlights of the past two decades, family is on top of the list again.
"Siring three beautiful daughters.  Being Champion Cape Trainer multiple times. Variety Club and Winter Solstice were both great horses and champions in their own right. Winning the Vodacom Durban July with The Conglomerate after – rather bravely – declaring he'd win the July the day we bought him as a yearling in Australia!"
We asked him to sum up what he sees to be the main problem with SA racing.
"It's impossible to know where to start with South African racing! Like SAA and Eskom, I believe there has to be a new dawn. Things appear to be too far gone right now. Leadership across the board is non existent – there are just too many personal agendas and toxicity. The wagering landscape is 25 years behind the rest of the world from software to taxes. The import/export stalemate has also strangled us to our last breath. The recent stakes decreases are a worldwide embarrassment, with the Sun Met now worth less than many claiming races in the USA. In the bigger picture, we need a strong non-corrupt government with a vision, not only for racing, but for our nation."
Joey's words of advice for SA racing?
"In the words of the great Billy Idol's 'White Wedding', I suppose it's time to start again!"
In April last year, news broke that Joey was contemplating a move to Singapore.
"A four year extremely expensive and messy divorce left me with nowhere near enough capital to be able to give ourselves a proper chance at making a success of Singapore. Thankfully for all involved, the divorce is now over, and I look to new opportunities."

He also pointed out that with export protocols as they stand now, he couldn't uproot any of his team of SA horses to take to Singapore.
"Let's face it, if our exports were on a par with world standards, I could have started with 10 to 15 of my owners and horses I already had."
Joey says the decision of the Singapore Turf Club to withdraw all subsidies, including for trainers relocating, only added to the financial headache of the move.

"It still hurts to think of the opportunity missed, to live in a fabulous country and being able to train at the most amazing facility," he reflects.
Now 51, the stepson of former Yorkshire trainer Lynda Ramsden and son of her husband Jack, will be remembered for being a trainer who could compete with the Snaiths, Kannemeyers and De Kocks.
He has sent out more than 1800 winners since taking out a licence in Cape Town in 1996-97.
His CV includes 26 Gr1's headed by The Conglomerate in the 2016 Durban July and dual horse of the year Variety Club, whose overseas victories included the Godolphin Mile at Meydan in 2014.
It seems an obvious progression to get involved in horseracing in his new homeland.
"We're hoping for a quiet few months when we arrive to just step back from it all and clear our heads. We will both be attending the sales and Steph has been asked to bid spot for Inglis in Melbourne, which I know she is just thrilled about. Racing is in our blood and we have – and I'm speaking modestly – quite a knack for picking yearlings. So perhaps that's something we'll pursue in the near future.  We've already had some 'suitors' make enquiries. Which is very encouraging," he adds.
As we get up to leave, we ask JR whether it was hard for him to say goodbye to old friends?
"No, not at all – because I don't have any!" he laughs in his characteristic roar.
"Jokes aside – genuinely, absolutely yes. I'm not very good at goodbyes and farewells as I get too emotional. Hopefully it's not goodbye, and it's just a 'see you later, alligator'. For now I'll be across the ditch, settling in and getting to know my namesakes – the cute baby kangaroo's – a little better!"
He closes by saying that he has been a very lucky person to have been able to work and live in South Africa.
"It has been my privilege to train horses here and meet the most extraordinary people, from top to bottom."
‹ Previous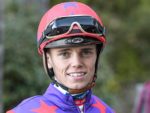 Hoping For A Big Day