John Kramer is one of the best known and well respected judges of yearlings in South Africa. He has been inspecting and selecting yearlings for the country's sales for over 20 years, and played a pivotal role in bringing the remarkable sire, Elliodor, to this country.
John's father, George, was one of the leading breeders in South Africa for many years, standing a number of leading sires.  George Kramer originally owned the picturesque Askania Nova in Middleburg. As the breeding hub in South Africa gradually moved to the Western Cape, Kramer Snr decided to move south and sold Askania Nova.
He purchased the famous farm, Broadlands, which is situated near Sir Lowry's Pass, and is just half an hour outside of Cape Town. Tragically, during the move, the farm's top sire, the highly successful Giafar, broke a leg and had to be put down.
George Kramer had previously stood Soldier King, Royal Chaplain and July winner Tiger Fish, (which he leased from the Oppenheimers). Kramer's most successful stallion, however, was Ranjit. A beautifully bred son of Fairway, Ranjit was a truly great stallion. During his stud career, Ranjit was champion sire on three occasions, with his best progeny including Met winner Sympathetic, Guineas winner Response and high-class performers such as Marmeduke, Ranjos and Stan.
Kramer Snr eventually sold Broadlands to Lady Kenmare. After his father died, John Kramer was asked by Countess Batthyany to manage her German stud farm, the well known Gestut Erlenhof.  Fortunately JK had learnt to speak German at school.
Kramer left South Africa in 1966 and spent six years in Germany, during a time in which the stud stood the mighty sire Orsini, a former German Horse of the Year.
Orsini was described by John as a "a good horse to deal with", was champion sire on four occasions. His progeny included four German Derby winners, and Orsini was also responsible for two German Oaks winners.
During JK's stint at Erlenhof, the farm bred the German 1000 Guineas winner Dulcia, as well as the German Derby victor Marduk. Both were sired by Orsini.
However, the farm's most famous graduate, arguably, was Caro. Winner of the French 2000 Guineas and second to the great Mill Reef in the Eclipse Stakes, Caro became a great stallion. His champions included Breeders Cup Mile and champion sire Cozzene, as well as Winning Colors – one of only three fillies ever to win the Kentucky Derby.
During his years based in Europe, John also managed farms in Ireland and France, Ballykeen Stud and Haras Bois Roussel. He bred and reared a number of top-class horses, which included the Epsom Oaks winner Pia as well as Samos – winner of the French St Leger.
During that time, John had married Gisela, and the couple had had two sons. In 1972, Kramer decided to return to South Africa, in order to settle down and give their children better access to schools.
When he returned to his country of origin, Kramer began assisting the various studs with rectal examinations and palpations. He picked up much of his gynaecological knowledge from local vet, George Faull. John described Faull as someone "who was always happy to share and pass on his knowledge – not a trait widely found today!"
In his first few years back in South Africa, the Kramers were based in Ceres. John would spend six months of each year in Germany, and then fly back to SA, where he assisted breeders like Colin Cohen.
In 1975, Daytona Farm came up for sale, and John advised Artur Pfaff to purchase the farm. John had assisted Pfaff in breeding the great filly Three Troikas, winner of the 1979 Prix de'l Arc de Triomphe. The pair were also responsible for breeding Elliodor.
Interestingly, the two horses were very different individuals. While Three Troikas was a leggy, delicate filly, John describes Elliodor as a "big, strong, roughish horse who took after his dam in conformation."
Both horses were by champion sire Lyphard, and both were foaled from big, roughish mares. Kramer says he planned the matings on the physical compatibility of the parents. While Three Troikas gave John one of the high-lights of his career, Elliodor didn't show the same level of form on track, winning just once in a brief career.
However, it was Elliodor who shone at stud. He produced no fewer than six Top Division horses in his first crop – despite that crop numbering just nine foals. Included in that crop was South Africa's first equine millionaire, Model Man. Model Man was a great horse, who won six G1 races, and went onto become a successful sire and broodmare sire. Elliodor also sired Crimson Palace – the first SA bred to win a G1 race in the USA (after the pattern race system was established) and 11 other G1 winners. A great broodmare sire, Elliodor sired four winners of the G1 Paddock Stakes.
John was later involved with the purchase of the great filly, Taima Bluff. An own sister to July winner Tecla Bluff, Taima Bluff won both the Natal and Cape Derbies, as well as the Paddock Stakes and Natal Oaks.
After JK left Daytona, he set up Seldon Stud in Ceres. Unfortunately that farm was knocked out by the dreadful equine influenza virus of 1987.
In 1988, John Kramer joined the TBA in order to become a liaison officer between the sales company and the country's breeders. It was at this time that John began inspecting and selecting the yearlings for the TBA.
Over the years, Kramer has inspected yearlings aided by a number of trainers and other horsemen. He will be joined next year by Stanley Bennett.
John became the TBA manager during the years of 1991-1993, but resigned after a difference of opinions arose over buyers cards. During that period Kramer began inspecting yearlings in Zimbabwe, where he would annually inspect between 300 and 400 yearlings.
Kramer says that the late Jet Master was the greatest stallion he has ever seen in South Africa.  He was a truly prepotent stallion, and Kramer describes the stallion as a phenomenon.
John has seen a number of great horses, both here and abroad, over the years. He admired the great sire Bold Ruler although he described the champion as a "big, strong, bad legged horse, who had a plain head." He thinks Nijinsky II may have been the finest racehorse he ever saw.
Back home, Kramer has a soft spot for National Emblem, saying "he is the nicest individual I have seen, he is a beautiful horse."
JK has seen the offspring of many young sires over the past year. He especially likes the foals by Argonaut, Jay Peg, Express Way, Kildonan and Judpot. He is taken with Judpot's first crop, commenting that the horse is throwing substantial youngsters with good legs.
Kramer also has had interesting experiences as a racehorse owner. When inspecting yearlings at the Allem Bros, John was taken by a pair of Daarik fillies. He decided to purchase one, when the two fillies came up for sale at the National 2yo Sale. While JK was overseas at the time of the sale, his partner Van Rooyen purchased a filly that turned out to be Night Diva. A wonderful racemare, Night Diva was named an Equus Champion Older Female Stayer in 2003 . She won 8 races (four feature races), and was by far the best horse ever sired by Daarik!
Night Diva subsequently produced the smart Zimbabwean runner Winter's Night.
John believes that anyone who is starting out in horse racing needs to be passionate and needs to be willing to sacrifice time and independence. He says dedication is important.
There can be few people in South Africa with greater experience and knowledge than John Kramer and he continues to make an enormous contribution to the breeding and racing industry.  His experience and vision make him a man whose thoughts are much valued.
‹ Previous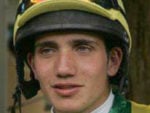 Derreck David