JOHNNY GEROUDIS, or Johnny G, as he is affectionately known by the racing public, has been successful in every country in the world he has ridden in. Right now he is riding in Mauritius and has a host of followers. Johnny loves it in Mauritius which he is fully entitled to as not only does he ride many winners there but he also married his wife, Yanti, there in a fairytale island ceremony. Johnny obviously knows how to make the most of life as he spends much of his spare time either playing golf or on the beach. Johnny would be a great boost for South African racing if he returned but right now it seems that life is really good for Johnny and his wife Yanti on the island. This Sunday Mauritius will come to a standstill for the Maiden Cup which is the highlight of the Mauritian season. He rides INTERCONTINENTAL which he gives a good chance, but does say that Il Saggiatore and Ice Axe are the horses to beat. WINNING FORM will continue to follow Johnny G's career with great interest. 
What is your name and age?  Johnny Geroudis and I am 42 years old.
What is your star sign and birthdate? My birthdate is 17-02-70 which makes me an Aquarian.
Where were you born? Johannesburg.
Where do you live?  At the moment in sunny Mauritius and in SA, Lonehill. Very happy in both places.
Tell us about your family? I have 1 sister and of course my wife Yanti.
Do you have a 'nickname'? Little Greek and a few more that we can't print, ha! ha!.
Favourite food? Unfortunately, all food which is not good for my weight.
Favourite drink? Most drinks especially when we have a good meeting.
Favourite music? Most (not classic).
Favourite sport? Golf.
Are you interested in soccer and if so, which is your favourite soccer team? I am a huge Spurs fan.
Favourite holiday destination? Greece, as I have a home there, but since I have been riding here I have not been able to go there.
You are now firmly established as one of the top jockeys in South Africa. You got your jockey's license in 1989. Who were you riding for at that time?  Anyone who would give me rides but Pat Shaw took out his licence not long after that and we teamed up from there.
Who was the first trainer you worked for?  Scott Kenny.
Which were the best horses you were involved with early in your career? I was very lucky to have ridden London News, Horse Chestnut, Teal, Kundalini and Spook Express to name a few.
Who were the jockeys who influenced you most early in your career? Stephen Jupp, Robbie Hill and I learned a lot from Gerald Turner when I was an apprentice.
Who were the trainers who gave you the most rides? Pat Shaw and Mike de Kock. I was riding for both yards.
How long did you wait before landing your first big race? 1991, Military Muse for Tony Millard.
You had a long and fruitful association with Patrick Shaw. Which of his horses would you say were the best you won on? Wow, we had a lot! Teal, Kale and when Dr Podlas came to us we had Kundalini and Zelator.
You went to Singapore to ride for Patrick. How long were you in Singapore and what were some of your memorable achievements there? I was there for 5 years winning the Classic International on Palace Line and, of course, meeting my wife.
Which was the best horse you won on in Singapore? Palace Line, Bliss Bless and Spectro Power.
From afar it looked as though you had settled in to living in Singapore. Why made you decide to leave Singapore and come back to South Africa? It is a long story,  let's just say I missed home.
Over the past couple of seasons you have been doing South Africa proud in Mauritius. What made you decide to once again leave our shores?  Well I was riding for Alec Laird and we needed a break. A friend of mine said Mr Rousset was looking for a jock as he had just fired Shane Dye so I decided to come over. It was a very good move as you can see by the results.
With racing just once a week on the island, tell us what goes on during the week in terms of track work and how do you keep yourself busy? We ride work 4 times a week and work normally finishes quite early so we have lots of time on our hands. The beach and golf take up a lot of time.
How many seasons have you spent in Mauritius and how many jockey titles have you won there?  I spent one full season last year and just got beaten in the championship by 2 winners. I was suspended for the last meeting and my yard had 2 winners.
Who is the trainer you are contracted to ride for in Mauritius and how successful have you been this season? I`m with Gilbert Rousset. He has been the top trainer here for the last 3 years. He is a gentleman, and a very good trainer. He has a very good team behind him.
Tell us the significant differences from being a jockey there as compared to South Africa? Here there is no time to make mistakes as the track is so tight but once you ride here you can ride in most places in the world. It is a great track.
From following the media reports it seems that Mauritius racing is run very strictly by the stipendiary stewards. Tell us about this and have you got into hot water with the stipes? Yes, it's very strict and racing is so competitive that you do end up in trouble, which I have a few times, but that is racing.
How often do you ride work and how early do they work the horses in Mauritius? 4 times a week starting at 5 sharp and finishing at 07:30am.
In Mauritius there are public gallops where racegoers, and professional punters, can watch and time gallops. In your opinion how informative are these gallops for those interested enough to watch? Would you advise the powers that be in South African racing to incorporate the same approach? Very informative.You must remember that this is an island, racing only once a week, so the reporters have quite some time to get all the info. In SA we race all over the place so it would be very hard to keep a lid on it.
You are normally in the top 3 on the Mauritius jockey log. In South Africa, Klawervlei Stud has put up prize money of R250 000 for the jockey who wins the championship. Is this, in any way, a temptation to come back to SA and make an attempt to win the championship? Oh no !!!!!!!! For one thing I can't ride lighter than 54-55kg's and when I was younger I did all the travelling I wanted. I don't enjoy it as I miss working with the horses and all my time is spent on planes.
Which is the best horse in your trainers' yard? Green Keeper and Intercontinental for now and we have Disa Leader in Dubai with Mike de Kock.
Mauritius' big race of the year, The Maiden Cup, takes place this Sunday. Which horse will you be riding and what chance do you give yourself of winning?  Intercontinental and I think he is in with a big shout, depending on the draw.  Ice Axe and Il Saggiatore will be hard to beat though.
Glen Hatt is in Mauritius to ride the former Joey Ramsden trained IL SAGGIATORE. The son of Galileo has an impeccable record on the island of four wins and two close seconds in his six starts. Do you make him the horse to beat?  Ice Axe has beaten him twice, why not a 3rd time?
Of the balance of the card, do you fancy any horse strongly that the South African public can have a flutter on? Seeking Angelo looks as though he will do very well here. Watch the draw though as the draw is a big factor here.
Which are your favourite racemeetings on the island?  Maiden by far.  The Island comes to a standstill for the race.  You have to be here to witness it.  It cannot be explained to anyone.
Apart from the Maiden Cup, the International Jockeys racemeeting is a stand-out. Tell us about the vibe during this meeting and which top jockeys have you made friends with? I have been very lucky to have ridden in a few countries and know most top jocks around the world so when you do see them it's nice to catch up.
From your experience in Mauritius, what suggestions can you offer to South African racing? Lots and lots. There is not enough paper to print all the suggestions I could make.
The crowds on raceday are a sight to behold. How inspiring is it for the jockeys to have all this support behind you in the race?  It does give a great boost as it's the horse that counts and not a number in the race card.
The media is an integral part of Mauritius racing and just like the public; they are crazy about the sport. Tell us about this?  Crazy is being kind.  Obsessed is the word that describes it best. It is their national sport.
From what we see on websites and on television it shows that Mauritius racing is thoroughly professional. What is your take on this?  Yes, it is totally professional.
We receive commentary for Mauritius racing from our South African commentators. What is the Mauritian racing channel called and who is their commentator? Are their commentaries done in French? Yes it is done in French. There are two of them but it doesn't help me though as I just look at the colours the jockeys wear.
You have been on the island for some time. How good is your French?  Getting better by the day.
With Mauritius being a small place, you probably often bump into the public. Does the public treat the jockeys and trainers like celebrities?  We are big stars. People want to take photos with us on the road or in the shops. It's ok but I try to keep away from the shops on a Friday as everybody wants a tip.
You are a golf fanatic. How often do you play in Mauritius and what handicap are you?  Once a week but that is not enough so my handicap is a bad 13 at the moment.
What sort of social life do you have in Mauritius? It's quite big.  There are some very nice places to go to on a Saturday night.
If you were asked for some suggestions as to how to get the crowds back to racing in South Africa what would you say? Get big marketing companies to come in and do the job as they know how to do it.
There are normally quite a few South African jockeys riding in Mauritius. Do you socialize a lot with them?   Yes we do as it's an island and we all end up at the same places.
Mauritius is famous for its lovely golden beaches. How much time do you spend on the beach? As much as possible.
The saying is "Behind every successful man is an equally successful woman". Does this apply to Johnny Geroudis? Of course !!!!!!!!!!!!
‹ Previous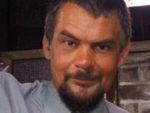 Shaheen Shaw