Judy Davies, perhaps better known to most under her maiden name of Judy Brannigan and often found pacing nervously at sales, is currently back in South Africa to see her charge through the ring at the BSA 2yo sale.
We grabbed the opportunity to catch up with one of our local industry's biggest fans.
South African roots
Firstly, why South Africa? "I love Africa, I love the people. My heart's here, basically," she says simply. "My parents immigrated here when I was very young and I spent 20 years here. It's in my blood and I come back two or three times a year."
"I've followed racing since the days of horses like Persian Wonder, Gatecrasher and Elevation. In Full Flight was another that made a big impression on me. I had my favourites and used to cut things out of the newspaper and started keeping my own little records. I really enjoyed watching the sons and daughters come along from those horses."
Growing up in Somerset West, Judy became friendly with Hoog Eind Stud. "I knew all the managers in sequence, so I knew all their mares. I have a photo of me with Saturna (the dam of Harry Hotspur) on the day her son Rotterdam won the Drill Hall Stakes when he broke the world record. She was the most beautiful grey mare and the most gentle, kind soul you could possibly meet. She had daughters like Pax Romana who produced Magnolia King. There was also Bluebell Girl, a chestnut mare who eventually became the great granddam of Victory Moon; Patricia, Drum Melody…." The names roll off her tongue with easy familiarity and like the old friends they are.
Lucky
Judy has devoted her life to pedigree study and that little girl who started off collecting records from the Cape Times and Argus got to live her passion initially as the assistant to the pedigree consultant at Darley, which evolved into the Pedigree Database manager, a position she held for nearly three decades.
In 2003, Judy embarked on a breeding operation of her own, starting with a Mtoto mare that she was gifted and shipped to South Africa. She has quietly been making a name for herself as both a knowledgeable and warmly enthusiastic member of our breeding ranks ever since. "My passion spilled over into the dreams I had as little girl of breeding myself. I've always wanted to breed, and my passion of choosing what bloodlines to use, which mares to buy, watching my foals grow up and go through sales, have all been realised here. I cannot explain how fulfilled it has made me. I'm a very lucky lady."
It's a matter of trust
Being based in the UK at present, Judy boards her mares with Winterbach Stud, run by father and son team Hendrik Winterbach senior and junior. "I have to say, I wouldn't do it if I didn't have someone I trusted so implicitly with my horses, but they are so thorough with everything. They look after my horses so well and do an amazing job with the prep. Whenever I go and visit, my horses always look fantastic and happy. I can't praise the Winterbachs highly enough."
On Sale Now
As part of Winterbachs' draft for this week's BSA 2yo sale, Judy is offering lot 67, a colt named Avalon by Silvano out of the Badger Land mare, Mysterious Land. This colt is very close to Judy's heart and she explains, "I bought Mysterious Land straight off the track and she is our number one mare. She's been absolutely wonderful and has given us three black type horses by three different stallions – Badger Land seems to work with most sire lines." Regarding the mating to Silvano, she says, "I sent her to Silvano in 2008 and she produced Gothic. He did very well and ran in the July Handicap after finishing second in the SA Derby. Then he came down to the Cape and was a pretty useful stayer. So I thought I would try it again."
"Avalon is probably the nicest specimen we've ever bred. He is a really special horse – lots of charisma, very good looking and he knows it – one of those! He has 'it' in bundles. I'm a huge fan of Silvano and this colt is very much like him. His half-brother, Tandragee (Bezrin), ran a very good 3rd in a top division feature race in Mauritius over the weekend. He has won 12 now and has a huge following on the island. Misty's other black type performer was her first foal, Lochlorien (Var)."
Avalon is having his second tour of the sales ring and Judy explains, "We took him to the CTS Premier Sale, but he was backward like Silvanos often are at that age. I was hoping people would see what he would grow into because he had a very good frame. I didn't get my reserve, so I thought I'd wait for the 2yo sale and hope that by that time he will really stand out and that's basically what happened."
Proudly South African
Despite South Africa's relative isolation – both geographically as well as fiscally – Judy feels that we punch well above our weight and offer great value. "Few people have the means to afford the very best bloodstock, so you have to be careful what you bring in and it has to suit the country. There have been some very nice stallions brought into South Africa and they've done the job and we keep growing. I think we're doing extremely well and I love being part of it."
"I know South Africa has the capability of breeding top class horses. When they do manage to get on to the international stage, they show they can take part and hold their own. It's just such a pity about the protocols. I know there's a lot to be done, but I know we're getting closer. Hopefully when we open the borders, people will come and buy – IF we hold on to our Part 1 in the pattern book," she cautions.
"At the moment we can proudly say that our Black Type status holds its own anywhere in the world. However, if we lose that, I believe it's game over for racing in South Africa because international buyers will be unlikely to come and buy here."
"I bring a lot of people to South Africa and everybody I've brought loves it, including my close friends Fran and Walter Cowe who are now permanently based here. I believe there are more people out there that might want to come and I want them to come and buy and race here. The ones we really want are the big ones with the big money to take the horses out once they've shown what they can do here, but I do believe we must keep our Part 1 status."
Being A Small Breeder
Judy tries not to get attached to her foals – "I know they're going to go" she says philosophically – but she adores her mares. "I do not sell mares on public auction. That's my mantra. They're part of the family. If I ever did home any of them, it would only be to someone I know and trust with the agreement they return to me if there are any problems. For what they've done for me, they will be looked after," she says firmly.
Judy is looking forward to the arrival of this year's crop, which includes foals by Master Of My Fate, Philanthropist and Futura – "wow, hasn't he turned into a helluva horse?" exclaims Judy. "With Futura being by Dynasty and Scent From Above's best progeny by far (the much lamented Alexander) being by Dynasty, we'll hopefully get a close relative."
Interestingly, her matings for next year's foals include bookings to Rafeef, Red Ray and Quasillo. Why first season sires? "I work on gut and I like to go to first season sires if I can. I love Rafeef and when I saw him, I just went 'wow'."
2018 Sales Programme
Judy also has the pleasant headache of deciding how to allocate another very nice group of yearlings across next year's sales.
"I have a beautiful Dynasty colt out of Mysterious Land that I've called Monarchy, A Star For Maria has a colt by Silvano called Ronaldo (named after my dad) and I have a filly by Vercingetorix from Scent From Above called Just Judy. She's tall, leggy and very pretty, but will take time. You're Amazing has a Var colt that I've called Bergerac who is a lovely big, powerful chestnut and then lastly I've got a Master Of My Fate filly out of Lizabella called Lorelei."
"I'll probably go with CTS next year because I don't like travelling all the way to Joburg. Now that CTS has changed their sales, there's something for everyone. There were too many before," she reflects. The new format makes complete sense to me and I think it's fabulous."
Support
Judy recently married her long-term partner, Glyn who she credits as the secret behind her success. "We've been together 20 years – some might say it's about time we got married! I couldn't have done this without Glyn backing and supporting me. He lets me make the decisions on what, where and when we buy and then he just supports me, but he enjoys having the horses and he loves South Africa. A week after we got together he came out here and fell in love with it. Our dream is to settle here eventually. We've bought a house in Robertson and will renovate it over time and hopefully settle in it one day."
"If we have luck and there is a regime change, I think this country could become the 'go to' country within five years and that would help the burgeoning bloodstock industry. Unfortunately it's tough right now and a lot of the small breeders have gone. I hope and pray I can hang on until things change and I believe they will. I do have faith in this country and in the people and most of all I believe in the horse."
‹ Previous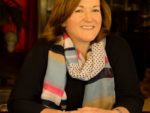 Amanda – Part of The Furniture!