"This beautiful horse is the real hero. What a great run from him and what a fine training feat by the Snaith Team. I'm a sentimental person but records are pictures on walls and tomorrow is a brand new day," quipped multiple SA Champion jockey Anton Marcus as he tried his utmost to deflect attention from the focus on his new crown as the greatest jockey in the 122 year history of the Vodacom Durban July – and his 100th career Gr1 winner.
The back story to Anton riding his fifth Vodacom Durban July winner on what was a Super Saturday is another amazing chapter in the illustrious career of one of our greatest riders of all time.
His recovery from injury is a remarkable tale of dedication and resolute application. A story of a steely mindset and fighting through pain thresholds. All achieved with the assistance of his singular determination on the back of a host of modern and alternative medical science platforms – and a Nutrionist with a winning recipe.
Encouraging Anton to agree to talk about himself is more demanding than getting past the Cape Town born rider in a tight finish. It doesn't usually end up in the winner's box for the pursuer!
But given the enormous public interest in the July and the history of the occasion, he agreed to chat to the Sporting Post  – 'without too much fuss' – as he put it.
Anton rode his first Gr1 winner on Blue Cossack for the late Alan Higgins almost thirty years ago.
He was on his first July winner – on Dancing Duel for Tony Millard – 25 years ago. We asked him which of his five July winners – his last was Hunting Tower in 2007 – had given him the most pleasure.
"Every July winner is very special. But I have to concede that Do It Again has to be the one that has given me the most pleasure. It has been a time of serious sacrifice and commitment. But I'm lucky – when I put my mind to something I usually follow through with it and I am glad it turned out well."
Of the race itself, he says he only really felt the adrenaline buzz of the podium in the final furlong.

"In the early stages, things were not going according to plan. They were crawling. I thought we were going to end up downfield. We were a victim of circumstance. But when African Night Sky went around and led, things started improving. I feel jockey Grant van Niekerk had little choice to make his move. The complexion of the contest changed at the 1000m marker. At the 700m, the race was on and we were in the game."
Anton says he kept an eye on his stablemate Made To Conquer as Jeff Lloyd was a few lengths in front of him.
"Made To Conquer stays well. I knew he would not be stopping. When I challenged him in the straight I stayed well away from him. An experienced horse who has something left will often pick it up and fight on if challenged at close quarters. At the 200m Do It Again had it safe," he said.
Jono Snaith was instrumental in getting Anton to ride Do It Again. The son of Twice Over then came out and won the Daisy Guineas and the July programme upped a notch.
"I was asked for a commitment by Jono (Snaith) at that point and I accepted, despite the fact that  I was facing a crazy race against time to get my fractured wrist healed."
We have to take a step back here…
The latest chapter in the extraordinary Anton Marcus success story started on Friday 4 May at Greyville. He had ridden a cracker on Fiorella to upstage Snowdance and win the Daisy Fillies Guineas.
In the next race, the colt's Guineas, he had just mounted the spirited White River.
"He was being a bit naughty. I went crashing to the ground. My first thought as I looked at my wrist was that this is not good. My mind immediately rushed to White River and the Guineas. And to Legal Eagle the very next day in the Gr1 Premier's Champions Challenge at Turffontein. I was almost in denial. I wanted to dust my wrist off and go out there and win both races. And maybe worry about the pain on the Monday."
But a fracture in four places and damaged ligaments meant that it was not going to be a case of some magic spray and a plaster.
Anton immediately went on a mission to ensure he would be ready for big race action by Saturday 7 July. All his focus was on getting better in treble quick time.
A Nutrionist assisted him with a diet – geared towards  nutrionally driven high-rate healing.
Known as a man who wields a knife and fork with enthusiasm and not averse to a sumptuous meal, Anton found himself having to summon reserves of discipline and focus on every action.
"I was collecting take-away prepared meals on a daily basis. All my days were taken up at various medical facilities. I am not a computer kind of guy, but I have learnt to use Google and find myself subconsciously talking like an experienced medical doctor – I have all the terminology on my tongue. I must say it's been a fascinating exercise in general knowledge and speed healing!" he laughed.

Anton says that he discovered Cryotherapy during his recovery and also intends to utilise this treatment, sometimes known as cold therapy, on an ongoing basis for general well-being. It is relatively new in SA. He encountered this as one of his numerous healing platforms and says it has worked a dream.
"It is basically the local or general use of low temperatures in medical therapy. Cryotherapy is used to relieve muscle pain, sprains and swelling. Temperatures can be as low as minus 160 degrees. Thankfully one is only in there for 3 minutes or so. But it works, believe me!"
To expedite healing he was also exposed to daily sessions in a Hyperbaric chamber. This entails the use of oxygen at greater than atmospheric pressure to increase the availability of oxygen in the body and therapeutic recompression, which involves increasing the ambient pressure on a person.
Also on the Marcus heal-me-quick list was laser treatment, acupuncture and therapy by a Kinesiologist. We haven't mentioned the countless Cortisone injections, interferential therapy, radio frequency treatment, short -wave diathermy – and more!
He came back to riding after a 49 day absence. At his first meeting back at Scottsville on 23 June, he steered It's My Turn to victory for Dean Kannemeyer  in the 2400m Track & Ball Derby.
"I was in pain. My wrist was strapped. But I didn't want to hear about missing the July."
A short break followed and Anton returned on July day with three rides. He had nerve block injections for the pain and rode the July winner and the Gold Vase victor – that's 5,2 km of hard grind feature race action on our biggest raceday of the year.
He says that race riding fitness was never really the issue as trainers had been very helpful in giving him quiet horses to work in the mornings over an extended time.
"This promoted my fitness as I could sit quietly without risking injury or stress in the build up to my return in the Derby."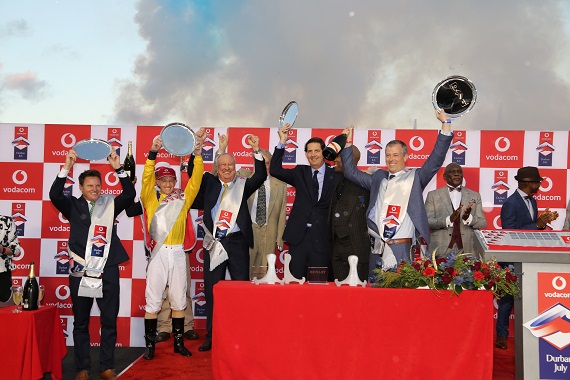 He is proud of what he has achieved to lift the trophy in front of 50 000 people at Greyville on Saturday – but is not a hundred percent sure about the true wisdom of putting himself under such pressure.
"On July Day I was ready. I had thrown all of these treatments into the melting pot. I have become a fan of Cryotherapy – as I said, it works! My progress and getting to the big days is a tribute to medical science. And I must make a special mention of my Nutrionist Lil Kimble of OTG. I have had such good fortune to have benefitted from expert and professional attention all along the way,"he says, modestly playing down his own outstanding achievement on Saturday.
And he has the photographs to show his Grandchildren!
‹ Previous
The Champagne's On Ice!