Twenty-one years old and with the world at his feet, reigning record-breaking South African champion Lyle Hewitson jets out to Hong Kong on 11 August to build on the dream that took roots when the son of a jockey was just twelve years old.
Locked in a tussle for his second consecutive national championship title with his talented colleague and perpetual motion Winning Form-sponsored workaholic Muzi Yeni, Lyle bids a fond farewell to his legion of fans and admirers at Hollywoodbets Greyville on Saturday.
Just nine wins ahead of the industrious Yeni before Wednesday's Scottsville meeting, Lyle told the Sporting Post that he would be riding every day until the season ends on Wednesday 31 July.
"It really has been a privilege and experience to feel the vibe and the way the racing public have warmed to the battle at the top of the log. At every racetrack I ride, the racegoers are egging us on and I believe some guys have resorted to only backing Muzi, Anton Marcus and myself as part of their strategy. It looks like it will go right down to the wire and hats off either way to my colleagues. Anton is a master jockey and Muzi never lets up – he keeps us all on our toes and is living proof that hard work reaps rich rewards," says Lyle, in a compliment to his arch-rival.
We asked him about the timing of the move East and how difficult it would be leaving behind winning partnerships that he has enjoyed with the likes of Sean Tarry and Yvette Bremner.
"I have been really fortunate to enjoy such fantastic support from so many people. Yvette Bremner has always been supportive and that's where I started – they understand my childhood dreams and ambitions and are right behind me. In Mr Tarry's instance, I can only say that it is the mark of the man that he is that he has only ever encouraged me to take my chances in Hong Kong. We have built a special relationship of trust – I have been riding work at his yard practically six days a week for four years. There is a massive mutual respect – despite my relative inexperience. I can give honest feedback and he can be critical – and I can take the input and use it positively," he said maturely.
Lyle, who has six Gr1 winners to his credit, has enjoyed a meteoric rise through the ranks since his Kearsney College days as a workrider.
He hails from a family steeped in horseracing, with Mom Sam and Dad Carl both accomplished horse folk.
While he says he has had long chats about Hong Kong with Karis Teetan, who was visiting SA this week, and the likes of former fellow Avontuur rider Callan Murray, Lyle will be stepping on to Hong Kong soil for the first time next month.
We asked what the most important aspect was on his mind before he fell asleep at night.
"I think that I'm going now for the right reasons at the right time. I'm starting on a clean slate. I believe that a good start is vital. Just like I did with my apprenticeship here, I got going quickly and momentum and confidence go hand in hand. Let's face it – luck will play a part, but I'm focussed and have the self-belief and grounding to give it my very best shot."
He has been watching the Hong Kong racing regularly.
"It's different to ours. The tempo and pace is on from the jump. The tracks are tighter. Getting a  good position early is vital. I'd probably liken the Fairview polytrack as the closest example."
Lyle has only ever ridden internationally in Abu Dhabi and then Singapore last year.
"This experience is part of my career growth path. It's what every jockey aspires to and I'm just so fortunate to get the opportunity now. It's never easy making the break when one is established – but I have to do it."
Lyle's 20 year old girlfriend Hannah-Rebecca Runnalls will be accompanying him on the adventure. The Hong Kong Jockey Club have requested he arrives three weeks before the season starts.
"I am really excited about the challenge. And glad I will have Hannah there for the moral support. I just have to thank so many people – the South African racing public have been wonderful; the trainers have been so helpful; the stable staff make it all happen behind the scenes; my sponsors have embraced me every step of the way;  my family are my foundation. I'm talking now as if I'm going to live on the moon! But I really owe so many fantastic people so much. My success has been a team effort. I'm a very lucky guy."
Pippa Says…
Lyle became one of South Africa's youngest ever sponsored riders when he joined the Avontuur team on 1 November 2016.
He was spotted as the 'real deal' by eagle-eyed Avontuur GM Pippa Mickleburgh.
Over the years, Avontuur has utilised jockey sponsorships to carry the well-respected brand on tracks around the country and media outlets worldwide, linking into their successful stud and wine business.
Pippa says that the core of the successful relationship that she enjoys with MJ Byleveld and Lyle Hewitson is that it has always been a win-win for both sides.
"Each of our jocks are ambassadors for Avontuur and we appreciate their loyalty and support.  The sponsorships assist with our brand building but also supports their dreams and aspirations, which makes it a win-win situation for all of us."
She said that Lyle would be missed by the entire South African horseracing fraternity.
"He is a remarkable young man and is such a bright young talent. He ticks all the boxes. He is eloquent, mature, carries himself so well and has a professional attitude to everything he does. The fact that he became a champion along the way was a terrific achievement for him – and a bonus for us. He has become a part of the Avontuur family over the past three years and we wish him every success in Hong Kong and beyond. We know that he will make us all proud."
‹ Previous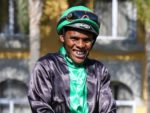 Bonji's On A Roll!