A past South African champ and a 'serial regional champion' in the words of seasoned stallion man John Freeman, Justin Snaith and his Philippi team dominated Cape Fillies Guineas day as the sun blazed down on a vibrant Kenilworth on Saturday.
We have used the cliches ad nauseaum when referring to the Snaith family operation's dominance from one season to the next – but they just seem to have an inexorable knack of getting it right.
With a Gr1 and a Gr2 trophy in the tog-bag, and with four winners cheques in the deposit book for Monday morning's banking, as the shadows lengthened over the expansive Southern Suburbs racetrack, Saturday 12 December went down as something of a summer season watershed for the champion team – not that we expected much less.
Captain's Ransom gave Suzette and Basie Viljoen their maiden Gr1 success when she swept away from the talented Princess Calla to win the WSB Cape Fillies Guineas in the mould of something uber special.
Patient and strategic planning – we saw similar when Belgarion won the Vodacom Durban July earlier this year – leaves the Moutonshoek bred filly with her eye on the Gr1 Paddock Stakes, and a potential sellout showdown off a handy galloping weight with SA Horse Of The Year Summer Pudding in January.
Justin was quick on the uptake with some needle fun in the post-race interview: "Looks like we will have to have a go at the big ones – you know how we love our pudding in the summer!"
Straight off his Hollywoodbets Greyville success in Africa's greatest racing event, Belgarion won the Gr2 Green Point Stakes like he had been dropped in by airwolf at the 150m marker. The Fosters son of Dynasty will, hardly surprisingly, go for the Cape Town Met.
"Whether he runs in the L'Ormarins Queen's Plate or Premier Trophy is undecided at this stage. But it will be one of them," he assures us as the ink had hardly dried after the Hollywoodbets odds-makers had scribbled him alongside Summer Pudding at the top of the boards for the big one on 30 January.
And while on the subject of smart horses, we asked when we'd see recently syndicated exciting future Varsfontein stallion Erik The Red, again.
"Erik the Red is being aimed at the Gr1 Cape Flying Championship," says Justin with a twinkle in his eye.
The top horseman paid tribute to his owner support and bloodstock expertise.
"We have owners big and small and each is equally important to us. We are trying to grow the sport again and the 1-10% owner is going to be crucial going forward. A professional like John Freeman is a star and he knows how to pick a horse. Without good horses it is near impossible to compete at the highest level."
The Snaiths let their horses do the talking on the track – that's really the only place anything counts, but it's also their travelling show and add-ons that set them aside and, dare we say it, make them so bloody good for the sport.
Saddling his sixth Gr1 Cape Fillies Guineas winner since Captain's Lover scored in the Team Valor finery under a then much-younger Richard Fourie thirteen years ago, the now 45 year old Justin 'Bieber', as his senior colleague Mike de Kock once affectionately labelled him, has come of age multiple times over and the push and dash has been replaced with a polish and confidence.
A settled and contented family man these days, he has found the family-work balance and spends his off days with his wife Lauren, and his biggest fans, 4yo Emily and 22 month old, Jack.
Between Dad, Chris, a local 70 year old legend of the equine ranks from the days that he partnered the likes of Torch Song over the amateur sticks in front of capacity school holiday crowds, and his Accountant brother Jono, the Snaith team runs like clockwork.
"We are a team. My Dad's involved as ever – if not playing poker, he is on a horse. I have watched Jonathan donate countless hours assisting Kenilworth Racing and I do not think many people quite understand the challenges overcome by the Kenilworth Racing board. Jonathan speaks very highly of the new chairman Bradley Ralph, which is promising for the future. I do however need him back at Snaith Racing!" laughs Justin as he makes reference to Cape Racing's noticeable efforts to get the  on-course owner experience up to an international level.
Summing up the top team, Justin proudly adds that their foundation is very solid.
"We have empty boxes for owners who love their horses," he says almost matter-of-factly, as he explains that they try and keep their string in Cape Town to 150 horses – but adds that they 'could do more'.
Snaith currently leads the national log with a 15,2% win strike-rate and a 33% place grab. One gets the feeling that with his current string, this could be his next big national season – he has played second fiddle to Gauteng giant Sean Tarry a few times more than he would probably have liked to.
"We try and not watch our opposition. But we never forget that they are there – and we know how good they are! South Africa has a depth of top trainers. This is not as easy as it might look to an outsider," he laughs as he runs his hand down the national stats log.
The Snaith business decisions have mostly seemed to be the right ones – after being dominant for many seasons in the Eastern Cape, they reconsidered matters, packed away the memories and the pics, and left the Windy City, establishing a satellite yard up the East Coast at Summerveld in KZN.
While we haven't done a survey as to whether every KZN trainer is doing cartwheels to have the Snaith team in the Holiday Province in the off-season, they, with the former Northern Cape emigres, have added much needed spice to the tangy cocktail that is racing in that region.
"I never felt welcome in Port Elizabeth when I had my yard there and decided to close after many years. I have always loved racing in KZN and thoroughly enjoy it. Michel Nairac and Tony Rivalland at Gold Circle have been wonderful and so supportive of us. I go down to Summerveld often and the yard is off to a flying start," Justin tells the Sporting Post.
And the numbers are there to back his words. They have had 14 winners in KZN since officially opening in August.
"I couldn't have hoped for a better start. My assistant in KZN is Megan Trott, who has been with me for many years, and is originally from Durban. It's a great mix for our overall business operation, and broadens the offering to our owners. In these times, that's vitally important," he adds with a frown that almost seems out of sync with the celebratory festive mood of our chat.
But professionalism and attention to detail is the name of the Snaith game and our discussion reverts back to the bumper day last Saturday on his home ground, where he saddled four winners, including two features.
Richard Fourie rode three of the Snaith quartet of winners. We asked how important the crack lightweight is in the set up?
"Richard is a team player and a wonderful young man to work with. He rides a lot of morning work – probably more than he would like to – and this is so important to his success," says Justin as he tells how the Snaith grooms have been fabulous through COVID and deserve a mention of credit as key players in the team.
"The new Khaya Stables Star Grooms initiative is the start of many positives to honour these essential employees for their commitment. This was a very kind gesture from Lady Laidlaw and has been so well received by all the grooms. R10 000 per feature race is a huge bonus for these essential employees of racing. We can be very proud of what has been achieved in short time down here," he says.
Dress codes, while a sideshow irritant to some, has always been part of the Snaith public face. We asked why they always wear jackets and tie. Was it a case of dress for success?
"Racing through the management of Phumelela and the previous Racing Association regime allowed the sport's image to slip dramatically. We need to ensure the game becomes sexy and aspirational again and part of this is presentation – trainers are ambassadors to the sport and need to set the standard," says Justin with a serious furrowing of his brow.
There was a great vibe on course on Saturday – what does he put it down to?
"Yes, hundred percent! There was a terrific atmosphere on course with many changes at Kenilworth including a new facility along with a new events and marketing team headed up by Donovan Everitt. Cape Racing are doing a wonderful job at making sure owners have a good experience. When crowds are allowed back post COVID Kenilworth is going to be a great offering for families over weekends. Listening to Cape Racing on Heart FM every Saturday morning has been an absolute treat. Having racing back in the mainstream media suggests the future looks bright!"
Saturday's another big day. Any other names worth mentioning?
"Legislate's full brother, The Gatekeeper, is continually improving and will go well in the Gr1 Cape Guineas," he adds.
The Snaith Super Saturday started on a good note with passionate fisherman Richard Fourie bringing the boss five crayfish in the morning.
We asked Justin if he had enjoyed the delicacy?
"I somehow prefer my summer pudding," he laughs.
‹ Previous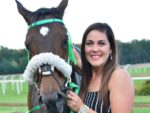 Let's Make Racing Great Again!