Up-and-coming Apprentice Louis Burke rode the 14th winner of his career at Durbanville on Saturday when the Rock Of Rochelle filly China Wolf charged through to win the final race on a festive programme held under glorious sunny skies.
But the happy moment almost didn't happen as the young jockey was suffering from the effects of wasting.
There are no weight issues threatening the pleasantly spoken Johannesburg born 23 year old, who goes to scale at 49kgs on an average day.
But he had enjoyed a relaxing previous week off and came to races having wasted to get down to 49,5kgs to optimise his claim on China Wolf –  a filly he knows well, having won the maiden on her.
"Trainer Dan Katz has been so good to me with loyal support. I had two early rides on Saturday but had the most terrible headache. It was warm too. Dan said he really needed me as China Wolf had been working well and was ready to win again. I thought I must do this. This is a testing job but I was determined to do my part. I grabbed an Energade and two Panado's and worked through it. I haven't won the Met – yet – so am talking from a  humble base still. But the modest win gave me a great sense of achievement and satisfaction. I was really chuffed that I could help Dan and Mr Hassen Adams, the owner, to end the day on a high," says the jockey son of a leading Professor of Psychology. Louis must be well geared in the scope of mind over matter!
Milnerton based Dan Katz achieved a superb double on the afternoon. He is something of a wonder worker with a relatively small string, which he trains exclusively for Hassen Adams.
"It is tough taking on the big guns. I work a horse and think that this is something special. We get excited. Get the horse ready and the inevitable stars in the eyes. Then we go to war with our revolver – only to find that the Snaith, Crawford and other power yards have missiles in their attack!" he laughed.
"As for Louis, he  is a hardworking mature youngster. He is worth every ounce of his claim. He gets on well with China Wolf and I pleaded with him to be strong and go out there and do the job. He came through like a soldier," said a pleased Katz.
It was Louis' Grandfather – not a punter but a racegoer – who encouraged his slightly built sporting Grandson to consider pursuing a career as a jockey.
Louis, a 4 May born Taurian with stubborn tendencies – but with no 'bull' he assures us – grew up with an older sister and 'happily divorced' parents in Johannesburg.
"I am proud of my family. They are all clever and have done well. My Mom is a super over qualified Social Worker and my Dad is a Potchefstroom based Professor of Psychology. My sister teaches English in Thailand. My 7yo half-brother lives with Dad."
The graduate of the Afrikaanse Hoerskool Noord Heuwel, located east of Krugersdorp, was a top-class gymnast, trampolinist and also played Club Cricket in Gauteng during his school years.
He says he has never had a nickname, but his Uncles have called him 'Louis The Fly' and some racing folk have labelled him 'Louis The King'.
"I haven't earned the tag of Louis The King yet – but it has a nice ring about it. For now, I'm just plain Louis."
Unlike many of his contemporaries, who enter the SA Jockey Academy in their mid High School years as often immature and confused youngsters, Louis took a different path.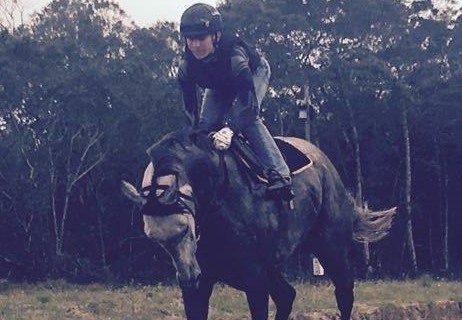 With the prospects of becoming a professional jockey lurking in the back of his mind, courtesy of his Grandfather's ongoing encouragement, Louis opted to take a year off after matriculating at Noord Heuwel and took the chance to grow up a bit and work through his thoughts.
He had been exposed to horses from the age of 8 as his Uncle owned a home in an equestrian estate in Pretoria and Louis savoured the peace and chemistry he enjoyed with the animals.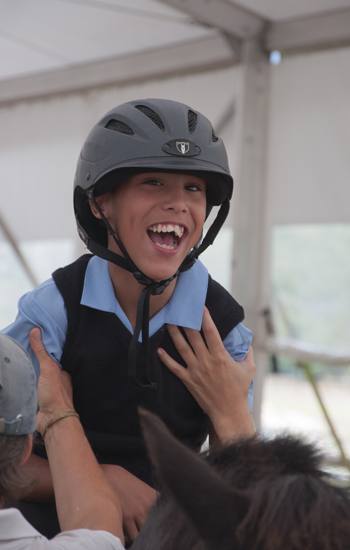 He signed up as a volunteer with the South African Riding for the Disabled Association to work with horses and disabled people. "I felt that this would give me an opportunity to do charity work in a rewarding and fulfilling environment and give something back to society at the same time. It was doing good for others, while doing good for myself. I really loved the experience and still think a lot about the remarkable tenacity shown by disabled people. I think we, as human beings, have a tendency to take basic things for granted. It was an eye-opener and I matured a bit in that year."
In 2015, Louis entered the SA Jockey Academy with current Cape Town Academy mates Liam Tarentaal and Sandile Mbhle, as well as Calvin Habib, Dennis Schwarz and Dylan Lerena.
"I was the older kid in the group and felt I was well geared to cope with being away from home and at a boarding school environment. My biggest mental block was adjusting the stirrups so short, jockey style! The riding masters treated me well and I can't say it wasn't another good experience for me all round."
It was in his second year, and at only his 20th ride – his strike rate was good as he had registered four places already – that Louis rode his first winner. It was a humble beginning – but the sixth at the Flamingo Park Racecourse on Monday 3 October 2016 is one he will always cherish.
"I was riding an outsider Jozi Babe for trainer Sarel Von Willingh Smit. I was drawn against the rail in the 1800m race. When the gates were sprung it was like I had just jumped out of an aeroplane at 12000 feet. There was silence and the world seemed to stand still. I looked back and thought for a moment that it was a false start. We beat Kartouche by two lengths. The next thing I recall was a smiling Mr Von Willingh Smit at the bridle and pats on the back in the jockey room. I was hooked after that!"
Louis is based at the Milnerton Academy under Riding Master Terrance Welch.
He enjoys the environment and has become close friends with Sandile Mbhele and Liam Tarentaal.
"I was a Joburg boy – we always see ourselves as different – and it takes time to adjust to the Capetonian way of socialising and doing things. But the people are warm and friendly and the Cape trainers have been the most welcoming and helpful of any in my short experience."
He also names Richard Fourie as his inspirational mentor.
"Richard is different league. One of the toughest parts of my job is riding against a world-class talent. Richard is one of our best. But he has taken me under his wing and coaches me after races, showing me how he does it. So I have turned the challenge of always watching him from behind in a race into a positive of trying to learn how he weaves his magic!"
Does he spend social time with Richard Fourie?
"He is a naturally gifted and avid fisherman, and has tried to show me the ropes. But I have to concede abject failure. I love the outdoors but hope I never have to ever earn my living catching fish. I caught a shoe at my most recent fishing trip. It wasn't even my size! Richard doesn't invite me to go fishing and I can't blame him. As long as he continues to tutor and guide me with his enormous race-riding skill set, I'm happy."
Louis rides work at Milnerton but is keen to spend more time out at Woodhill Racing Estate with the Kotzen team.
"Luyola Mxothwa gives me a lift for the 60 km trip out to Paarl. Mr Kotzen has some beautiful horses, a decent sized string of depth, and nice tracks. It is like a trip out into the country for me. It's really peaceful and relaxing. I'd like to set up a permanent home in Cape Town – but who knows where life takes us eventually? I must remain focussed on riding winners and improving my race riding."
With a vastly improved seat and strength, Louis should not be long in riding out the balance of the six winners to lose his 4kg claim. He says that his long-term goal and dream would be to enjoy some race-riding experience in Australia, the East or even the UK and France.
"I watch the overseas racing. Chantilly looks amazing. There is nothing wrong with SA racecourses but diverse experience is important in any profession."
And for now, he is loving the Cape.
"I have a lovely girlfriend who lives in Plumstead. I have converted her to becoming a full-time racegoer. And boy do we need more of those! Cape Town is a beautiful city. There is so much to do. The people are great. I just need to start riding winners on a regular basis, and life will be near perfect!"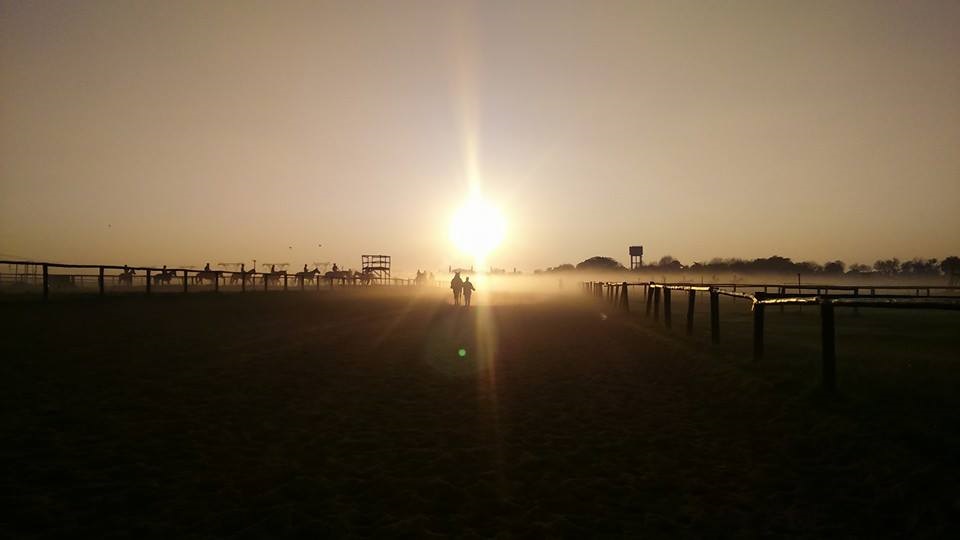 Gap Year
Louis spent a post matric gap year doing voluntary work for the  South African Riding for the Disabled Association (S.A.R.D.A.).
The organisation was established in Cape Town in 1973 by Belinda Sampson and Joy Finlay. Today there are additional branches at Sleepy Hollow in Cape Town and in Durban, Port Elizabeth, George and in Gauteng. SARDA is affiliated to the RDA in the United Kingdom and the Federation for Disabled Riding International. SARDA's aim is to provide the opportunity of therapeutic and recreational horse riding for disabled people so that they might benefit in all aspects of their mental, physical and social lives.
SARDA encourages equestrians and therapists to learn about the RDA and Hippotherapy practises. Equine Assisted Therapy (ETASA) offer training in Hippotherapy, while SARDA offers training in the practice of RDA.
If you are interested in becoming a teacher in either area of expertise, visit  SARDA Volunteers Page at www.sardacapetown.co.za for more information.
‹ Previous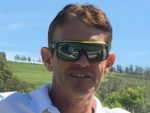 He's In It For Life!