On 24 February, underrated and under utilised Cape jockey Lucian Africa reminded us that on the right horse, on the right day, and with the right people, there is still plenty of fun to be had in racing.
In a composed and polished performance, Lucian kept the Harold Crawford-trained Perovskia, for longstanding client, Mike Mort, at his task long enough to hold off Mambo Mine for the cheque, the glory and the bragging rights to the 2018 Listed Jet Master Stakes. Lucian also wrote a bit of history for the yard, as Harold's last Listed winner dates back to War Raider in the 1980's!
Making Your Own Luck
"I know Perovskia well. Between myself and Grant Behr, we're probably on him the most often. He's so well looked after – all Mr Crawford's horses are. He's a complete gentleman and so easy to work with, he never complains!" he says warmly.
"He'd come in with a light weight of 51kgs," says Lucian, when asked how he secured the engagement. "A few weeks earlier, I overheard Mr Crawford's daughter Michelle saying to a client 'If you don't ask, you'll never know". So when Perovskia was entered, I messaged Michelle saying I'd like to put my name in the hat – if you don't ask, you'll never know! Two days before scratchings, I'd ridden a horse for Mike Mort called Nicky Noo. She doesn't always jump well, but I got her out smartly and we finished 4th and I think that helped," he grins.
Build Up
Lucian is a natural lightweight and walks around at 51kgs 'after breakfast, lunch and supper!' "On the day of races, I had a Spur breakfast and arrived at track at 50.2kgs. All the bottom weights were coming in with plus a half or more and Mr Crawford and I looked at each other and said now we definitely have a chance!"
"The horse always works well, so I was feeling quite confident, but when we cantered down for the race, he started pigrooting with me and at that point, I realised he was VERY well," he smiles.
"I knew Milton would lead, so the most important thing was to bounce him out and make sure he landed running. He dived out of the gates, but we got out well and slotted in at the front. I saw Milton, but he had to come wide around horses. My horse was settled and running well within himself and I wasn't going to burn him out trying to go with Milton, so I just let him do it on his own. At the 300m, I saw Milton was gone and we moved past him without my even asking. Grant (Behr) was right there on Mambo Mime, so I gave Perovskia a few smacks. Grant mentioned that Perovskia's a real fighter and doesn't like anyone to get past him and about 100m out, I thought Mambo Mime might get there, but Perovskia wouldn't let him. He wasn't labouring – he was actually travelling well – but he was just doing enough to keep the other horse behind him. It was amazing – I've never felt that before."
"I told Michelle after the race, I was close to crying as we crossed the line. It wasn't just the win, you have no idea how hard they work. Looking after the horses every day, taking them to the beach, everything they put in. Mr Crawford has a small yard, but his owners are very involved and there's a handful that are there every Saturday. The last time I saw that was at Ashburton, which used to be packed with owners every Saturday morning. The owners all want to talk to us and know about their horses – it's amazing. To see all that rewarded – it was probably the best 98.27 seconds of my life."
About Lucian
Lucian came into racing by a somewhat unorthodox route. His father, who likes to play the quartet, was the only link to racing. "I went to 'The' Settlers High School and finished matric. My dad runs a computer cabling company and after school, he asked me what I wanted to study. I said I really don't know, so he said 'until you decide, why don't you come and work for me?' One day, out of the blue, he asked why don't I go for riding lessons. I said why? I've never been near a horse? But we booked a lesson at Camelot in Durbanville. I was 19 years old. Long story short, your first lesson isn't all that interesting, but the second it was finished I said 'when do I go back?' and then it was just a question of what do I do next?"
Lucian spent 7 months working as a groom for Joey Ramsden while applying for an Academy placement. "Booysen and Andile, who are both still there, showed me how to ride in the ring. They still remind me to this day that they taught me to ride!" Lucian was accepted to the Academy in 2005 and joined the intake including Derrek Davids and Karis Teetan. "Patrick Salvage was headmaster at the time. When I went to sign my papers, I saw it said 5 years. I looked at that and thought 'no!' I asked Mr Salvage whether I could qualify sooner if I rode my 50 winners in three years and he said yes, so we adjusted the paperwork and I signed up," he explains cheerfully. "You only get to race ride from the end of your first year, so I was under a bit of pressure, but I did it."
Speedy apprentice
Lucian was elected Head Boy in his second year and half way through that year, started working for Charles Laird. That afforded him to the opportunity to ride a lot of good horses, including the likes of Lion Tamer and Rebel King, with a morning gallop on Lion Tamer, with strict instructions to sit behind Anton Marcus going half pace, standing out particularly vividly!
"I rode a lot for Brett Warren and Roy Magner. I learnt so much in Joburg, it's frightening." He also got support from Geoff Woodruff, who thought enough of him to give him the ride on Festive Occasion in the 2007 Summer Cup.
It also earned him the attention of Winning Form, who have been his sponsor from day one. "I always say I was one of the founding members of Winning Form," he smiles proudly. "I'd just come out of my apprenticeship when they started sponsoring me. They have been really amazing. They give me an incentive for every winner, supply my breeches, bibs and caps. They are always interested in how I'm doing and phoning to see how things are going or to wish me well or encourage me. They've been very good to me for many years."
Finding his niche
After a successful stint in Joburg, Lucian broke his leg and was off for 6 months. "I went back to Durban, but wasn't really enjoying it, so I came home." After a short stint in Cape Town, he went back to Durban briefly, but finally settled back in the Cape three years ago. "I always said I wanted to come home. I knew it would be hard, but I don't care. I have faith and will carry on, focus on my riding and work hard. Even if it means only winning the Met when I'm 45!" he quips.
"I have this routine every morning. I get my clothes, let my dog out, and leave the house by 4:55. If I'm not out of the house by 5:05, I start panicking. I'm at work at 5:10am and go to Vaughan Marshall's yard first, put down my things, have some coffee, stretch and watch some replays or news and I'll sit and chat to whoever's around and then ride first string."
He's also formed a good working relationship with the Crawford string over the last 3 years. "I started slowly, then made a point of being there for first and second string. We all work together and there's a lot of support. It's a great yard to work at."
Limited Opportunities
Cape Town is a very competitive centre and Lucian admits opportunities are scarce. "It's hard, but I've won the Christmas Handicap and the Chapter Challenge in Durban and have a few other trophies – those aren't for nothing. Sure, I was given chances, but at some point you've also got to have ability to know where you need to be in a race – you don't need to be Anton Marcus. I'm not taking away from the successful guys," he adds quickly, "They have worked their backsides off to get where they are, but when you're riding that many winners and you're always sitting on that kind of horse, you're always motivated. When you're not, you have to be even stronger to get yourself to work every morning, particularly when you're still not getting many chances. But when you do get wins like the Jet Master Stakes, it's a good feeling and it motivates you and gives you the confidence to carry on."
So what keeps him going? "The horses and the thrill of riding still gets me every morning," he admits. "Riding on the big days is really great and cantering down on Met day or July day, the noise and the crowds are INSANE. The feature race wins are obvious highlights, but it's a highlight just improving a horse – it makes everyone so happy."
The bits of the job he doesn't like? "Winter in Cape Town and riding work in the rain. I don't like soft going!" he quips.
As it happens, he'll be missing the winter season this year.
New Challenge
"It's all very well riding every now and then, but I got married in May 2016 and you need to be able to earn enough to save for a house or a car and so on." Following in the footsteps of Devin Ashby and Xavier Carstens, Lucian will be spending a stint in New Caledonia. "I first wanted to go to Hong Kong, but they wanted me for a year, which is a bit long, so I looked at New Caledonia. Devin and Xavier have both enjoyed it. It's always been a dream of mine to ride overseas and get some experience and they only want you for 7 months. Justine King deals with them, so she sent them my CV and now I'm preparing to go." He's waiting for his visa, but is due to leave on 4 April. "I'll be riding for the Paul Greppo yard. They work horses in the morning and evening, they race twice a month and they pay you a retainer."
Much as he's looking forward to the new challenge, Lucian confirms his return flights are already booked and we can expect to see him back on 22 October.
‹ Previous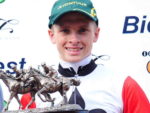 Lyle Hewitson