There is a special high that comes with winning a race. It is all the sweeter, when it is shared with friends. Mathew de Kock shares the story of Takingthepeace.
All stories start somewhere and the story of 2018 Gr1 Gauteng Fillies Guineas winner Takingthepeace starts a little later than most of her contemporaries, at Summerhill Stud on 4 December 2014.
The bay filly joined the 2016 CTS Johannesburg Ready To Run draft, catalogued as lot 121, where she caught the canny eye of Mathew de Kock.
Purchase
"They used to have the gallops on the farm and the sale in Joburg, but this year the gallops were at Randjesfontein.
Mathew has had a thorough schooling in developing his eye, but is fortunate to be able to call on some solid expert advice when he needs a second opinion. "I immediately phoned my dad and said please come and have a look at the filly. I always ask him – he's got a lot more experience. If I get his approval, then I'm happy. He saw her and also said she was beautiful, so we marked her down as one we wanted to buy."
Although the budget was originally set at R200k, Mathew went to R280k to secure their pick. "We did stretch a little, but I did really really liked her. I know it's a cliché, but I really liked her right from the first time I saw her."
They say your horse is only as bold as you are and they don't come a lot bolder than Mike de Kock, who is not afraid to put his own money where his mouth is and owns the filly in partnership with Mike Shea (son of top international jockey Kevin Shea) and Murray Makepeace. "Kevin is one of my dad's best friends and Mike is one of my best friends, so when Mike approached me about buying a horse for him and said he had another friend who was also interested, I wanted to have fun with them. My dad also wanted to support me and my friends and help get some youngsters into the game, so ja," he shrugs shyly.
Name
The filly was purchased with the name Sagano, after the Japanese scenic railway. However, with Murray Makepeace being the majority shareholder, Mathew asked whether he'd like to change the name and he said yes. "With his last name being Makepeace, we wanted 'peace' in the name somewhere," explains Mathew. "We sent through a few name with 'peace' in it, but they were all rejected. Then we tried four or five Zulu names meaning peace and they denied those also. I said they must be taking the p**s, we said how about substituting 'peace', Murray loved the name, we sent it in and it came through," he chuckles.
With regard to the old school notion that changing a name is bad luck, Mat says he's not superstitious. "Murray is new to racing so he doesn't have all these preconceived ideas and I think we've proved they don't apply!"
Dream Start
It's hard not to dream big, particularly for first time owners. Did they have any idea they might have something special on their hands? "Our first goal was to try and qualify for the Ready To Run. Obviously coming off that sale, it was something we had to consider. Probably the most important thing was that she was born in December," explains Mathew. "And although she was so nice, the fact that she was late meant there was always going to be room for improvement. When we got her, we took it very easy for the first three or four months and just cantered her, but from day one, anytime anyone got on her, they all said she feels really nice, even just at the canter work."
Giving Murray Makepeace's green and purple silks their first race course showing, Takingthepeace debuted over 1160m at Turffontein on 28 May 2017. With Anthony Delpech in the saddle, finishing 2.55 lengths 3rd to London Secret, which Mathew pronounces 'a very good run'. She reversed the form second time out on 15 June 2017, beating London Secret by 1,25 lengths. "We decided to put her away for the winter, keeping in mind that she's a late foal and was always going to improve."
3 Year Old Campaign
She came back to the track as a 3year old on 17 October 2017 and, over the Vaal 1000m course, put a field of older fillies to bed by 2.4 lengths conceding weight all round. "That's when we thought this is a serious filly."
Takingthepeace had done enough to qualify for the Ready To Run Stakes at Turffontein on 4 November, finishing a creditable 3rd behind Big Bear and Brave Mary. "After the Ready To Run, we entered her for the Fillies Guineas as well as the Fillies Mile on Summer Cup day. She drew well in both and we considered either one, but she got sick, so we backed off her and she missed the end of the Joburg season."
After her enforced layoff, Takingthepeace returned to the track in the 13 January 2018 Swallow Stakes with JP van der Merwe in the saddle, finishing 7.45 lengths back and with only two horses crossing the line behind her. "It was a very bad run. She'd been working really well at home, so we were scratching our heads."
Just twelve days later, and with regular pilot Anthony Delpech back in the plate, she was sent out in a mixed field of fillies over 1200m at the Vaal and triumphed, albeit by a narrow 0.25 length margin. "She came out so well and was still working so well at home, that we ran her again 8 days later (in the 1400m Gr3 Three Troikas Stakes at Turffontein). "To run her three times on top of each other like that was not ideal, but she finished 4th to Fish River giving her 2kgs, so it was a good run, in hindsight," he muses.
Stepping Up
The Gauteng Fillies Guineas was the first time she'd ever been asked to go the mile and she also had a new jockey in the form of the upwardly mobile Callan Murray, making it something of a 'young guns' team.
"We always thought she'd stay, but obviously they've got to come on and prove that. I think she obviously enjoys the mile. She's got the speed to go 5 furlongs and we know she stays a bit further, so that makes her a pretty effective filly over a mile."
With Aurelia Cotta scratched at the start, the field was reduced to 12. Jumping from draw 7, Callan Murray settled the filly one from last, content to track the field around the turn. Takingthepeace was last turning for home and with 600m to go, still had a wall of horses in front of her. Coming off the false rail, the field fanned across the track and the battle for the lead going in earnest. Callan finally found a clear run down the outside and pressing the button at the 400m, the response was electric. Takingthepeace grew wings, overtaking horses hand over fist. She'd disposed of most of the field by the 200m mark and continued rolling to pick off the remainder one by one, completing the job with stablemate Silver Thursday in the shadow of the post and grabbing victory by 0.25 lengths in a thriller.
Aftermath
A video of Mike and Murray's rail side celebrations has already been widely shared, and rightly so. It's been quite a ride. "We didn't have any expectations. In the beginning Mike and Murray just wanted to win one race. This is their first horse. We bought her hoping she might win one and we've ended up here!" he says incredulously. "It's just all worked out so well."
"My dad was in Australia. He phoned me straight after the race and started crying – he couldn't talk. I've never heard him cry," he reflects softly. "Him and Kevin Shea have such a good relationship and Mike and I have such a good relationship – it's been special for him to see the sons have such success."
Looking Ahead
With the Guineas trophy firmly on the shelf, are there any ambitions to chase the rest of the Tiara? "We'll definitely run in the Classic," confirms Mathew. "If we're lucky enough to win that, we'll give the Oaks some thought, but we're not hell bent on going all three legs. We've got some options now," he says thoughtfully.
"What she's done so far is already more than enough. We're just going to enjoy it one day at a time – that's how we started – so we'll just keep that mentality for now and enjoy the ride."
Although Takingthepeace only has three partners, Mathew has made it a personal challenge to bring new faces – and particularly new young faces – into racing via his Onamission Syndicate scheme. They hit paydirt with their very first purchase, Puget Sound, also purchased from the 2016 CTS Ready To Run sale, giving them a 100% success rate to date! The syndicate has two more 2yo's who will be making their debut in the next 2-3 months and with the project yielding good results so far, Mat confirms that he will be buying again in the future. Anyone interested in joining, is welcome to contact him on [email protected]
‹ Previous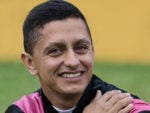 Lucian Africa