Big names following in famous family footsteps have long been a power passport to a successful career in the saddle. Lerena, Ferraris, Puller and Lloyd are just some of the proven dynasties that run deep in South African racing.
So when a young member of the Zuma clan from the little known reaches of Impendle, with a family of 23 siblings and literally zero exposure to the sport of kings, packs his bags and takes his chances in the big wide world of racing, one has to express a measure of admiration.
For those not familiar with the location, Impendle is a town in the Umgungundlovu District and is just under 50 km west of Pietermaritzburg – the Capital City of KwaZulu-Natal.
One of its most progressive former residents is the 21 year old Mfanelo Zuma, a second year SA Jockey Academy student, who enjoyed the thrill of his first ride at Hollywoodbets Scottsville on 15 September. Nobody will remember that the Gavin van Zyl – trained La Bahia finished over ten lengths back in the modest Maiden Plate – except for the young Mr Zuma.
He introduces himself and tells us his mates call him 'Fa' – remember it's a silent 'M' in his first name – before going on to speak with tangible pride about that first ride.
"I won't say I wasn't a touch nervous and hyped up as raceday approached. But when the gates were sprung that all disappeared. The adrenalin was pumping and I kept thinking about everything I had been taught. It was 70 odd seconds that felt like nothing I have ever experienced. I can't wait for my next ride!"
The Stipes reported that the not so easy to handle La Bahia, who was ponied to the start – something of a baptism of fire on Zuma's first day at the office – lost 1 length. But the important part for the young rider was the stipes' last comment – ' Apprentice M Zuma the rider of La Bahia had a satisfactory qualifying ride'.
So that's the first of five baby steps on the long ladder to fame and fortune. But with Hollywoodbets Scottsville's spring treatment under way, Mfanelo will have to wait until Sunday 8 December, when racing returns to the KZN Capital City track.
"We are only allowed qualified rides down the straight track. That's not an option at Hollywoodbets Greyville obviously, so I will have to be patient and hope, at the same time, that Mr Moore at the Johannesburg Academy can possibly get me a ride in a suitable apprentice race."
At the age of 21, and with his high schooling at Imbali Junior Secondary School behind him, Mfanelo fits into the same profile as a recent subject on these pages – Cole Dicken. It is clear that maturity and the ability to focus on their jockey training gives the older guys an edge on their wide-eyed academy mates, who arrive unsure about where they are headed in life and still distracted by history and geography.
SAJA Marketing Manager Leonard Strong makes an interesting observation – the Academy's target market in terms of the physical attributes minimum specs fits less than 1% of the population.
So how did the young man with the famous surname from the far-flung Impendle land up at Shongweni?
"I used to ride our neighbour's horses when growing up and that, coupled with the fact that I have never weighed a lot – right now I stand in my boots at 44kgs – had plenty of people suggesting I should be a jockey."
Mfanelo was at a loose end when finishing his schooling and a search of the internet led to his eldest brother, who owns a construction company, contacting the SA Jockey Academy.
Leonard Strong recalls hosting Mfanelo and his brother at Greyville during a racemeeting and showing them around.

"I can't see anybody new to racing not being taken with the vibe and pulse at a racemeeting – and it wasn't long before Mfanelo's bags were packed and he was on his way to us to start a whole new life."
Mfanelo picks up the story from here and tells how being the second youngest in a family of 23 has many advantages in preparing one to cope with life. His family at home is bigger than the academy, so he has slotted in with ease!
"You learn to stand in a  queue – to not expect anything being dished out to you – and especially not to be selfish. I adapted quickly and have really enjoyed my time here. I'm very thankful for the opportunity."
And his energetic work ethic has already been in evidence at the training tracks where he runs from ring to ring.
"He is tiny but is as tough as nails. He is half the size of some of the guys and I have seen him tackle them off the pitch on the soccer field too. He has no fear and is a hardworking youngster – he is always smiling. A real example – and I like him as he takes feedback and criticism constructively. In this game, sulking can be destructive – and he definitely doesn't sulk!" said the veteran former champion jockey Garth Puller, who has taken many apprentices under his wing.
Garth says that he  has suggested to Mfanelo that he works on his upper body and legs strength as he needs to 'bulk up a bit'.
"He is the kind of guy that horses run for. Pencil his name in – he will be more than okay when he learns the ropes of pace and race-riding. That just comes with experience."
Leonard Strong endorses what Puller says.
"Mfanelo reminds me a little of Callan Murray. Always a smile. Always willing to work. The trainers pick up the enthusiasm and it's important to create the opportunities as the youngsters can only build their careers and reputations on the racetrack with opportunities provided by trainers and owners," adds Strong.
Mfanelo, who is doing his post-matric this year, singles out Warren Kennedy as his role model amongst the senior jockeys.
"He takes the time to give advice and guidance. He doesn't need to bother. But he is a good person. And I admire the way he rides," says the 21 year old.
And on the inevitable off-the-track question of whether he is related to a former State President of South Africa, Mfanelo smiles broadly.
"My Dad tells me that us Zuma's are all related. But I have never met the big man. I just want to get on with making my family proud and riding winners – and hopefully becoming a champion one day!"
‹ Previous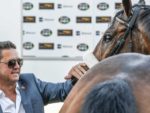 Dreams Work!