Money comes and goes – it's the passion that endures. So says Michael Tshetsho Mahiakola – South Africa's only black trainer and a patient man by nature.
Two years after obtaining his trainer's licence, the 36 year old father of three saddled his second winner at the Vaal last Thursday when Dr Richard Maponya's Lonely Night won her second start at any price under S'manga Khumalo.
The Klawervlei-bred Warm White Night filly wouldn't exactly have endeared the Mahiakola yard to punters as she had run 16 lengths back on debut almost six months earlier. But there was a touch of betting support to alert the observant few and Michael says that she had been showing nicely in work.
"I have always thought highly of her. And after S'manga (Khumalo) had ridden her in work and agreed to ride her, I felt more confident,"says the man who has tried everything from being an ordinary apprentice jockey to a less than inspiring broadcaster with Tellytrack.
Plans to travel to Cape Town for the big sales race have been shelved as Michael has decided Lonely Night needs more time.
One of his mentors, senior commentator Nico Kritsiotis was on hand to lead the filly in at the Vaal on Thursday.
"This is a proud moment for everybody who has ever inspired or assisted Michael on what has been a long hard road. The fact that he can train a winner with his limited infrastructure and resources is a tribute to his talent and enthusiasm. I personally am so pleased for him and I wish him well. He deserves more support and he has an unquestionable affinity with the horses," said Kritsiotis.
Ask any jockey who was with Michael in his apprentice days and they will tell you that he took particular pride in turning out his horse – stable management obviously is his game.
Lonely Night's win reminded us of a year earlier. The formless 4yo Main Flyer raced away to a narrow win in a Maiden Plate over 1800m on the Kimberley sand track in October 2017 to give Michael his first winner. The 50-1 shot had finished close on a collective 150 lengths behind the winners in his eight previous starts.
So two isolated longhot winners are probably not the ideal way to announce your arrival. But the man who lives at the Vaal near his ten strong string has the gift of the gab to go with his training skills and he says that he will persevere until he is training winners regularly.
Wealthy property developer Dr Richard Maponya is Mahiakola yard's major patron. Michael has also managed to get Ntshaka Moloi involved.
"Dr Richard Maponya, who is more than a father, a mentor and a grandfather to me, said he would give me horses and bring other black people into the game if I got my licence and that was all the commitment I needed at the time," he said as he recounted the many twists and turns in his progress up the horseracing ladder.
Michael's story is an epic tale of rejection and perseverance
He went to school  just a stone's throw from Turffontein and he often visited Tony Nassif's yard to spend time with the horses.
Being small of stature, the natural progression was to become a jockey.
After he matriculated in 2003, he joined the South African Jockeys Academy in 2004. After the initial 18 months at the academy in Durban, he was sent to Zimbabwe. About a year later he had a bad fall and decided riding horses was not for him. He was no Frankie Dettori – 52 rides and no winners attesting to the fact that he could be a better trainer than a jockey.
He left racing, going to work for his uncle, Glen Malela, in construction. But the bug was still lurking – he missed the horses, so decided to try and become a trainer.
After hitting brick walls in his endeavours to break into racing, he impressed Nico Kritsiotis sufficiently and was given a contract at Tellytrack.
"Michael is nobody's fool and he has a sparkling energy and enthusiasm that is infectious. I could see though that he wanted to work with the horses. I was happy that he was going to make contact with Michel Nairac in Durban and off he went with my encouragement to go and live his dream," said Kritsiotis.
"I spoke to Gold Circle's CEO Michel Nairac and he agreed to give me a chance," recalls Michael.
Nairac was also as taken as Kritsiotis and he brought local trainer Mike Miller on board and agreed to pay Mahiakola a stipend while he learnt the ropes.
Miller enjoyed the raw recruit's passion and will to learn and after some valued guidance from Gavin Van Zyl and Herman Brown senior along the way, Michael was ready to take on the world.
He obtained his assistant trainer ticket and was on the path to carving out a career in one of the toughest professions on earth.
On Friday, Michael reflected on a rollercoaster few years and paid tribute to Mike Miller, Brian Wiid, Herman Brown Snr, Michel Nairac, Graeme Hawkins and Nico Kritsiotis. "Thinking back, these guys believed in me when others shut doors", he recalls proudly.
"I am so pleased. He has always talked a big game and aimed high – but with his drive and passion, the world is his oyster. Who knows where he could go?" said Nico Kritsiotis.
Trainer Mike Miller summed Michael up well: "He's a hard worker and has the gift of the gab, which is half the battle in this game."
Michael says that his Vaal colleagues have accepted him and he often sounds them out for advice. His winner has given him some extra confidence – not that he needs any!
"Jan van Eck, Dorrie Sham and Ashley and Andrew Fortune have been particularly kind to me. And Lynton Ryan has guided me with purchasing horses and shown me the finer points of what to look for. This is a game where one mustn't be shy to lean on others. We aren't all experts on everything from feed to shoes to veterinary matters – and I have found that asking questions of people that know and then listening is the way  to broaden one's skills set."
Michael has empty boxes and he is keen to increase his string.
‹ Previous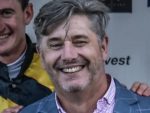 Twists & Turns…But Life Goes On!