Mike de Kock has been training since 1987, been champion South African trainer 8 times, campaigned all over the world, racked up over 100 grade one winners and will bid for a fifth July victory with Majmu and Pine Princess on 4 July 2015.
It is always a privilege spending time with people who are good at what they do. The problem with famous people is that before you've met them, one starts to form an opinion of what they are like, or even what one might like them to be like and all too often the reality is quite different to what you hope. Some don't live up to their press, some have clay feet, some turn out to be just, well, ordinary. But every so often, life hands you a little surprise and they exceed your wildest expectations.
Mike de Kock may have a reputation for being gruff and a bit blunt, but there is no doubt he is very good at what he does. I know he's not mad about press, but he is surprisingly accommodating and puts me at ease saying, saying "The quicker you do it, the sooner it's over with." I think he's teasing.
About Mike
Mike was born on 14 February 1964 and grew up in Alberton, south Johannesburg, a stone's throw from Newmarket racecourse. His late father, Terry, was a car salesman and his mother, Anne, a housewife. Mike is the eldest of their six children. Interestingly, his siblings are also all successful in their own right, with professions ranging from business, to engineering to running a charity and several live abroad. When I comment that his mother was clearly a blue hen, he chuckles and says, "She's a helluva woman. She worked hard, she raised six kids, we were very lucky."
Despite neither parent having an interest in racing, Mike was obsessed from an early age. He soaked up any information he could from the press, radio and TV as well as sneaking into Newmarket to get as close to the action as he could. He even got a job at Southern Timbers across the road from the track – not only did they get a lot of racing custom, but he could also watch the racecourse activity through his office window – "I was fascinated by the animal and the whole racing thing."
He met young David Ferraris at Alberton High School and the two became friends. They discussed racing endlessly and David took Mike to Ormond Ferraris' yard, where he got to watch and learn. After school, Mike spent his national service furthering his knowledge by joining the equestrian unit at Potchefstroom, receiving a grounding in anatomy, feeding and stable management and completing his riding instructors' course. He then contacted his old friend David and got a stable employee job for Ormond Ferraris. Mike describes that period as 'some of the hardest, yet most rewarding' times of his life, but most importantly, his foot was now firmly in the door. He worked briefly for Robbie Sage, before joining Ricky Howard-Ginsberg in 1987. "I knew Ricky from when I started. He stabled next door to Ferraris. We always had a very good relationship. He was a good man and I had a lot of respect for him."
On his own
When Ginsberg suddenly died of a heart attack in December 1987, a reluctant Mike was persuaded to take-over the reins. "I think it's a mark of what a good man he was that his friends all still wanted to race together and wanted me to carry on with the yard when he died." He did not disappoint, saddling his first winner one week into the job, when Evening Mist won the Gerald Rosenberg Handicap. She would also give him his first Grade 1 in the April 1989 Administrator's Champion Stakes and, carrying 55kgs, finished 1.6 lengths 4th in the mud bath that was the 1989 Rothmans July. "That was top-weight in those days. Just shows you, the handicappers are still learning!" he jokes. Mike completed the half term with 25 wins and notched 41 wins in 1989/90, his first season as a fully-fledged trainer.
He moved to Randjesfontein in the early '90's with his wife to be, Diane Cawcutt, who had been working for James Goodman as an assistant-cum-work-rider. Diane is the daughter of the late champion jockey Johnny Cawcutt and bred in the purple as far as racing pedigrees go. Diane cut her teeth with Terrance Millard's string on Blaauwberg beach before relocating to Johannesburg in 1985. Not only has she become an integral cog of the MDK Racing machine, she has been at Mike's side every step to where they are today.
The career that almost wasn't
Although Mike got a head start by inheriting the Ginsberg string and his early years included the likes of Evening Mist, Record Edge, Golden Hoard and Spook Express, his really big break came in the form of the Mauritzfontein marvel, Horse Chestnut. Although he laughs about it now, Mike very nearly missed out on Horse Chestnut altogether. When Bridget Oppenheimer personally rang on 10 April 1995 to offer him some horses to train, Mike thought it was a joke and very nearly blew the opportunity. It was not until an apoplectic Mauritzfontein stud manager Gavin Schafer rang to ask whether he'd taken leave of his senses, that he realised his mistake. Fortunately Mrs O saw the funny side.
Mike made it up to her on 12 December 1995, ensuring that his first runner in the Oppenheimer silks, a filly named Langoustine, came home a winner. "Obviously they were successful owners in their own right, so it was massive for my career at the time. It's a helluva thing for a young man and it's only looking back now that I realise how significant the relationship was. They were very lovely people, straightforward and honest. If Mrs O had an issue, you knew quickly, but I enjoyed my time with them and we had a lot of luck together right from the start. I hope I brought a different dimension to their racing too." The Oppenheimer connection has survived via their daughter Mary Slack and more recently, her daughter Jessica, and through them Mike forged his powerful association with Jehan Malherbe and Dr John McVeigh.
Overnight success
They say it takes about ten years to become an overnight success and more or less right on schedule, Horse Chestnut walked into Mike's Randjesfontein barn in late 1997. Horse Chestnut was Fort Wood's debut runner and set the scene for what was to come by winning first time out over 1000m at Turffontein on 20 December 1997. While Horse Chestnut's glittering victories have been well documented, his unwritten contribution perhaps remains his greatest – getting Mike onto the world stage.
Transatlantic
Mike admits that he has always harboured international ambitions. "I'm a racing fan and I watched a lot of racing abroad and thought 'I'd like to get there one day.' Dubai was on my radar as was the King George in England. I'd spent time with Geoff Wragg looking at all the options, but the thing about travelling is that you have to have a good enough horse and you need the finance to get there. Opportunity arrived in the shape of the Oppenheimers and Horse Chestnut."
Asked whether he wasn't daunted Mike answers, "Yes, it was a bold step, but it was time to broaden my horizons. I felt the horse had accomplished most of what he could in SA. In my opinion, Horse Chestnut was good enough to win anywhere in the world and the Oppenheimers were fully behind it. I was getting sour in SA and all the aggro that went on around Horse Chestnut at the time actually made the decision that much easier. It was the right thing to do and it put me and my family on a sound financial footing, which is difficult to achieve here in South Africa."
Along came Ipi
Hot on the heels of Horse Chestnut, came Ipi Tombe, who delivered Mike's first July win and those wonderful photos of him riding her in the winner's enclosure. "She got top weight immediately!" he quips. Having attended the World Cup with Pat Shaw in 2001, Mike decided he also wanted a slice of the action and showed up with a small string in 2002. "Luckily two came good," he says. The two were Ipi Tombe and Victory Moon, who walked off with the Dubai Duty Free and the UAE Derby respectively on World Cup night 2003. "You couldn't write the script – it was like something out of a Disney movie. Everyone was shouting, screaming, crying, going ballistic – it was a massive deal to be on the world stage, beating some of the best in the world. It was another career changing experience for me."
A few years later, Mike was approached by Sheikh Mohammed bin Khalifa al Maktoum. He'd been following Mike's career and was interested in purchasing some of his string. Although they didn't strike a deal at the time, a year later the Sheikh sent Mike to Argentina to assess a prospect called Husson. Husson won, but Mike rang back recommending the second horse – Asiatic Boy. "We vetted him then and there. It was a game changer in our relationship. He won the Dubai Triple Crown and from that one horse the Sheikh now has over 400 – sadly not all with me unfortunately."
Mike has now won races all over the world, including the 2006 QEII Cup with Irridescence (beating amongst others, the mighty Ouija Board) and again with Archipenko two years later; the Hong Kong Champions Mile with Variety Club; and most recently a tilt at the Kentucky Derby and Belmont Stakes with Mubtaahij. It has catapulted Mike, as well as South Africa, into the world spotlight.
Flying the flag
"I'll be honest, when you set out to do things, it's for selfish reasons for yourself and your owners. You only realise afterwards the publicity spin off for South Africa. Once you do, it drives your focus differently. Dubai gave us that stepping stone. The publicity we got from that campaign, one could not buy. I am very passionate about SA and SA Racing – wherever I am, try and make sure SA is well in my thinking and getting good exposure. There are frustrations, but it's very important for me to see SA take its rightful place in world racing and I'm hell bent on seeing that happen."
Keys to success
"It's a very difficult thing to do, train a racehorse, and there is not one set way to do it, so you've got to be open minded. If someone says, 'This is the way uncle so & so did it', I respect that, but I always look whether there might be another way or more one can do. You've always got to be communicating, thinking, reading, learning, observing. If you're not open minded, no matter how good you are, you're going to hit a ceiling. I'm always searching for new ideas and ways of doing things. I am fascinated by other good trainers and what they do. I like to walk into their feed rooms and stand with them at track in the morning. You have to be open-minded, look at what other people are doing, respect their work and challenge yourself."
Training dynasty
Daughter Kirsten is studying dance in Cape Town and son Mathew, who joined the yard in 2009 is following in his father's footsteps. "We're very lucky. He's a lovely kid and hugely talented. He's actually bred for it. He has a proper dam line and a natural affinity with horses. Plus, he's far better with people than I ever will be. When I started, I was probably a bit aggressive, but you fought for what you had and you had to fight to keep it. He's a completely different kettle of fish. When he joined, I put a few horses aside and said he could train them the way he wanted. I didn't interfere, just asked that he rang me every day and tell me what he was doing. One day he said 'You've got a champion here'. I used a bit of language – he'd only been at it for 2 minutes, although in reality he'd been learning his whole life, I suppose – but he was adamant. And he was right. It was Igugu. To identify talent like that before she'd even run, one wonders where they'll finish up, these youngsters. He definitely has ambitions to train abroad and has the potential to take things to another level."
I've barely scraped the surface, but an hour has flown by and I'm in danger of imposing. I reluctantly say thank you and apologise for taking so much of his time. He takes me by surprise and says "Ag, I've got so many stories, we could chat for a week." Well how about that! I look forward to the next instalment.

‹ Previous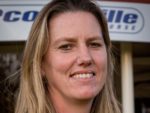 Alyson Wright