Cape-based jockey MJ Byleveld is one of our busiest lightweight riders. Popular with his peers and racing fans alike, he has forged a formidable partnership with the Vaughan Marshall yard. He chats to us about breeding cattle, the Durban season and his recent Allan Robertson win.
MJ was born in Warmbaths just outside Pretoria on 27 September 1981. He grew up on a maize and cattle farm with thoughts of horses and racing far from his mind until family friend Duggy Rens commented on his size and suggested that he consider applying to the Jockey Academy. The rest, as they say, is history.
MJ joined the Academy intake of January 1997 alongside Billy Jacobson, Corne Orffer and Denicious Smith.
He'd never sat on a horse before, weighed 26kgs and could not speak a word of English.
"I was ****ing myself in the beginning, I didn't know what was going on. It was a complete shock to the system. It was my first time away from home and back then the Academy had a thing that you were forced to stay in for the first six weeks without any contact with your family, which was a bit difficult. It makes you grow up quicker I suppose."
"In the beginning my grandfather was against the idea, but he eventually gave in and said 'try it and see what happens.' But they've been very supportive and love it now. In fact, my dad gets the needle if I don't ride for a week!"
His first race ride was a horse called Dale Vision for Clodagh Shaw at Clairwood, although he can't remember the date. "It took me a while to have my first winner, but I can tell you it was on 14 July 1999 on a horse called What A Promise for Alistair Gordon. That was a very nice day." Having not ridden before joining the Academy, were there any jockeys he looked up to, or modelled himself on? "Piere Strydom has always been someone I look up to and Johnny G helped me a lot as an appie."
Career so far
After a successful start in Durban, MJ was persuaded to move to Cape Town by Glen Kotzen. "It took me a while to decide, but once I said yes, I haven't looked back. I've got to thank Mr Kotzen for getting me to Cape Town – my career really took off and I love it here."
"I rode for Glen for three and a half years and when that started not working out, Dean Kannemeyer asked me to ride for him and I was there for two and half years. When we split, I started riding work for Mr Marshall. He started giving me chances and it's carried on from there." The pair have forged a solid partnership and asked what makes the relationship work, MJ says "We get along very well, but honesty and loyalty are the two big things. When I stuff up, on Monday morning I know I stuffed up and it gets settled, but not on the racecourse. He's a nice guy to work for and if you work hard, you get the results."
His biggest career highlights so far were the 2008 Cape Guineas on Le Drakkar for the Dean Kannemeyer yard and the 2013 Mercury Sprint on All Is Secret. "The Mercury Sprint was my first for Mr Marshall and the Gr1's are always the biggest highlights." At the moment he is riding a wave of success on All Is Secret's full sister, The Secret Is Out, who has just clocked her 3rd win on the trot in the Gr1 Allan Robertson. "The Secret Is Out is also owned by Garth Miller – to ride two Gr1's in the same colours is quite special and I really appreciate their loyalty in allowing me to stay with her so far."
The Secret Is Out
"We've known she'll be good from day one. She's a bit small, but when we put her on the grass, she showed some good work. She just improved from there and she did it effortlessly. She is a small filly with a big action and a big heart – that's a big bonus. When she had her first start at Kenilworth in January, she jumped and showed quite a bit of speed and just ran away from them. Her next time out was in Pietermaritzburg and we thought she'd do the same, but she came out a bit slow and actually loafed a bit during the race, but when I asked her for an effort, it was instant. The Allan Robertson was exactly the same. Muzi squeezed me and forced me to ease a little, but as soon as I asked it was right there. Going forward I think she'll be aimed for the Golden Slipper on July day, but we'll see what happens."
Outside racing
"I try and keep myself busy. I socialise quite a bit. I'm a summer person and love the beach, but other than that, I like to try and keep my hands busy, so I do a bit of woodwork and so on." It's somewhat less well known that MJ is also trying his hand at the cattle farming business. "My folks moved to North West and managed to rent a piece of land and now we breed cattle. It's a commercial operation at the moment – we sell the bulls and keep the heifers and are trying to build up a nice herd. Similar to horse breeding really, but a bit cheaper."
Goals
"The main goal is to ride as many Gr1's as possible – that's what helps you go everywhere else, but I'm pretty happy in South Africa at the moment. I've got a nice boss and things are going well, which doesn't make it easy to move. I've had offers to Mauritius, but like I say, I'm quite happy here for now."
"I'm on a serious mission for the July and Met."
"I was beaten in the Met one year (2013 on Hill Fifty Four) and the July got taken away (2014 on Wylie Hall). I actually picked up the July ride at scratchings and it came as a bit of a shock. I was at Kenilworth and someone asked whether I had a ride in the July and I said no. So to see my name come up was a bit of a surprise," he reminisces. "It's not easy to find those rides and those horses that are going to win those races. To get the right horse is very difficult," he says seriously. "Some people asked why didn't I salute when I went past the line on Wylie Hall. Is there any reason I should have done? Some people say it may have got me the race, but it's a bit ridiculous to think like that. The Stipes made the decision and if they think it's right, they have to live with it. Weiho had him spot on. I'd been working Legislate and I said to Justin (Snaith) the horse was flying. Then I worked Wylie Hall and he was going better than Legislate. I don't think that horse would ever have gone past me, but that's racing, I suppose.
With all the ups and downs of one of the toughest professions out there, is he still enjoying it? "I love it. It's difficult to explain, but if you love what you do, then it's not a job, you're having fun. That makes it a lot easier. There are a lot of politics and a lot of people who think they can ride a horse and that can get to you. It's alright when they know what they're talking about, but it's a bit harder when they don't."
In an industry which takes silence to a whole new level, MJ has a reputation for speaking out and recently weighed in on the Greyville & Scottsville track issue. "I'll probably get in trouble for that again," he sighs.
"It doesn't seem like people enjoy honesty about their tracks here."
"I look at it this way – if you have a business and there is a problem, would you rather have your staff come and tell you, or would you rather just crack on? Of course it's difficult to hear when things aren't right, but it's important to say 'hey, this isn't working the way it should, how can we fix it?' But most people prefer to just keep quiet."
Coastal Jockeys Association
Along with Greg Cheyne, MJ was responsible for setting up the Coastal Jockeys' Association a few years ago. What was the thinking behind that? "It was practical reasons mainly. There were a group that weren't happy with the way the other association was run. There weren't going to be any changes, so we decided to start our own thing and it's been very successful. It's important to be part of an association in order to deal with the Operators and I must make a point of thanking them for accepting two separate entities – they have been good about dealing with both."
Public support
MJ is associated with the 3A Racing group and says, "I really enjoy the 3A guys. I've known them for years and they're good supporters. They make a lot of noise, which not everyone likes, but it's great to have support at races. Of course, good support is nice, negative support is not so much fun. It's a bit like sitting at a rugby game and one of the players missing a kick. I guess we all have something to say when things don't go the way we want." Does it bother him? "Ag, not really."
Speaking of rugby, MJ is famously a staunch Bulls supporter. Considering how long he's been in the Cape, isn't it about time he considered a Stomers jersey? "That's won't happen in this lifetime!"
Back to business
Are there any horses he recommends keeping an eye on in the near future? "Vaughan's yard, basically! The yard has been quiet for a while, but we've worked the babies and Vaughan has bought some really nice young horses. There are some that have won recently that look nice. Ken Truter has a young horse called Lord Balmoral – that's very nice."
Ever the professional, MJ is quick to mention his sponsors, Avontuur Estate. "Greg Cheyne was the first jockey they sponsored. When he went to Hong Kong he recommended me. I went to one or two interviews and got the sponsorship." What does that mean in practical terms? "Mainly I get to represent the stud and through them I meet a lot of different people. It's a great name to be associated with and when people hear I'm sponsored by them, that earns me automatic respect. I also promote the wine and the stallions – although Var doesn't need much help! There has been a lot of interest in Oratorio in the sales ring, and now we just have to wait and see."
‹ Previous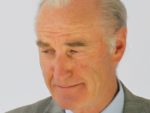 Alec Foster