Putting life into perspective and knowing that there are many people a lot worse off than he is.

That's the philosophy adopted by 2020 Met winning jockey MJ 'Bakkies' Byleveld as he endures the tenth frustrating month of injury.
The tough-as-nails 39 year old enjoyed a character fashioning upbringing in Limpopo as the son of a maize farmer and cattle trader.
But working in the fields and herding cattle under the blazing African sun could never have prepared the nuggety Blue Bulls supporter for the mental torture and frustration that commenced when a near 500kg thoroughbred shattered his ankle at work at Milnerton in September 2020.
Eight months earlier, Covid-19 was a seemingly inconsequential faraway subject discussed on foreign television channels.
And Bakkies was savouring the adrenaline charged moment of bravado following his Met victory on One World.
We all fondly remember the afternoon at Kenilworth where, with the shadows lengthening, he had flashed his 'Faf' Bok undies for the benefit of the media and an adoring racing public.
Fast forward to 14 July 2021, the multiple Gr1 winning jockey, who was actually back on the comeback trail at the Vaughan Marshall yard riding work a month earlier, spoke to the Sporting Post about the shatteringly grim news as his surgeon discussed his latest scan results with him.
"I am very fortunate to enjoy the attention of one of the top professionals in his field in South Africa. But even he seems stumped. My bone graft hasn't worked. The bone just hasn't grown. We need to go back to square one. I am not sure whether I should cry, scream or laugh."
He had his bone graft and pins inserted in February and MJ started work slowly in early June.
"I had pain – but it was bearable and I thought I'd ride my way through it. But the more I shortened my irons, the worse it got. When my ankle was touching the saddle it was bad. So I went back to my Doctor and told him something was not right."
The ankle is clearly a high pressure joint that undergoes a lot of movement, no matter the individual's physical regime.
MJ says that he is confident his specialist is one of the very best – and he has had a second opinion, and lots of input from well-meaning friends and family.
"I would be spending an hour in the morning just taking pills if I took all the advice that I have been given. Obviously everybody means only good. But my Doctor knows best and he showed me the fragments of bone in circulation in the joint on the scan. I am going to have to go for another operation and I must just remain positive!"
MJ said that the events in South Africa over the past few days had been something of  a 'regmaker' for his self-pity and personal desperation.
"One only needs to see how badly some of our people have it to realise that my problems are miniscule. There is so much trauma and suffering countrywide, I'm just thankful to have a roof over my head and food on the table here in the Cape."
Speaking of food, MJ says his time out of the saddle has seen him peak at 63kgs.
"It's not comfort eating, believe me! I'm fit and it's just general inactivity, compared to my usual professional routine of work and race-riding."
The Warmbaths-born rider joined the SA Jockey Academy in 1997, with the likes of currently Mauritius-based Corne Offer, Billy Jacobson and Deni Smith.
He qualified as a professional jockey in 2001 and was based in Durban until an ultimately lifechanging job offer from Glen Kotzen saw him move to the Cape.
Recalling his greatest memories beyond One World's exciting Met victory over Rainbow Bridge and Ryan Moore last year, MJ says that winning the 2013 Gr1 Mercury Sprint at Clairwood for Vaughan Marshall and the late Garth Miller aboard All Is Secret, and the Cape Guineas (his second success in the classic) on William Longsword, were special.
We asked him if he could be looking at calling it a day if the next procedure doesn't work.
"Oh hell no! I am a youngster and have twenty years of riding ahead of me. Retirement is a swear word – and one that is not in my vocabulary!"
‹ Previous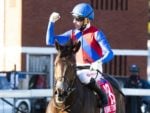 Gavin's Sweet Life – By Chocolate!