He is best remembered as the 2020 Sun Met winning jockey who downed international champion Ryan Moore in a thrilling finish to South Africa's premier Gr1 race – and then dropped his breeches and flashed the enthralled crowd in his Faf de Klerk underpants in a day that feels like light years ago in these surreal lockdown times of the present.
His girlfriend Bianca's Christmas gift of the Bok undies, made famous at the World Cup last year, have been a lucky charm for Avontuur-sponsored jock MJ Byleveld.
The first time he donned them for racing, he rode the Jackpot!
Then he pulled some gamesmanship on Ryan Moore, by getting the star jockey to watch the flag on his bobbing backside on One World for the entire Kenilworth circuit in the 2020 Met.
The rest is history, but the champagne corks and the laughter have ebbed somehwat and 1 February is now a proudly framed pic on the wall in MJ's bar.
The 39 year old Warmbaths-born MJ 'Bakkies' Byleveld is one of a handful of jockeys slogging away and still riding work.
He is  clearly a tad frustrated and feeling the boredom bug when he talks to us on Day 6 of the lockdown from his Durbanville home, which he shares with his long-time girlfriend, Bianca.
"There is not much going on at Milnerton, to be frank. But Ossie Noach and I were there yesterday and it's my intention to go three days a week. We can't just walk away. This game provides a living for a lot of people. And I personally can't just sit and do nothing all day."
He tells how he had intended to be based in KZN for the SA Champions Season and was due to leave last Sunday and take up temporary residence there. He was looking forward to it as the Vaughan Marshall yard has enjoyed a nice season.
"The lockdown abruptly put paid to that. Frankly, if I had to be stuck anywhere under lockdown , I'd rather be at home! So we will ride the storm and hopefully we can get back on the racecourse in a matter of weeks. I'm just thinking positive. It's bloody easy to be negative at this time."
MJ says that the COVID-19 situation has been a shocking wake-up call.
"Roadblocks on the way to work are something I haven't experienced previously. The first morning I was early and they were still asleep. But the next they stopped me and realised that other professions also work long weird hours!"
He has compassion for all South Africans. But still counted himself fortunate that he had a roof over his head and was also involved in a sheep and lamb smallholding with his Dad.
"Like the NHA organised the permits for the jockeys to travel to the training centres to work, the meat auctions are still on the go – you may have noticed your local butchery is still open- so I have a permit for that. People still have to eat," he smiled.
As regards food, the subject of his weight comes up. He admits he had 'put on a few ounces'.
"I'm used to race-riding and gym practically every day. So sitting eating, watching tv and chilling is not exactly going to keep me lean 'n mean! But hopefully, we can stay positive, the guys can keep the horses fit and it will soon all be a nightmare we can chat about over a beer, and know that the world became a better place for the catastrophe!'
MJ is Chairman of the Coastal Jockeys Association and confirmed that the organisation had addressed a letter to the government about jockeys remuneration.
Sport, Arts and Culture minister Nathi Mthethwa recently announced measures for a relief fund of R150 million to soften the economic impact of the coronavirus pandemic.
"We are self-employed and no racing means no pay. There was an item in the government gazette about a sports relief fund. We have no real idea whether the government can assist us, but jockeys also have bonds, rent and things to pay. And some have kids at school and families to feed. It's a worrying situation for salaried folk – so imagine how the self employed people are having sleepless nights."
MJ says that he is confident racing will bounce back.
"It's the sport of kings. Like the Rainbow Nation, we have had many challenges. But they say that what doesn't kill you makes you stronger. And let's all just get behind the show and give a little bit," he pleads.
‹ Previous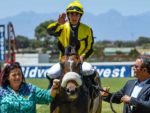 Dealing With The Challenges