Morne Winnaar is riding the crest of an Atlantic wave.
Firmly established as first-choice rider to the powerful Woodhill Racing Team in the shadow of the magnificent Paardeberg, the jockey from Manenberg has hit an extended purple patch of form after a rollercoaster early career in the saddle.
On Saturday he gets the chance of a lifetime and the possible realisation of a dream – to clinch a career first Gr1 victory.
The 39 year old Chrigor Stud-sponsored rider is clearly a more polished and complete package than the man we last spoke to fifteen years ago during his days at the Joey Ramsden yard.
Despite increased financial security through his personal successes of late, Morne still lives with his sister in a modest flat in the mean streets of one of Cape Town's toughest townships, Manenberg – an area said to be one of the most dangerous places in South Africa.
"I realise I am not getting younger and need to look at improving my lifestyle. But I grew up here. It's home. It's what I know. My son Joshwin's Mom Samantha lives down the road. You asked if it's dangerous. People know me. I wouldn't recommend that you walk down the road. But lots of places are unsafe in this world today," he adds as he subconsciously defends his community.
And he still proudly 'only drives Golf!'
"Some guys play golf. I prefer to drive one. Performance, reliability and economy. They are good cars," he adds with a broad smile.
Morne partners the Oratorio gelding Viva Rio in the R1 million ARF Commemorative Gr1 Cape Derby for the Devachanders and trainer Glen Kotzen.
If plans come together, it will be a third Derby winner for the seasoned trainer, who saddled Big City Life in 2009 and Eyes Wide Open in 2018.
We hesitated when contemplating speaking to Morne before Saturday, as opposed to after the event – we respect superstitions and would not want to put the mockers on one of the Cape's favourite sons.
"If I allowed superstitions to influence my life, maybe I wouldn't be sitting here chatting to you today," he laughed as he ruled out the possible tail-pulling impact of chatting to us in advance of a big day in his career at Kenilworth on Saturday.
"I am riding the best horse in the race on paper, and while I realise that the 3yo's are improving at different rates, and have had varying levels of exposure, I have no excuses to ride the race of my life on a fit and talented horse who has been perfectly prepped for this race – his target for the Cape summer season," he added with an air of understated confidence.
After Viva Rio's unplaced debut, Morne forged a solid bond with the gelding – having been aboard at his nine subsequent starts, which includes feature success at Fairview and a cracking second to Kilindini in the Cape Guineas in December.
Viva Rio jumps from the mile to the 2000m for the first time on Saturday. Will he stay?
"I love this horse. He does his best every time and has a big heart. I have no doubt that he will enjoy the 2000m. He is a versatile athlete too. So I have options," he said as he refused to be drawn on possible dangers.
"It takes a really good horse to win the Cape Derby. I will rather let them worry about me," he mused as he glanced at the field of thirteen.
Morne has been riding for over 20 years and his current season tally of 24 winners at a strike rate of just over 12%, punctuated with feature successes, is his best ever. We asked him what has made the difference.
"I think confidence and self-belief, coupled with some personal growth and maturity, have combined to help me lift my game. The Kotzens have embraced my contribution and made me feel like I am part of the team – even of the family. That builds trust and commitment. Jockeys get the boot for a bad ride. We all have off days. It's being allowed to make the mistakes, learn from them and come back on Monday morning with no grudges or ill feelings, that is the tonic. I think our top trainer-jockey combinations over the years have all withstood testing times."
He recalled how an opportunity to take up a Mauritius contract  last year had been tempting.
"Anton Marcus put my name forward. I thought about it. Then pondered the possibilities versus the strength and depth of the Kotzen string. I am glad I turned Mauritius down and built my relationship here. We have had a great run and the season is far from over," he added.
Morne reflects how the few times in his life that he was given the opportunities, the loyalty and trust, had been his best. But he had also messed things up at times and disappointed himself and his supporters.
It is well documented that he had his issues early on. He was in the same SAJA intake as Warren Kennedy, Johnny Panas and the late Gift Funeka, but was given the boot for being a little naughty. And then had to earn a living riding work for four years.
Former Cape trainer Joey Ramsden became a 'sponsor' and took Morne under his wing. The NHA agreed in the early 2000's to grant the aspiring jockey a dispensation and three years to complete his apprenticeship, provided he rode 40 winners in the period.
"Mr Ramsden changed my life. He cared when nobody else was interested in my nonsense. I rode the required winners within 10 months and they granted me my licence. I was privileged to ride some of the powerful yard's top horses at the time, but things started going pear-shaped for me." Then the Brit's patience ran out.
Morne was on his own and it's a tough world for a young man not exactly sure about what he wanted out of life.
He spent over a decade drifting aimlessly on the circuit between Cape Town and Port Elizabeth.
"I was battling to get rides and that in itself is destructive. It's a snowball into nowhere – a hole. I kept hoping and praying. I think my half desperate move to give Durban a try was a turning point. I got a few breaks there," he recalls.
Dean Kannemeyer lost his longstanding rider Anthony Delpech to injury in December 2016 and gave Morne a confidence boosting opportunity. Impressed by Morne's work ethic and attitude, Kannemeyer gave him all the good rides.
Fast forward to 2020, Morne is proudly determined to be a consistently top rider and a shining example to his 18 year old son, Joshwin Solomons. He told how Joshwin was spotted by Western Cape Riding Master, Terrance Welch, when he attended a racemeeting. Joshwin passed the Recruitment Assessments and Interview and started his jockey apprenticeship in January 2018.
"My son has made me proud already. The day he rode his winner here for Glen Kotzen was an emotional one. I want him to be twice the jockey that I am and to always stay true to himself – so that he won't have to reflect back on mistakes like I have had to. Not that I have any personal regrets. Adversity builds character, they say."
Looking ahead after Saturday, Morne says that he will be available during the SA Champions Season.
"But that depends on Glen and his plans. I am privileged to have this job. It's a long drive to Paarl three times a week and we work hard – believe me – I ride 12 horses in first string and 12 horses in second string. It's a professional operation and it runs like clockwork."
Morne says that despite the ups and downs, he would never choose to do anything else.
"I'm comfortable riding at 52,5kgs. So I don't have lifestyle and health stresses like some of my colleagues. I have been lucky – good people have featured in my life. Just before Joey Ramsden left for Australia, he shook my hand and wished me the best. It meant a lot to me. I hope I can also be a lifechanger to somebody one day."

Mifid Two runs in the fourth, the Gr3 Kenilworth Fillies Nursery:
"She won well at her second start in mixed company. She now takes a step up in class but back against her own sex. She certainly warrants the chance as the Nursery comes around once. She is fit and well and has a chance."
Pack Leader runs in the fifth, the Listed Selangor Jet Master Stakes:
"He has had four runs this season and hasn't been disgraced in the best of company He finished just over six lengths back in the Sun Met and looks quite nicely in here. He is fit and should be competitive."
Silver Tiara runs in the final race, a Maiden Plate (F&M) over a mile:
"A lovely consistent filly. I fancied her four runs back to win and if you had suggested that she would still be in the maiden ranks at this time, I would not have believed you! The day she brings her work to track, she will win. Let's hope that's on Saturday – she is no slouch."
‹ Previous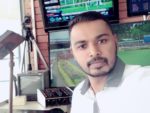 Harnessing A Passion