Winning Form sponsored Muzi Yeni is consistently one of our hardest working jockeys, putting in the miles, the hours and the hard yards to bring home the winners. He currently lies among the top 10 on the national jockeys log and is engaged to ride the Robbie Sage-trained Coral Fever in the Sun Met. He also takes the ride on Vacquero in the $500,000 CTS 1600m.
The Johannesburg-based Yeni is focussing his energies on the Highveld and Kimberley centres and has forged good working relationships with Corrie Lensley in Kimberley as well as the likes of Robbie Sage, Lucky Houdalakis and Paul Peter in Joburg. His relationship with Lensley has proved particularly successful, with Muzi topping the Kimberley jockey log six times and helping Lensley to notch up two cards of six winners in 2017. "I've always done well there and just keep going," he says happily. "I've got a good relationship with Corrie and I know the track very well, which is an advantage."
While mostly focussing on the Highveld, Muzi travels to other centres when required. "I still ride in PE every now and again, but I'm not there full time. I've been doing a bit of Durban, but it's been a bit slow since I got back from Mauritius."
Last year's catamaran incident was the subject of much media coverage and speculation, but it's not a subject Muzi shies away from. "I'd only been there a week and didn't know anyone and got pulled into it when I was invited on the boat trip. There was a bookmaker on board, so obviously they had to investigate. But it's been settled and I wasn't charged with anything." Unfortunately Muzi was detained on the island while matters ran their course and the lengthy process put paid to his July ride on Ten Gun Salute – possibly a worse penalty than the Mauritians could have come up with. But what's done is done and Muzi knows that the best remedy is to work hard and keep focussing forward.
Work Ethic
Muzi is well-known for his ferocious work ethic and he is matter of fact about the rigours of a jockey's life. "Racing demands a lot of you. The hours are long – you're at track from 5am, then you come back and noms come out at 9 or 9:30. I do my own rides, so I rush back and then focus on booking rides – and that can take a few hours. Scratchings are at 11am and some trainers only declare a horse and start looking for jockeys at the last minute. Then you've got to get showered and changed and rush to races. You've got to be on course an hour early, so if the first race is off at 1:30, you've got to be there by 12:30. The last race is at 5 or 5:30, so you leave at 6pm and get home at 7 – 7:30. That's for racing three times a week in Joburg and on Mondays I'm in Kimberley. I'll normally have a morning off where I don't ride work on a Wednesday and a Sunday. The rest of the week has been spent on horses for as long as I can remember."
Interestingly, despite the massive workload, he has opted not to have an agent and currently books all his own rides. "I do my own rides because it helps me stay plugged in. It also means I take responsibility and can't blame anyone if I miss a ride," he adds wryly.
Ambitions
What keeps him going? "To improve and get better at what I do. I'm always trying to get good stats every season. I would like to travel a bit, but I don't want to leave it too late. If I can finish in the top three on the jockey log, I've got a better chance of being able to apply abroad and get into countries like Hong Kong. That's the goal."
"If your numbers are good and strong and you finish in the top 4, you get into the SA team. And the more winners you have, the better your chance of getting on the top horses and the better your chance of winning the bigger races."
He won the Gr3 Magnolia Handicap on My Friend Lee on Summer Cup Day and the Listed Swallow Stakes on the Diane Stenger-trained Covered In Snow (the first stakes winner for KZN stallion, Crusade) on 13 January. "Winning the bigger races comes with those 150 wins you ride a season," he adds.
2018 Gr1 Sun Met
Muzi has been engaged on the Robbie Sage-trained Coral Fever for the 2018 Gr1 Sun Met. "I've been getting support from Mr Sage. He's put me on horses for Colin Bird and I've been building good relationships with some of them. I won the Jubilee with Coral Fever last season, so when I came back, I started riding him in his preps." The pairing has proved a winning combination as they finished a short head second in the Victory Moon last November, a flying 3rd from a 19 draw in the Summer Cup and another good 3rd to fellow Met contender Cascapedia in the recent Gr3 London News Stakes. "So that's how I got the ride," explains Muzi.
"He's a little bit of a quirky horse and gets a bit intimidated under the lights – he likes to duck – but as a racehorse, he's got a good turn of foot and he's done well in the handicaps. As we saw in the Victory Moon and the Summer Cup , he's a hard knocker."
"Colin Bird owns quite a lot of horses with Mr Sage. He lives down in Cape Town and wanted the horse to run in the Met. He knows the conditions aren't in our favour, but he wanted to take his chances. Obviously we're up against some good horses, but we're hoping we can run into the money. Winning at the weights will be hard, but if we can run a place, we'll be very happy."
Vacquero
Muzi will also be partnering the Colin Bird owned Vacquero in the CTS $500,000 mile. "He's lightly raced and has only had 4 starts. He's always been a lovely horse and he's improved with racing. A mile is a little on the short side for him, but he can do it – in his run in the Dingaans he was beaten half a length after interference. The owner bought the horse at CTS and he's qualified for the sales race, so he wanted to take part. I believe he's a top horse. If the left hand turn doesn't catch him, I think he's a massive runner in the half a million dollar."
More excitingly, Vacquero is looking a Triple Crown prospect for the season. "I think he's looking for the 2000m and will be more suited to the Classic and Derby distances. I do believe he's a top horse and I just hope he can keep improving and live up to his potential."
Met hopes
While everyone would like to win the big race, it is not the only job on the day. "When I go to the course at a meeting like Cape Town, I'll probably have 2 or 3 horses on the whole card that I think will go close. The rest are opportunities to try and get them to improve and trainers hoping you can make a difference, so there's a lot of pressure and expectation."
How does that affect his mindset and preparation for the day? "We've all got our ways of dealing with it. The main thing is you need to concentrate on the task ahead."
All about focus
As one of our few remaining 'big' days that still attracts good attendance numbers, does he enjoy riding in front of a big crowd? "It's a big day, and obviously it's a public sport. I've ridden in big meetings like the July and Gold Cup, etc and when there is an atmosphere, I try and use it to my advantage. The most important is that it's a great opportunity to market yourself as a jockey. There are over 120 jockeys in South Africa, so it's very important to ride at meetings like that. And because it's such a prestigious race, you know that you need to rise above the rest and perform. Races like the Met help propel your career, so it's important that you shine on days like that. There is a lot of pressure to perform for all the right reasons," he smiles.
"When the public is there, it's all good and well, they do shout your name out and make it nice, but you can stuff up a race quickly by getting distracted, so you've got to learn to shut it out. I get in the zone where I need to really focus on the race. If you do win, you're on a high and you've really got to try and hold on to those moments – that's what keeps you going. Once the job is done, you can celebrate with the crowd. They're there to enjoy the day and have fun and I'm a people's person, so I like to celebrate with them."
Previous experience
Muzi has ridden in the Met before, back in 2011, aboard the Dean Kannemeyer trained Last Regal. Did he enjoy the experience? "My experience was great. The build up is unbelievable. I was a bit unlucky in the race – we got trapped wide and I don't think the horse had a massive chance at the weights. But riding in a race like that is a different feeling."
"The Met is a very prestigious race and it's one of the races you want to have on your CV. It's on a par with the July. I've never got much opportunity in Cape Town, but the only way to change that is when you do get an opportunity, you've got to try and make the most of it."
‹ Previous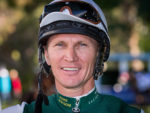 Piere Strydom