Saturday 7 July 2012 is forever etched in the horseracing memories of the Backos and Zackey families. They had reached the pinnacle of every racehorse owner's dream – a glorious, albeit longshot opportunity, to win the Vodacom Durban July. While they came within a heartbeat, it sadly wasn't to be.
This weekend they return to the well with another soldier in recent Jubilee Handicap winner, Johnny Hero.
And nine years on, life may have changed dramatically but the flames of passion burn bright and the almost impossible dream holds stronger and truer than ever.
The 2012 Vodacom Durban July thriller, where Sean Tarry's Pomodoro rallied to beat the any-price Gauteng raider Smanjemanje from the Tyrone Zackey yard, will go down as one of the most exciting in recent history.
Trainer Tyrone Zackey's daughter, and a passionate part owner of Smanjemanje and Johnny Hero, Nadine Backos remembers it well.
Here's a memory!
Almost better than she does the 2004 thriller at Meydan, where she was part of the MAD Syndicate fan club – husband Kevin was a partner – who shouted Victory Moon home to his gallant third behind Pleasantly Perfect in the Dubai World Cup.
And as if by a freak moment of professional intuition at the 2012 Vodacom Durban July, she recalls a photographer capturing the happy extended group of fanatical Smanjemanje Joburgers in the pre-race parade ring at Hollywoodbets Greyville nine years ago.
"I look at that photograph in the Hollywoodbets Greyville parade ring today and remember it like yesterday. My beautiful children Stephanie and John Michael were so young. Today they are adults. My Dad's best mate Shedi Habib was at the centre of the party, as always. He was the life and soul of the game and sadly passed away in 2019. We were all so excited and little did we know what drama was to unfold just twenty minutes later," she recalls.
History shows that the then teenage apprentice Grant van Niekerk got the Kahal gelding Smanjemanje to within a hair's breadth of what would have been the biggest turn up for the books this century.
"Oh boy! We were screaming and shouting and believing we could achieve the impossible. In the end, a few bumps from Chesalon, and probably Piere Strydom's superior experience and brilliance over the relative greenhorn Grant probably made all the difference. No excuses, it's a tough race and we were beaten fair and square. Time heals all wounds. Well, so they say!" laughs Nadine as she tells how they have watched the replay a million times over the nine years.
"The result never changes. Maybe we will watch it again on Friday evening for old time's sake," she adds.
Johnny Hero will depart Friday morning from Turffontein with the Paul Peter team. He will be based with Wendy Whitehead at Summerveld.
The Zackey- Backos family plan to stay at their Umhlanga Rocks base was derailed by the lockdown level 4 travel protocols implemented on Monday.
"We were looking forward to it. Reliving Smanjemanje and better! But Dad is travelling down. We can only wish him and Johnny safe travels and we will be there in spirit via Tellytrack," adds Nadine.
The second eldest of four children born to Tyrone and Bernadette Zackey, Nadine Backos turns 50 on 16 September and, besides a personal wish to turn back time and be 40 for the next ten years, she says she is proud of her Dad's achievements and wouldn't do anything differently.
The former schoolteacher is married to Kevin, who owns Bulldog Abrasives, RSB Paints and Yes Paints. Their son Jon Michael, now 21, and daughter Stephanie (19) haven't gotten involved in horseracing, but Nadine and Kevin live it for them.
Nadine grew up in Dawnview, Germiston. Her family had always enjoyed  a keen interest in racing.
"My Dad was an owner and breeder. I remember visiting his stables in Newmarket, Alberton on weekends. I have always had a love for animals but especially horses. My Dad became an assistant trainer and we persuaded him to take out his own trainers licence. We started from very humble beginnings with only three horses in the stable. Dad has an awesome eye for a horse and he chose them for me and we did really well with all of them. This was just the start of my exciting life as a racehorse owner."
Today Nadine and her husband Kevin have shares in 15 horses.
Beyond Smanjemanje, there are some decent names on the wall of their Bedfordview home including Judicial, Lions Blood, Warrior Man, Glider Pilot, Singing Sword, Galanthus, Katies Lane – and then Johnny Hero, of course.
Tyrone always says: "A horse never knows what you paid for it – it's what it has in its heart that counts." He was given a budget by John Maroun to look for a horse at the National Yearling Sales in 2018 and after he had been outbid for the first two, he picked up the colt Johnny Hero for R130 000.
Nadine recalled what Tyrone – she proudly labels him the giant slayer – said over the weekend:
"Nads we going to war again and we have to take on the giants."
An Electrician by qualification, few know that the East Rand United striker Tyrone Zackey was destined to play professional soccer – until his Mom stopped his trial with an English Club.
He eventually qualified as a 'sparkie' and then worked for Johan Rousseau and Earl Buckham for many years as an assistant trainer.
Tyrone turned 74 last week and doesn't want to hear about retirement as training racehorses 'keeps me young'.
His favourite retort when anybody asks how he is – "I'm like a lion!"
Tyrone is based in the wooden boxes at Turffontein. "The rest live in New York. I'm happy in the Bronx," he chirps with a broad smile.
He relies heavily on his loyal team headed by thirty year veterans Paulus Jevu and Jackson Jevu.
Back to Saturday's big race, Tyrone is on record as acknowledging that he doesn't know if Johnny Hero is of the same class as Smanjemanje.
"But he always tries and is progressing. He gets better every time. It is a very talented field this year, but we do have a ticket. Win, lose or draw, we are happy. I love horses and my family loves horses."
Maybe Johnny will do the impossible for the much missed Shedi Habib and the passionate Zackey and Backos racing families on Saturday.
Read more – click on the SPRINT cover below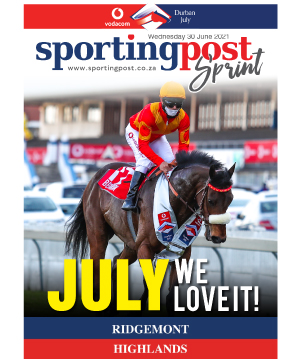 ‹ Previous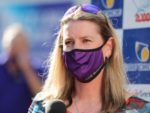 Always The Wright Time!