Nooresh Juglall is a really decent, determined young man from Mauritius. Mauritius is a keen nation of racing followers and he was caught up in the excitement at a young age. Since coming to SA to the academy he has thrown himself into becoming a top rider. He rides for trainer Sean Tarry and Clinton Binda, amongst others, and is making the most of some fine rides he has been given. This week end he rides The Mouseketeer in the Emerald Cup and he gives himself a strong winning chance. Whether he wins or not he is a young man with a bright future and with his positive attitude to his career he should be followed with confidence.
What is your name and age? Nooresh Abhishek Juglall. I am  20 years old.
Where do you live? I live in Port Louis Mauritius with my parents and my younger brother Tajesh.
Tell us about your family? My father, Satanand, is a salesman for Movilac Paints. My mother, Kavita, is the produce manageress of Pickle. My sister, Sweta, recently got married and my younger brother is still at high school.
Did you finish your schooling in Mauritius before coming to South Africa? I studied 'O' level in Mauritius and then completed my Matric at the South African Jockeys Academy in Durban.
Did you study anything unusual before becoming an apprentice jockey? I did not study anything unusual but from 15 years old I helped my uncle to water the Champs de Mars racecourse every evening.
Were you always interested in horses, and particularly racehorses, and what led you to becoming a jockey? As you know horse racing is huge in Mauritius and I was always interested in the game and wanted to become a jockey. My Uncle, who is a keen racegoer, supported my dream.
You rode in Mauritius as an apprentice before coming to SA. How did it come about that you came to this country to go to the academy? I was a work rider/ groom for 2 years to trainer Ricky Maingard and as I still wanted to become a jockey I approached Mr Stephane de Chalain at Mauritius Turf Club and was accepted to be sent to South Africa to do my apprenticeship.
Where did you have your first ride in SA and who did you ride for? My first ride was on the 8th November 2009 on Subtle Beauty for Mr Greg and Karen Anthony at Scottsville.
Which was the first winner you had in SA and how big a thrill was it for you? My first winner was a pick up ride on the 16th March 2010 on Shine the Gold for Mr Magner at Turffontein night racing and it was the most unbelievable feeling.
Who were the first trainers you rode for and did any of them take you under their wing and mentor you? When I came to Gauteng I rode mainly for Mr Matchett then Mr Tarry and latterly Mr Binda. Each of them has helped me and I have learnt a lot from all the trainers I have ridden for.
Which of the senior jockeys did you look up to and did you model your riding style on any of them? South Africa has many good jockeys but I feel that Piere Strydom is a master of pace.I have modeled my style on a few things taken from Francois Herholdt and Piere Strydom but mainly I ride my own style.
Which of the senior jockeys have taken a keen interest in you and helped you along the way? Marthinus Mienie, Piere Strydom and Randall Simons have helped me but all the jockeys are always available to offer advice.
Have you had any difficulty in adapting to riding conditions in SA? As I have never raced in Mauritius I did not have any difficulty in adapting and have learnt my riding here in South Africa through the Durban and now the Gauteng Jockeys Academy.
In Gauteng you ride on both grass and sand tracks. Of the two which do you prefer riding on? As an apprentice one has to ride on both surfaces but I prefer the grass tracks as it is easier to place a horse and give him every chance.
Do you find you have to ride a horse differently when racing on sand as compared to racing on the grass? Yes there is a vast difference as on the sand one has to be "up there" with the pace as it is more difficult to make up ground.
Do you have a preference between riding on sand or grass? Difficult to say as both surfaces have been lucky for me.
Are you riding The Mouseketeer in the Emerald Cup? Yes I am riding The Mouseketeer and I am grateful to Mr Tarry and the owners for giving me the chance to ride him again.
You recently won a good race on him over 1200m. In your opinion how well do you think he will cope with the 1450m of the Emerald Cup?. The Emerald Cup is a very open race but I feel that The Mouseketeer will be better suited to the 1450m.
In your opinion what is the horse you feel you will have to beat in the Emerald Cup? Across the Ice is the "dark horse" in the race and like I said it is an open race.
You have struck a good relationship with trainers Sean Tarry and Clinton Binda. Are these the two trainers you mainly ride for? Yes I do have a good relationship with both trainers and am grateful for their support and would also like to thank all the trainers who have supported me.
How often do you ride work for these two trainers. Do you manage to get from Randjiesfontein to Clinton Binda's establishment on a daily basis or do you take it in turns to ride for these two yards? When there is important  work, Mr Binda brings the horses through to Randjesfontein and the rest is done by the riders at Mr Binda's farm. Thanks to Mr Binda and his team,  you have done a great job.
You are still young and and making your way as a jockey but what are your main ambitions right now? My main ambition is to be the first Mauritian to win the apprentice log in South Africa and that being  the Racing Season of 2011/2012.
Your life as a jockey is obviously your passion but apart from that what else are you passionate about? Soccer is my next passion and I am a fan of Liverpool.
When you have leisure time how do you like to spend it? At the Academy I play soccer with other apprentices but when at home I like to spend time with my family and friends.
How do you celebrate a big win like you had on The Mouseketeer? As there was racing the next day in Kimberley I was focused for that meeting  and had a quiet evening at the Academy but my family celebrated in Mauritius for me.
Do you occasionally have a drink and if so what do you like to drink when celebrating? I am a teetotaler and drink Coca-Cola.
Which do you consider to be the best horse you have won on thus far? I have ridden a few good horses but rate The Mouseketeer as the best.
From the stables you ride for is there any one horse you think will really go far? The Mouseketeer as he is very versatile and is able to race on both surfaces.
You are still an apprentice but do you ever have punters asking you for tips to back horses? No not at all
How do you handle it when approached for information about your or your stables horses? I tell them to rather speak to the trainer.
What has been the most exciting and satisfactory day you have had as an apprentice thus far? I have had many exciting days but my first winner, when I won my first Group 3 on Success Counts for Mr Ferraris and winning three in a row on Wild Count were very exciting.
If you have to name the most important lesson you have learnt about racing, thus far, what would you say that is? You never stop learning in this game and there will always be good days and bad days.
What is your philosophy on the racing game? Be true to yourself and nobody is bigger than this game.
If you had any advice for your fellow apprentices what would it be? Never give up, keep working hard because it's a hard game and be proud of yourself.
‹ Previous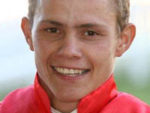 Richard Fourie