Arthur C. Clarke said that the moon is the first milestone on the road to the stars. For any sportsman, raw statistics are a subconscious stock whip – a sort of straight and narrow compass that all is well.
For former SA Champion jockey Gavin Lerena, riding his 2000th career winner at Turffontein on Saturday was extremely satisfying – and he is now en route to the next 2000.
Speaking to the Sporting Post on Monday, the Wilgerbosdrift & Mauritzfontein-sponsored 36 year old said that he was in a good space professionally and enjoying his riding.
"I can't complain and have so much to be grateful and thankful for. The global pandemic has revealed so many flaws and weaknesses across the spectrum. Yet racing continues and there is a positive vibe amongst stakeholders that the game will bounce back to the glory days of yore."
Gavin steered the aptly named Quantum King to victory for trainer Johan Janse van Vuuren in the eighth race at Turffontein on Saturday to reach the 2000 winner mark.
He laughs almost sheepishly when he tells that every solitary one of his winners are documented in a book maintained accurately by one of his biggest fans – his Mom, Avril.
The first entry in the log-book dates back to Clairwood Park on 3 November 2003. The horse's name was Waves Of Argosy and Gavin broke the ice in style for trainer Jeff Freedman.
"He also gave me my second win, 11 rides and 23 days later at Hollywoodbets Greyville. Neither of us had been round the Hollywoodbets Greyville circuit before, so I was nervous. But he ended up in front again and won another good race. I thought it was an easy game!" laughs Gavin as he recalls that terrific start.
"So the 2000 winner mark wasn't going to pass unnoticed!"says Gavin as he adds that besides Mom's impeccable archival skills, his entire family has been the bedrock of his success in one of the toughest and most dangerous professions.
Gavin, SA Champion in 2014/15, certainly has the pedigree to go all the way. His great grandfather and grandfather were trainers, while Great Uncle Frederick Chapell was also a jockey and trained the winner of the 1957 Durban July – a 3yo filly called Migraine.
Another relative is his Uncle Spike – a former jockey and Gauteng trainer – who trained the great Jungle Rock.
Gavin's cousin Brandon is riding professionally in Australia, while his Dad Tex – we have to say it – a dead ringer for rock legend Mick Jagger, was a top jockey for 22 years, who also rode successfully in Mauritius, before weight issues put paid to his career.
While not a memorable year on many fronts internationally as a result of the havoc wreaked by the Covid-19 pandemic, Gavin is happy with the way 2021 is progressing.
His Vodacom Durban July victory on the people's horse Kommetdieding was an obvious highlight and a fairytale ending to a tough 2020/21 season.
The avid golfer with a genuine sweet tooth made a commitment to lose 4kgs in four weeks and despite not factoring in the temptations that would abound at his son Ashton's 7th birthday on the Thursday prior to the July, and his own 36th birthday celebration the day before the Hollywoodbets Greyville extravaganza, he rode the popular Cape champion at a lean and mean 53kgs.
"I know we have spoken about the July success previously, but that was a really meaningful achievement in the context of my career, and I have stuck to a lot of the good lessons learnt in terms of my diet. I am feeling fit and healthy and am riding at 55kgs at the moment. That is comfortable for me."
Gavin has ridden 13 winners this season at a strike-rate of over 20% and he is looking forward to the start of the Highveld season this Saturday. He is also available and keen to travel to the Cape for their summer season.
He rides Thumbs Up and Copper Mountain for trainer Johan Janse van Vuuren in Saturday's Turffontein Gr2 double feature.
‹ Previous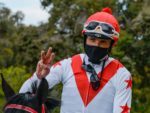 A Treble Does The Trick!