Hollywoodbets-sponsored Fairview trainer Jarett Rugg is South African horseracing's poster boy for survival against seemingly insurmountable odds.
The closure of a popular racecourse. Two interprovincial moves. A global pandemic. The sale of his prized Harley-Davidson. An eighteen month gap between his last and most recent winner on Friday.
And through all that, the man remains positive in his outlook!
Somebody once said that the ability to delude oneself may be an important survival tool. And clearly the cheery soon-to-be 39 year old Jarett has found the magical elixir – that cocktail of the power of positive thought and keeping one's eye on the ball, that may well have eluded, and probably destroyed, a lesser man.
How else can Jarett be getting out of bed every day to pursue his first love?
"It goes without saying that it hasn't been an easy few years. Training horses is not a cakewalk even in good times, and for myself and many of my colleagues, the cumulative impact of circumstances mostly beyond our control in recent times has tested all of our resolve. I don't want to play the role of victim, and many are much worse off – so I will wake up before the sun rises again tomorrow and keep trying to saddle that next winner," he assures the Sporting Post.
Being a single man with no family to care for, Jarett lives at his yard.
"It works for me. It's cost effective and I am also hands on – basically on 24 hour call for my horses if anything goes wrong," he explains.
And his prized Harley?
"I have to cut my cloth to fit my situation. My bike has been sold. I enjoyed it but it's a material possession. I am a positive person, so won't close the door on the future!"
Jarret learnt the ropes from his Dad Vernon, who sadly passed away in July 2015.
The young man was then supported by his late Dad's cousin Duncan McKenzie, a veteran conditioner in his own right, who allowed him to complete his professional time running a satellite yard at Flamingo Park.
Granted his professional licence by the National Horseracing Authority, on Monday 6 November 2017 Jarett Rugg sent out his first three runners at Flamingo Park.
In a fairytale start to a new career, the R7 500 purchase Easy To Please,  a son of the unfashionable sire Newton,  went and did the unexpected – 'something that dreams are made of', in Jarett's words.
"He stamped his name in the book of the best horseracing stories by winning his 6th career race under my stable jockey Jarryd Penny on my first race meeting as a trainer, giving me my first winner as a trainer. From the saddest moment in my life to the happiest, Easy To Please has been a part of them both. He gave my father his last win as a trainer and gave me my first as a trainer two years later."
Two days after his Dad's memorial service, Jarett saddled Easy To Please for the second time on 20 July 2015, with Gavin Lerena on board. "As Gavin passed the finish line, he pointed up to the heavens in salute to my father," says Jarett quietly. "With so much hurt and sadness in my heart, watching Easy win that day was the first time I felt joy and happiness flow back into my life."
Easy To Please, who was raced in partnership with Rugg stalwart owner Peter Hosking, can still be found in the yard at Fairview. And his staunch owner is also still with Jarett.
"Easy is retired now at the age of 10. But he is just too special to me to give away. So he is my sentimental friend and stays with me through thick and thin. Peter Hosking has been in the yard since the days my Dad trained. He is still involved with Purple And Gold and Wichita. Loyal owners of his ilk are priceless!"
He suggested that a filly that he got from Glen Kotzen called Subterfuge and an unraced youngster, Indigo, who races for Clinton Lines and Gebhard Wolf, are worth watching out for. And then Julie Dittmer sent him the game mare Purple And Gold, with whom he is determined to win a race.
The main reason for our catch-up chat this weekend though was Jarett's terrific Fairview winner on Friday.
Ridden by Craig Zackey, who grabbed a treble on the afternoon, the Beaumont Stud-bred Guaquistador romped home at 75-1 to shed his maiden ticket at his twelfth start – and in handicap company, to boot!
"He is a horse that is still maturing and a little soft still. So I looked at the race and thought he could take on the winners with a bit of weight off his back. It worked out and I am really pleased and thankful to Craig Zackey for a top ride, and to my partner Deon Snyman, whose  first winner it was."
Jarett said that Deon Snyman was a Gauteng-based new owner, who was clearly a lucky charm – he has been involved with Guaquistador for just two runs – a fourth place on the Fairview polytrack a fortnight ago and now the victory on Friday.
"Deon unfortunately wasn't on course but I am sure he will enjoy watching the replay many times over! I must also thank my former KZN colleague, Ashburton trainer Shane Humby, who kindly arranged that I get Guaquistador and another horse."
Jarett doffed his cap to his small staff of three and his sponsors Hollywoodbets, who have stuck by him – "every but of support in whatever form is a godsend," he adds, as he says he is proud to have finally got one into the winner's enclosure for SA's leading bookmaking brand.
The enormity of Guaquistador's victory on Friday is illustrated by the fact that the Pomodoro gelding was Jarett's first visit to the number 1 box since Gingerspathtoglory won at Flamingo Park on 13 January 2020. That's a lifetime in any racing man's language!
"As I said earlier, it's been tough and more! I had 55 horses at Flamingo Park and had my regular winners. Today I have eight. It's a hard grind for survival month-to-month. But I am living my dream – and I am my own boss and I never battle to get up and won't stop believing that things will turn."
Jarett's optimism is underscored by his perseverance.
"I have a barn – which means I am paying for 24 boxes. So I have the space to grow. But it's a catch 22. Without horses, there are no winners. Without winners, there are no horses. Empty boxes cost. There is no leeway or charity anywhere. You pay your rent, or you go. But that said, I have been overwhelmed by the messages of support – on Whatsapp and Facebook. So many people have contacted me to say they are happy and thrilled for me. It's heartwarming and encouraging."
He was considering running Guaquistador again on Tuesday but this time on the polytrack. He will assess his charge before a decision is made.
He is upbeat by two horses particularly in his small string – a filly that he got from Glen Kotzen called Subterfuge and an unraced youngster, Indigo, who races for Clinton Lines and Gebhard Wolf. Julie Dittmer sent him the game mare Purple And Gold, with whom he is determined to win a race.
Jarett says the camaraderie amongst the East Cape racing community against the background of the covid dark cloud, has also been fantastic.
"We are all here to help each other. I saddled Cliffie Miller's horses on Friday. Our good friend and colleague is still in hospital, but thankfully things are looking better and we are praying that he is back home this week."
Jarett has been tested after his covid exposure and he says he is negative.
That's a bit of genuine good news for the man who was one of the first Northern Cape trainers to take up Gold Circle's relocation assistance to KZN in 2020 as Kimberley was closed by a decimated Phumelela.
"It was always going to be difficult winning races in KZN with horses that were mostly chuck-outs from that very centre. But our backs were against the wall and  if we don't try we would never know. I am richer in spirit for the experience. I just would love to try and fill a few more of my boxes here in the Eastern Cape. And, as we all know, winners are the very best advertisement!"
‹ Previous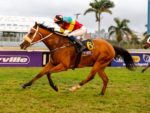 Puller's Platinum Jubilee