In his teenage years as a horse-hungry youngster more interested in paging through the racecard than Twelfth Night or Macbeth, Paul Peter and his friend Dominic Zaki sneaked into a then age-restricted Turffontein Racecourse.
On Saturday Paul stood proudly on the Wilgerbosdrift Gr1 SA Fillies Classic winner's podium at the same track surrounded by great racing people, and a dream filly called Summer Pudding.
Now set for history on 4 April as the undefeated daughter of Silvano bids to become the third SA Triple Tiara queen, Paul Peter says that Saturday's events still 'feel like a dream'.
"Summer Pudding  is such a straightforward filly to train. She eats well. She does everything well. She has a disposition and a constitution that, coupled with her wonderful ability, makes her a daunting opponent. She showed her courage in the Gauteng Fillies Guineas. We were naturally more confident with the 1800m on Saturday. But the butterflies start as raceday nears. That's probably human nature," he laughs.
Paul tells that he never gave Winning Form-sponsored jockey Warren Kennedy any instructions.
"He is the consummate professional. He knows her well. What was I going to still tell Warren that he didn't already know?" he asks.
Paul says that having breeder and feature sponsor Mary Slack, and Summer Pudding's owners Jessica and Steven Jell there at Turffontein was an 'honour and pleasure' – and adds that the interest all round was 'phenomenal' as the punting public's money was also balanced on his beautiful filly's majestic back.
"I kept telling myself she was as fit and well as we had ever had her. She would enjoy the 1800m. When Warren used her a bit to get into position, I thought 'whoops!' Then she came forward so enthusiastically – and quite early in the straight. And she just kept on galloping. What a horse. Dream stuff!"
We asked if his heart skipped a beat or two during the race.
"More than a few beats! But then she just picked it up and drew away so powerfully. I thought – why did I even worry? She's a star and her top jockey delivers. They are a winning combination. While Steven and Jessica own her, we asked Mrs Slack to lead her in. I felt so thankful, so overwhelmed and so proud at that moment. I'm a lucky man," he added.
The Hyper Paint-sponsored trainer says that Summer Pudding had pulled up well and she would have a 'few easy days' until the middle of this week.
"She's uncomplicated and fit. So we will just keep her ticking over for the SA Oaks now," he confirmed. As regards SA Champions Season plans, Paul says that would be up to her owners.
"But let's go one step at a time. She doesn't owe anybody anything!" he smiles. It is Paul's intention to raid KZN and the SA Champions Season as he has done with great success in years gone by.
But back to the Summer Pudding fairytale, he was quick to pay tribute to some 'other champions'  in his yard.
"The role of the stable staff – the Grooms – can never be underestimated and Summer Pudding has three champions around her all the time. Alphius Nkosi was Cherry On The Top's Groom and is back-up for Summer Pudding. Patrick Mange is her Groom. John Sebeko is our Stable Foreman and worked for Ormond Ferraris for over 40 years. These men are great assets and an integral part of what the racing public doesn't see on the big days. I appreciate their efforts so much."
Paul 'inherited' Summer Pudding as an unraced youngster from his mentor, Ormond Ferraris, his neighbour at Turffontein, and a man he has leant heavily on over the years.
The senior statesman of the SA training ranks, Ormond Ferraris retired last year.
Paul says that Mr Ferraris is the 'wisest and kindest' man he has ever met.
"There is nothing he doesn't know about horses or racing. He loves all animals – horses, birds, dogs, cats. Some people may have the wrong perspective of Mr Ferraris as he doesn't suffer fools gladly. But give him respect and he will give you respect. His is a simple philosophy."
Paul took over the Ferraris employed Grooms when the legend retired.
His association with the Slack family goes back to the part acquisition of a share in Majestic Mambo, who ran fourth behind Do It Again in the July in 2018 before being exported to Dubai.
Paul also trained Popsicle Toes initially for SA's leading racing family.
His association with Warren Kennedy has blossomed this season. Paul explains the partnership evolved from a ride  a few years ago.
"Warren took a ride for me on a notoriously difficult horse called African Ruler. He absorbed everything I told him and carried it out to a tee. And he won the race. From that day on, I was happy to support him and we have forged a great partnership."
It's just another of those stories when people come into one's life and the story all started 48 years ago when Paul grew up three kilometres from Turffontein.
The Peter family were crazy about the game over many generations.
It's always been in their blood.

Paul, who has 140 horses and is assisted by his own son Tony, reflected back at how his late father, also Tony, loved his racing and punting.
"Dad never missed a meeting, and my brothers Gerard, Johnny and Dominic are also big racing fans. I've really loved horseracing since I was a little boy. And as a trainer, I have had a few decent days – but Saturday was truly extra special for so many reasons," he says emotionally.
He mused how the twists and turns of life have brought key people into the unfolding story that began even before he closed his last lid on a 5 litre tin of PVA and decided to take out his trainer's licence.
Fact is that after being a hardworking shareholder in the family business Hyper Paint, Paul admitted his heart just wasn't in the colours and brushes.

The veteran James Maree taught him most of what he knows today.
He was also assistant to Koos Rossouw and spent the last two years of his 'apprenticeship' back with the Maree team.
Paul took out his licence in 2010 and his first ever runner, Rocabar, ran on the Vaal sand on 8 April that year and finished eighth, 18 lengths behind Single Minded.
It was a humbling beginning – but he trained his first winner just under three months later when Magico  won at Hollywoodbets Greyville on July day.
Fast forward almost ten years, Paul is profuse in his gratitude and appreciation of the many people that played a role in getting him to his maiden Gr1 success.
"There are plenty of clichés in life and sport. But the people whose paths you cross are material in one's success. That's from knowledge and guidance, as in the case of Mr Ormond Ferraris, to my family's support, to my hardworking team, to the top owners and breeders who make the game great. The good horses follow!"
‹ Previous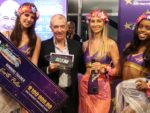 The Summerveld  Sizzler!