From the golden acres of Mooi River to the rolling green hills of Taylor Made Farm in Jessamine County, Kentucky, Alexis Ramsay is living proof on the hoof that 'love horse, will travel'.
Alexis  tells the Sporting Post that when she packed her bags nine years ago and bid farewell to KwaZulu-Natal, moving her life, heart and soul with her family to New Zealand, she could never have wildly imagined the adventure that lay ahead.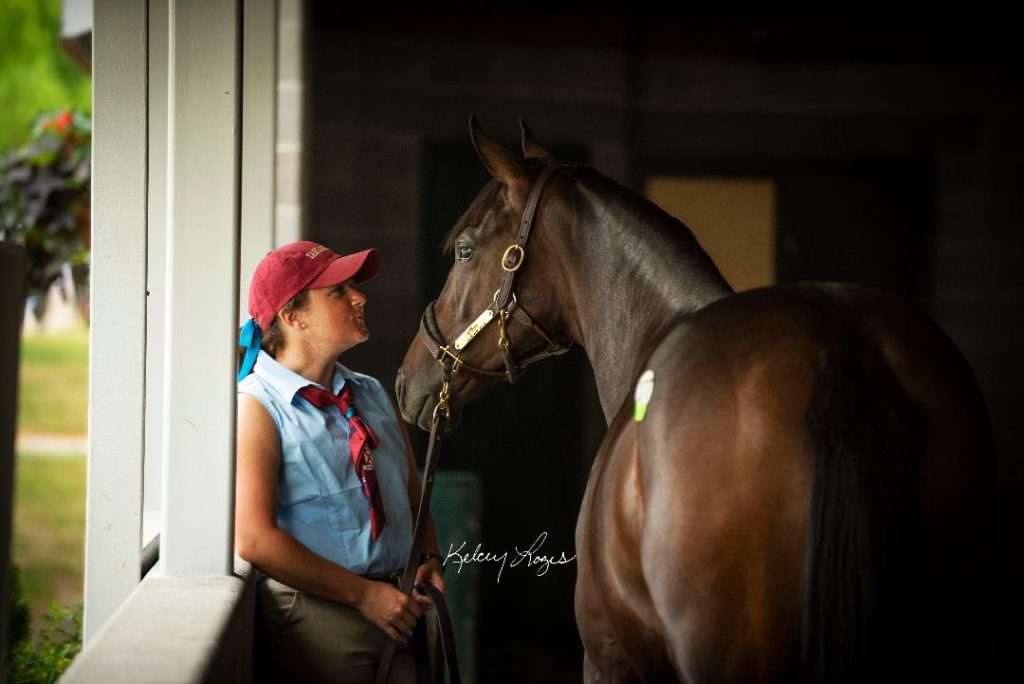 A Barn Foreman at Taylor Made, where she commenced in the middle of July as a Yearling Groom, Alexis completed the Saratoga Yearling Sale and Keeneland Sale, and returned to the farm at the end of September to fill her current position.
It is thanks to her parents and famous Aunt Pippa Mickleburgh that at about the age of ten she started being involved with the yearlings at the sales, showing them or walking.
"I worked for Pippa one year in Germiston, and with that I also took a horse through the ring for Terry and Annabel Andrews of Sorrento. We moved to Sibaya for the sales and I think it was the second sale that Verna Roberts asked me to take a yearling for her through the ring. It was through these sales that I was also able to meet Steve Davies."
She keeps a diary of the twists and turns of a life lived to the fullest since the flight touched down in New Zealand in 2010.
She has rubbed shoulders with some of the biggest names and greatest horses internationally, and has absorbed every ounce of energy along the way.
"Sales work is not easy. It is long days, lots of miles. The Keeneland Sale I have just completed was about 18 days of 5am to 6pm each day. I walked 34km in one day – in fact I averaged about 23km/day at the sale!" she laughs.
In 2017 Alexis flew 37 flights and worked at 32 sales. She also made a deal with herself to try and ride in every country she visits. She has ticked New Zealand, Australia, Germany, the UK, Iceland and the USA, in that box, so far.
A unique trademark of Alexis are those ribbons in her hair.
"I wanted to stand out at the sales, to have something that separated me from the others, I believed that this would help me be recognized in one way or another, so I started wearing ribbons in my hair for the sales I did, my ribbons coinciding with the colours of the farms I worked for, and this really paid off in Europe. I worked the German sale then went to Ireland and met a lady there who said she remembered me from Germany, saw me in Italy and then in Ireland – and only remembered me because of my ribbons!"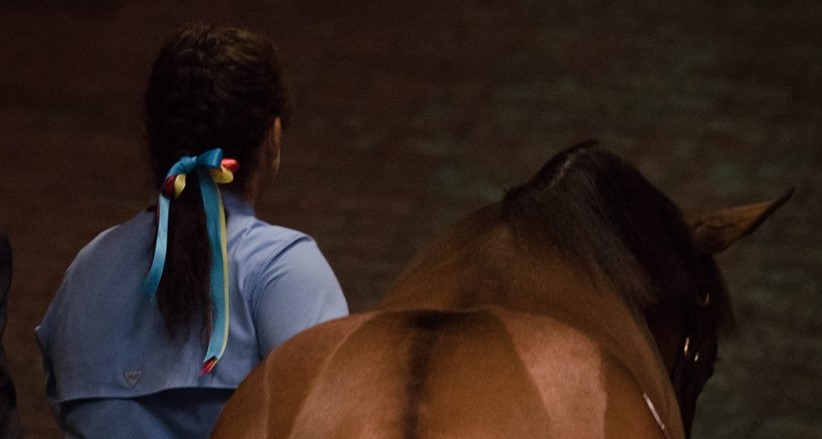 But back to the beginning.
The Ramsays were part of the fabric of Natal racing and breeding.
Dad Craig trained for years and bought Golden Acres Stud in the 1980's. He is a man who held various positions that took up so much of his waking hours that he had to give up training. Craig Ramsay was highly respected and is still sorely missed in KZN racing and breeding circles.
His list of office-bearer positions reads like the CV of ten different people!
Chairman of KZN Breeders Association,  Director and Steward of Gold Circle,  Director of KZN Trainer's Association,  Council Member of TBA,  Lifetime Member of National Horseracing Authority Life Member of Gold Circle,  Life Colour Holde, Breeder representative for SA International Gambling,  Chairman of various sales, marketing, liaison sub-committees.
The Ramsays emigrated in May 2010, with Craig and Tammy seeking a better future for their son Wesley and daughter Alexis.
They located to Cambridge, which is on the North Island and onto Cambridge Thoroughbred Lodge where they did two seasons and then a further season with the stallions.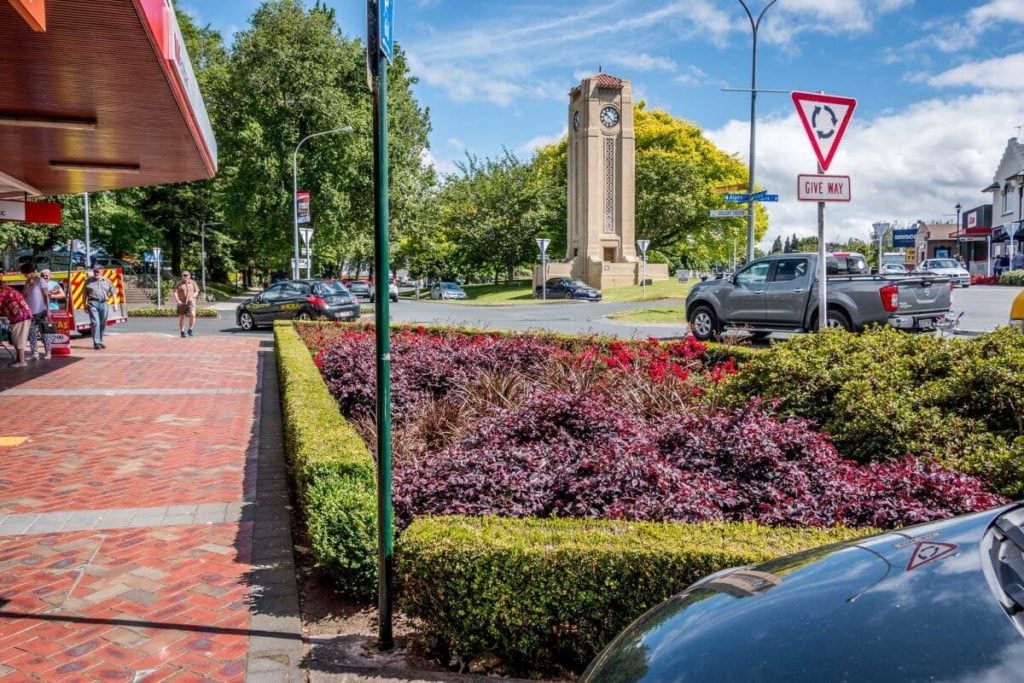 Alexis tells how in South Africa, foalings are done inside and in NZ outside.
"We did it 'our way' which raised a lot of eyebrows. The Kiwis thought we were mad! The big difference was that we had to do the work. Bed the stables, bring the horses in and out, feed out in the paddocks etc," she recalls.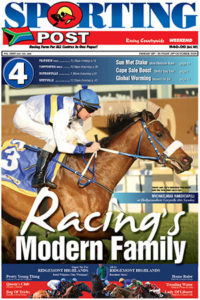 "I remember thinking one day that nobody at home would believe the site of Mom and Dad driving an old tractor in the pouring rain and feeding horses out in muddy paddocks. But in a way they enjoyed it."
Tammy and Craig went into retail and changed direction – buying into a lotto/men's gifts/cigar/barber shop and ran that for about 3 or 4 years. They dabbled in and were extremely successful in home buying and restoration and selling.
In July 2017 the family purchased an avocado and kiwi farm in a town called Katikati – with amazing views of the ocean and mountain range.
Alexis recalls the initial shock of her immigration to the land of the long white cloud.
Like the fact that the house on the farm where they first lived had no keys. They left their gumboots outside the coffee shop in town and they were still there when they got back. She says that the move was initially sad, but the farm was the life she knew apart from school.
"Every morning during the breeding season I'd wake up and run to the laundry to see if Dad's wet weather gear was out, and if I saw it I knew we had foalings, so I'd get ready for school super-fast and run to the barn to see the new foals. Our neighbour who would take us to school, used to hoot for me because I'd make us late for school. But once I accepted the changes, I became so excited about it."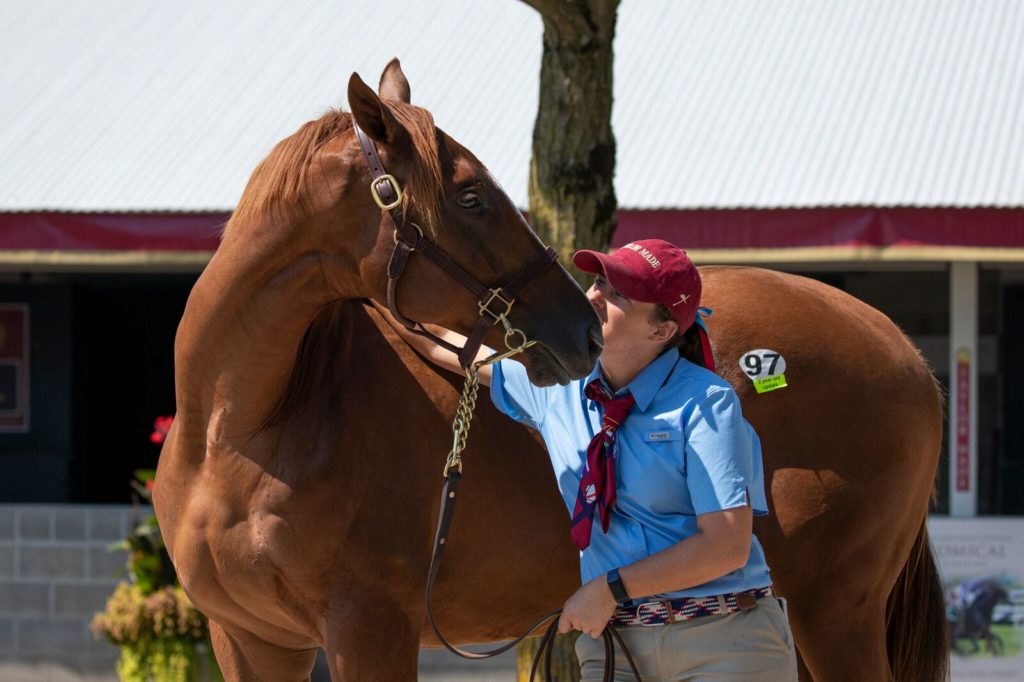 The now 25 year old unattached horse-lover was born in 1993 and raised at Golden Acres where she worked horses and recalls riding upside Garth Puller.
She was schooled at Treverton in Mooi River, and at St John's DSG in Pietermaritzburg. She completed high schooling a Cambridge High School New Zealand and at Vet Nursing College at WINTEC in NZ.
Alexis recalls starting a job on a stud called The Oaks and on her first day was given a grooming bag and a fork and told to start grooming horses and mucking out.
She worked her first sales prep there and her first sale in NZ whereafter she went into studying nursing.
In 2013 she worked at Scone Equine hospital in Australia for five months and then back  to NZ where she worked for Wentwood Grange. She did their prep and sale. She graduated in August 2014.
"I went back to work on the farm till after the sale in 2015 and filled the time working for the SPCA."
She tells how Mike Fleming of Bhima Thoroughbreds in Scone has helped her so much.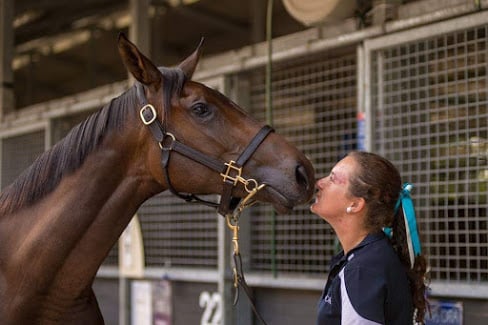 "I worked for him from April 2016 through till August 2018. I have been extremely privileged to work under his yearling Manager, Melissa Jordan, who after my parents has truly been an inspiration. Her work ethic is incredible, she's a fantastic horse person and leads by example. She taught me so much just from me observing her working with horses."
In 2017 Alexis went to Europe to work their sales circuit.
She was working the Easter sale in Australia when Dr John McVeigh came to vet one of their horses. He offered her a job.
From there it is a whirlwind.
First it was Gestüt Fährhof, Dr Andreas Jacobs farm in Germany.
Then to Italy and  Centro Equino Arcadia, for Dr Giovanna Ramano.
A sale in Ireland for Baroda and Colbinstown, where she got to meet Mick Flannigan. She then flew Sweden for their sale. Back to Ireland for Baroda again. Then to Newmarket to work for the McVeigh Team at Tattersalls.
Between Tatts Sales Alexis travelled around Iceland, back to Newmarket, and then back to Australia in November.
in 2018 she worked again at Scone Equine hospital, employed now as an ICU nurse.
"My first year, the great mare Sun Classique came to the hospital. Sadly she didn't survive, but I grew up watching her race," she recalls fondly.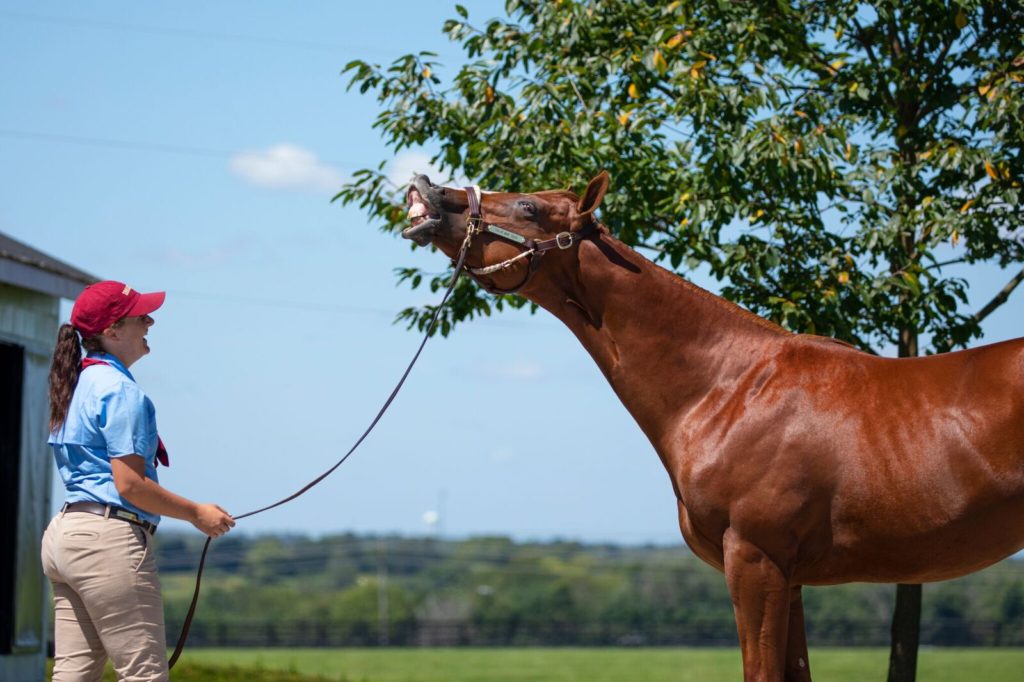 Up to July this year, Alexis worked in the UK for Baker McVeigh.
"I loved it so much. I got to meet Mr William Haggas and his wife Maureen, who is the daughter of Lester Piggott – dad had his book in the library growing up! I was privileged to be able to work with Sea of Class, Awesome Tank, Magnetic Charm and so many of his amazing horses. I went to Shadwell, worked in Hugo Palmer and George Scott's yards, spent time in Mike de Kock's yard at Abington Place. And worked with the Aussie mare Houtzen. "
She has also visited Iceland.
"I went to the Calgary Stampede prior to starting at Taylor Made. Meeting Monty Roberts this year was awesome too. He has an extremely close relationship with Dr Jacobs' farm in Germany, so it was a quite personal for me to meet him."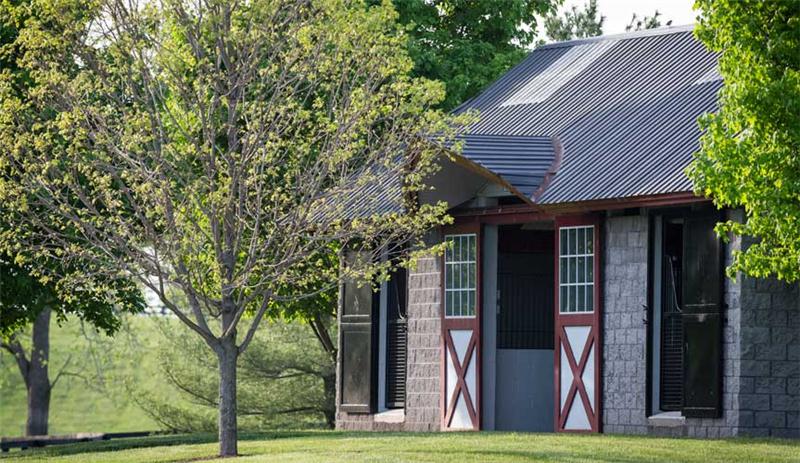 "The reason I'm here at Taylor Made is to help decide if I want to go nursing full time or do stud work. At the moment my decision hasn't been made. I loved my job in Italy and would go back in a heartbeat. I also enjoyed working with Baker McVeigh. But who knows what will come out of working here? Who I might meet or what the farm has in store for me?"
Working in the industry in Japan and India are both also on Alexis' list of dreams.
"I need to travel to South America too – maybe I'll find a polo player there!"
Thanks to Taylor Gilkey/Taylor Made Sales & Kelsey Loges for their pics