A multiple KZN champion and a man widely respected as one of our greatest ever trainers of speed horses, the 72 year old Summerveld-based Dennis Richard Drier bids for his seventh Gr1 Gold Medallion victory in the past decade at Scottsville on Saturday.
Now in his 42nd year of holding a licence, he says he will keep at the profession he loves as long as he enjoys the support of top-class patrons and loyal staff.
Unparalleled! That about sums up the terrific record in the Scottsville Festival Of Speed of the late Syd Laird's nephew who started at the stable grindstone with his legendary uncle in the 1960's and went on his own in August 1977 – a long time ago, and put into perspective for some as the month that the King Of Rock 'n Roll Elvis Presley died at his Graceland Mansion in Memphis, Tennessee at age 42.
'Uncle Den', as he is known to a legion of punters who have found him to be one of the great reliable and consistent trainers, he has lifted at least one Gr1 trophy from this very meeting in every year this decade, apart from 2016. What a record!
While he marked his 2000 career winner milestone at Greyville on 26 August 2018, his first Scottsville Gr1 success was back in 1990 when the Oppenheimer owned Spook And Diesel won the Gold Medallion, then known as the Smirnoff Plate.
Urban legend has it that the late 'First Lady' of SA Horseracing, Bridget Oppenheimer, purchased Spook And Diesel as cane 'n coke just happened to be her favourite drink.
In later years, the Drier 21st century roll started with Link Man winning the Gold Medallion in 2010, followed by champion Val De Ra winning the SA Fillies Sprint in 2011. Potent Power, Captain Of All, Guiness, Seventh Plain and Sand And Sea won the Gold Medallion in 2012, 2013, 2014, 2015 and 2017 respectively, while present day Klawervlei sire Captain Of All won the Tsogo Sun Sprint in 2015.
Drier's first Scottsville Grade 1 success was way back in 1990 with Spook and Diesel in the Gold Medallion, then known as the Smirnoff Plate.
Last year, Sommerlied's thrilling victory in the SA Fillies Sprint made it a ninth Gr1 victory at Scottsville this decade for the Drier team – and on Saturday, they have five Gr1 representatives ready to build on the proud record.
But past Gr1 Gold Medallion winner Sand And Sea's relegation to the status of a second reserve runner in the Gr1 Tsogo Sun Sprint, has the veteran horseman a little hot under the collar.
He is trying to fathom out the handicapper's rationale.
"What do merit ratings actually mean? He is a 103 and a few horses ahead of him are rated lower or equal. And how many of them are Gr1 winners? The Drill Hall Stakes was his fourth run after a wind op. Anton Marcus said he wouldn't stay and he was one hundred percent right. But we had to try the extra ground and Stu Randolph couldn't hold either side of him in the Drill Hall. He tired and ran just over 5 lengths off them. Do they not look at the bigger picture and all factors? Sand And Sea would have been a massive runner here – he has never carried 52kgs in his life! He is fit and well now – and a course and distance Gr1 winner. It's disappointing."
He added that his prospects of getting a run were now slim.
"I definitely don't want to benefit from others misfortune – that is, waiting like a vulture for two scratchings. So our guy will be standing in his box, while he could have been a massive contender in a Gr1. Work that one out!"
On his other runners, there was some bullish positivity.
The Cheveley Stud-bred Naoshima, a daughter of Master Of My Fate, runs in the Allan Robertson.
"She is a lovely filly who won her debut smartly on the polytrack. She ran on when fourth and just over 3 lengths back in the Strelitzia won by that very fast filly, Singforafa. She will be more comfortable over the 1200m here. It's a class field as it inevitably is, with the visitors fielding some decent fillies. But we are fit and well and Sean (Veale) knows what to do."
As we pointed out earlier, the Drier record in the Gold Medallion is unbelievable and he says that he cannot split his pair of Cartel Captain and Master Of Illusion – 'they are both in fine fettle and ready to run big races'.
Stable jockey Sean Veale rides Cartel Captain. Bernard Fayd'herbe rides the Godolphin Barb runner-up Master Of Illusion. But don't read anything into the jockey engagements, cautioned the trainer.
"Sean (Veale) won on both. Cartel Captain was a course and distance debut winner last month. I like the way he won. His top-class Dad won this race for us in 2013. So who knows?"
On his Greyville debut winner Master Of Illusion, who went down narrowly to African Warrior in the Godolphin Barb earlier this month, the top trainer repeated that he couldn't split his two.
"He is a lovely horse and is the more experienced of the two. He impressed in the Godolphin Barb and showed maturity under the lights. As I say again – they are difficult to split, but both are big runners at best!"
Can Anime give the yard an SA Fillies Sprint double after Sommerlied's victory last year?
"She ran a good fourth last year. But this is very tough for her at level weights against some top sorts. We'd be thrilled if she could place and are just hopeful of her running her heart out as she always does."
Drier, who won the Durban July, with Spanish Galliard in 1992, has won over 17 Gr1 races in the past eight years and expects to be competitive on one of his favourite racedays of the year.
He puts his success down to the support of staunch owners, a professional team at Summerveld and to his ever present wife Gill, a daughter of trainer John Breval, and a leading horsewoman in her own right.
And let's give the last word on a legend of the training ranks to a legend of the breeding industry in Mick Goss.
Through his actions and the obvious emotion his horses invoke in him, Dennis Drier's taken racing to the people more effectively than racing's administrators could ever wish to do. He's more use than a dozen advertising agencies in bringing fans to the races. Whether in victory or defeat, he treats those two imposters just the same. "I don't mind being beaten" he thinks "but I don't have to like it". The man is from the pages of Damon Runyon, and if you didn't feel for him in those days of the long slump, when his luck deserted him and the Oppenheimers departed, then to paraphrase Runyon, you must be such a guy as will never be moved by anything less than an earthquake. Meanwhile, it'll take an earthquake to get him out of the headlines he's made a habit of occupying.
Click on the image below to pick up your weekend racecard!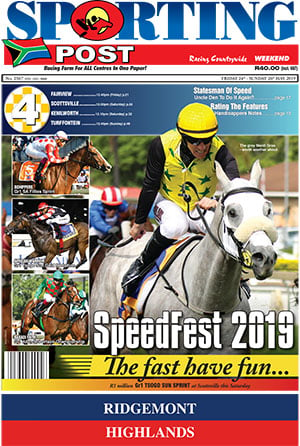 ‹ Previous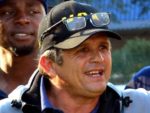 Divided – We Will Fall!