A kind favour to a breeder when buying a mare he didn't need, or particularly want – or even really knew too much about – has led to Gauteng-based property developer and lifetime horseracing fanatic Frans van der Berg enjoying the thrills of owning an unbeaten Nursery winning Vercingetorix colt – with a bright future.
Van der Berg, who turned 57 on Sunday, told the Sporting Post that he had loved horseracing since his student punting days at Potchefstroom and had been fortunate to dabble in a bit of breeding while having some fun owning horses, via his good friend and business partner, trainer Jurgen van Heerden.
Van Heerden will shortly be moving from his private training establishment near Randjesfontein to take up boxes at Milnerton.
Frans van der Berg says that he personally will not be moving down to Cape Town, but hopes to be travelling to watch his PE-based Vercingetorix star, Viking Moon. In fact, the Alan Greeff trained colt, a favourite to be crowned East Cape Champion Juvenile male this season, is the outcome of a random act of kindness extended to a fellow breeder.
"They say a good deed never goes unpunished. I'm not quite sure if that applies more to life in general, or horseracing. But in this instance, I can count myself lucky it seems. This is such a tough dog-eat-dog game and maybe we overdo the science and undervalue the true value of kindness some days. In this case, I can genuinely say that I purchased the mare – which I really wasn't looking for – as a gesture of goodwill. And the subsequent mating to Vercingetorix was also a chance act as the use of True Nicks and Gr1 Stallions to match the supposed right matings is quite difficult with mares bred in Australia."
The mare that Frans bought blind was a three-time winner called Touch The Moon.
Her moderately successful sire Untouchable, a son of Danehill who was on Darley's Australian roster when he entered stud in 2004, was moved to Brett Davenport's Akaroa Thoroughbreds in New South Wales after five seasons – with a service fee reduction.
Untouchable, who was second in the Gr2 Todman Stakes to Darley's leading young son of Danehill, Exceed And Excel, covered large books, from 140 to more than 190 mares, in each of his first four years for Darley Australia, from which he produced 480 live foals.
An Aussie source said: "It shows you how difficult it is to predict which stallions will work. Untouchable was a very good 2yo, from a good family and was a lovely type. He got very big numbers and served reasonable quality mares if not super. His yearlings fetched big money and went to all the best trainers. Given all those facts his record is deplorable, but we only know this in hindsight."
His daughter Touch The Moon produced two fillies before Viking Moon came along.
Both Tactile and Googoo Doll were unplaced in their seven starts.
"So here I sat with a mare by a largely unheralded sire who herself had won thrice and thrown nothing. I was also not impressed with the funny action of her first two ordinary offspring. Jurgen and I sat down and we decided to take a chance and send her to the 'right sire'. It was a bit of science as we played with the nicks programmes. But it was also a hit-and-miss affair to be frank – and a few stallions that were suggested we couldn't get to. So then we settled on Vercingetorix. The plan was always to try and breed a horse that would probably come early so we could cut our losses in need – and bearing in mind Vercingetorix never raced at 2 and the Silvano's generally tend to be late bloomers, we were actually digging a hole of sorts for ourselves!" laughed Frans.
The mating produced a colt and in a deal with the Birch Brothers, the youngster was registered in the name of Frans and Jurgen's Carefree Syndicate and the mare was given to the Birch family. The last we heard, Touch The Moon was in foal to Red Ray.
Transferred into training with East Cape Champion trainer Alan Greeff, Viking Moon strolled to victory on his debut on 22 February and followed up over the same 1000m track a month later.
He then came out on 26 April to win the Listed East Cape Nursery and enjoyed the honour of being his sire's first stakes winner. In both his second and third start he beat subsequent Dahlia Plate winner, Hooves Of Troy.
Frans recalls the Nursery win.
"I was sitting at OR Tambo waiting to board the flight to PE. I checked my phone and noticed that my bets had been cancelled. I phoned Alan and said I'm through security and can't turn around – is the meeting off? He said it had been switched to the polytrack."
That had Frans a little concerned. His pride and joy would be going around the turn for the first time – and had won his first two on the turf. Allan Greeff was less concerned.
"Well he fought Greg Cheyne all the way around – and still managed to get up and win. That was impressive and full marks to Greg for a really cool ride!" says Frans.
The happy owner observes that the early success of Viking Moon off the unlikely platform of a pure chance purchase mated to  what was probably a fifth choice sire selection, just goes to show the exciting unpredictability of breeding and racing horses.
"Vercingetorix has been on fire and doing well. Maybe the precocity of his first crop are from the National Assembly line on his dam's side? I have noticed that the Vercingetorix mix seems to work well with Jet Master and Danehill mares. But what do I know? All I do know is that Viking Moon has been a revelation and owes us nothing. Allan is keen to restrict him to sprinting for now. He is having his AHS injections and innoculations  and being rested. Who knows what the new season will bring? We'd like to think that if he settles, he will get a mile. Allan knows what he is doing – we'd like to look at going for some of the 3yo races in the Cape in the summer. But for now, we will savour the success – it's what keeps the fires of passion burning and gives horseracing its allure and magic!"
‹ Previous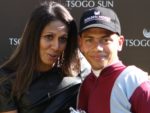 JR's Doing Okay!