A Tellytrack presenter's recent question in a post-race winner's interview to trainer Ivan van Wyk regarding his training from Yellow Star Stud in Mooi River was met with a polite response that the quietly spoken horseman was now based at Summerveld.
When pursued for more detail and to how long he'd been at the leading KZN training centre, Ivan replied softly. "Oh, just over a year now."
It happens. Some people just have a knack of selling themselves and grabbing the limelight. Others just carry on – for a year and more below the radar, sometimes!
The 52 year old Colesberg born Niklaas 'Ivan' van Wyk is one of those.
"Maybe I need to promote my business a bit more. But websites, PR and social media are not really my speciality. My horses are my life and they keep me busy," says Ivan, who lives on his business premises and thus technically never leaves his office.
He currently has a string of 35 horses, which includes some exciting 2yo's.
Ivan is best known as the Yellow Star 'sheriff' through his lengthy association with the De Klerk family and the Mooi River breeding establishment.
Formerly owned by KZN breeding legend Craig Ramsay. Yellow Star Stud is situated approximately 12 km outside the village of Mooi River, the hub of thoroughbred breeding in Kwa-Zulu Natal.
The farm is 320 hectares in extent and produces hay for both bedding and horse feed and wholesale and retail. They boast large 'veld' camps of natural grass and many kikuyu paddocks. Green winter feed is planted annually – being either oats or rye grass. The farm boasts 100 stables including a foaling barn of 12 stables and formerly a racing yard of 24 boxes.
It was on the Yellow Star training tracks, grass and sand, where Ivan van Wyk first ran a successful training yard after six years under the tutelage of his mentor, Chris Erasmus . Ivan took out his Trainer's Licence in May 2017 but found the burden of the travelling to races and the maintenance of the tracks was taking time away from his focus on the horses.
"We did remarkably well considering we were travelling over four hours return to Greyville. But the logistics were not ideal. Think about night meetings where the last race could be just before 22h00. That would mean late nights and early mornings for staff who already work hard. I was also responsible for helping to maintain our excellent training tracks at Yellow Star. And believe me track maintenance is a specialised time consuming process. It takes great effort to keep them in pristine condition."
Ivan says that every day that he looks at the beautiful facilities available to him and his colleagues at Summerveld, he appreciates the money, effort and expertise that goes into maintaining them.
"I am really pleased with the bold move to Summerveld. I have an open licence and receive great support from the De Klerk family, Ted Hughes, Dr Williams and others who have entrusted me with their horses."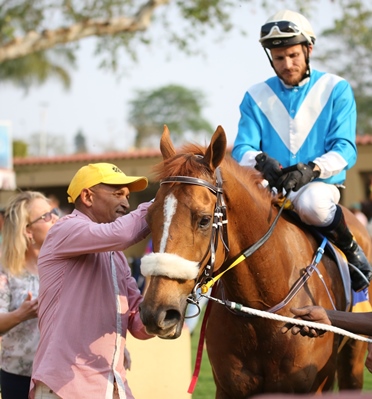 As Yellow Star boss Koos de Klerk puts it, Ivan has the genes and the foundation required to be a top-class horseman.
"His parents worked for the Southeys at Southford Stud. Ivan has the Colesberg blood flowing through his veins and he is one of the most dependable men I know. He doesn't work for us. He runs his business independently. We are jus his main supporters," said the former KZN Breeders Club Chairman.
After leaving Colesberg for the bright city lights of Cape Town, Ivan worked on chicken farms in the Paarl area as a maintenance man. He never married but has a son and daughter who still live in Paarl. He gets to see them a few times a year – but 'not often enough'.
After spending his early working life amongst chickens and spanners, Ivan always had a yearning to get back amongst horses and seventeen years ago he landed himself a job as a groom with veteran trainer Chris Erasmus at Turrffontein.  It was to be a turning point for the son of Colesberg, who always had stars in his eyes when it came to fast horses.
"I learnt most of what I know from Mr Erasmus, who still advises me today and is only a phone call away."
Ivan, who earned the rank of Assistant Trainer, moved from Johannesburg to Durban in 2011 when Chris Erasmus was put in charge of a string owned by Koos and Lorraine de Klerk at Yellow Star Stud. With a further six years under his belt, Van Wyk was ready to take over when Erasmus departed.
He saddled his first winner at Scottsville in September 2017 when the old warhorse Putchini bounded home at 12-1 under Billy Jacobson.
"I thought I would spend my life in the second or third box and then Putchini delivered the goods. It boosted my confidence tremendously and I'm proud to say he is still the king of the ring here!" laughed Ivan.
He says he has no issues with any of his fellow trainers at Summerveld and is blessed with a loyal staff.
"I'm one of them. I did my time as a Groom and I still get my hands dirty. I know what they are experiencing. It's easier when one relates to those around you,"he adds.
‹ Previous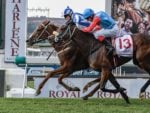 Doing All The Wright Things