The Soetendal Estate name is likely to be mentioned more often than any other vendor by veteran Auctioneer Andrew Miller when the gavel starts falling shortly after 6 o'clock on Friday evening as the CTS Ready To Run class of 2018 strut their stuff through the Durbanville Racecourse sales arena.

Julia Pilbeam and her team, with their thirty six 2yo's in tow, arrived safely at the scenic venue on Wednesday morning. It's Julia's biggest draft since she first started prepping youngsters for this quality platform back in 2014.
"It certainly wasn't our plan to go this big. However, with the changing dynamics of the industry, it has worked out well for us to have a bigger draft this year and I'd like to add it's our strongest ever," she said.
Julia says that tough economic times can have positive spin-offs and one of those is quality above quantity.
"It seems vendors and breeders have become more selective about what horses they enter on this sale, so the standard of horse on offer has improved over time. One hears many of the vendors say that they have a really nice group of horses – or not a single bad horse on the sale. And we can certainly back that up with our draft."

"It costs as much to feed ordinary horses as it does quality animals. So everybody is being more selective and considered. It's not a bad thing at all!" she laughs.
So why would anybody consider buying at Durbanville on Friday?
"This is a great sale for the astute buyer. There are horses that haven't been seen in the sales ring before, either through a mishap or later maturing types that were kept back. Some of them have excellent pedigrees and would easily have made it on to a National Sale or Cape Premier Yearling Sale. We have some lovely horses that fit the bill on our draft, so I am talking first-hand. Then there are pinhooks, and here prospective buyers can see the physical development and improvement that the horse has made and make a well-informed decision. Then of course, the opportunity to see them gallop and see how they move is one of the main attractions of the sale, and always adds to the interest on the day. What I enjoy about preparing horses for this sale is the dramatic improvement that some of them make over a period of just two or three months."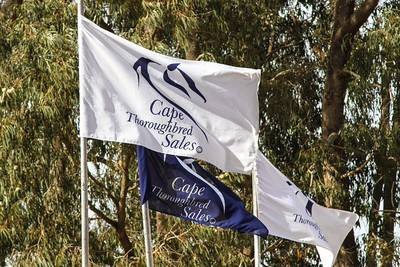 See our sales preview – click here
She also points out the simple mathematics that with the compact catalogue, the chances of qualifying for the sales race is improved. "With the smaller number of lots compared to some previous years, buyers have a better chance of qualifying for the race too," she says.
Julia has followed racing since the age of 11 and commenced riding work in 2000.
She started the Wellington based Soetendal on a small scale on 50 hectares of magnificent Boland countryside in 2005.
And while the economy hasn't been easy in recent years, they have continued to deliver a quality service and have built another stable block, to be used primarily for spellers, with individual paddocks for each horse. "We have also secured another 8 hectares of ground adjoining the farm, to be used for more paddocks and a third dam – the excavations have already started,"she said excitedly.

Their main focus is pre-training and facilities for spellers, as well as post-op care. They also  board a number of permanent broodmares.
While staffing needs are seasonal, the core Soetendal team has been a strong foundation.
"Ricardo Christian, left for New Zealand in May to join a big stud farm. He was an integral part of Soetendal for four years and we hope he is enjoying the experience. However, when one door closes, another opens, and we are very fortunate to have Mari Peter with us, bringing the experience of, among other things, five years working as assistant in the Champion Trainer Justin Snaith's yard. Mari's care for each and every horse, and attention to detail, have proven invaluable in the preparation of this year's Ready to Run draft."
The proud Mom of two is supported by her highly qualified husband horseman Deon Ensink.
"My son William has taken a gap year on the Class Afloat programme which offers academic programmes for Grade 11, 12, University and Gap year students while they sail the world's oceans aboard a majestic tall ship. So he is having great fun, while my daughter Sjaan (9) misses her brother but enjoys the horses and the farm."
Read all about Soetendal – click here
Julia is optimistic about the future.
"The racing industry is an exciting environment and although it has normal ups and downs, fortunately for us horses still need to be started – and many owners and trainers choose to have this done on the farm. And of course, South Africa continues to produce top horses year after year, so the possibility of changes to the export protocols will give the industry a welcome boost.

"On a personal level, I get a huge kick every time a horse we have started wins a race, be it a maiden or a Gr1. And horses are still teaching me something new every day. So I can only use this opportunity to thank our fantastic clients for their ongoing support and for affording me the opportunity of doing what I love every day!"
The Soetendal Stars  – CTS Ready To Run 2018
3 Colt by  POMODORO  x  RAINY DAY (STRONGHOLD (GB)) Progressive colt, will take time but a nice sort.
9  Colt by CAMELOT (GB)  x SALDANHA BAY (IRE) (NAYEF (USA)) Racy colt with a classic pedigree.
11 Colt by CAPTAIN OF ALL   x   SCORCHED (JET MASTER) This is a superb colt, and he moves as good as he looks!
15   Colt by SILVANO(GER) x SHE'S ON FIRE (JET MASTER)  Exciting colt, still very immature but shows a lovely action.
16   Colt by QUERARI(GER) x SHOWBIZ (IRE) (SADLER'S WELLS (USA)) Full of quality with a good rein and deep girth.
22  Colt by POMODORO x SPLINTER (CASEY TIBBS (IRE))  Lovely type with a beautiful action.
24  Filly by POMODORO  x    SUPERNATURAL (IRE) (MASTERCRAFTSMAN (IRE)) Tall filly with plenty of scope, still growing.
25  Colt by POMODORO  x    TERRA MARIANNA (DOOWALEY (IRE)) Immature colt that has plenty of improvement to come, he moves well on the grass.
26  Filly by PHILANTHROPIST(USA) x THE BLACK PEARL (NATIONAL EMBLEM) Attractive filly with a good shoulder and excellent temperament.
27 Filly by POMODORO x TILBURY (WINDRUSH (USA))  Neat filly with good rein and a strong hindquarter.
30  Colt by JACKSON x TRIP TO EDEN (TRIPPI (USA)) Classy, athletic colt with tremendous presence.
32  Filly by POMODORO  x   VICTRIXIT (VICTORY MOON) Strong, racy filly, looks precocious.
35  Colt by ELUSIVE FORT x  WESTERNS (WESTERN WINTER (USA)) Incredibly athletic colt, precocious.
40  Colt by VAR (USA) x  YOU'RE AMAZING (AUS) (DYLAN THOMAS (IRE)) Good-looking, well put-together colt, could be anything.
43  Colt by TWICE OVER(GB) x ZILI (PARADE LEADER (USA)) SOETENDAL ESTATE Good topline, strong hindquarter and gaskin, professional attitude
46  Filly by TWICE OVER (GB) x AL ZAHRA (AL MUFTI (USA)) Smart filly, precocious and quick.
47  Colt by SEVENTH ROCK (AUS) x  AMBER PLAIN (NATIONAL EMBLEM) Quality colt with a beautiful head, he stretches out impressively on the grass.
48 Colt by POMODORO x AMI AMOR (AUS) (ELUSIVE QUALITY (USA)) Tall colt, will take time, but really covers the ground
51  Filly by TRIPPI(USA) x  BEAUTIFUL BODY (AUS) (BIG BROWN (USA)) Neat, compact filly, good hindquarter.
53 Filly by MANHATTAN RAIN (AUS) x CAPABLE MAHIRA (AUS) (AL MAHER (AUS)) Powerful and precocious-looking filly by the sire of Whisky Baron.
56  Filly by VAR(USA) x CIRCLE OF SPEED (AUS) ( SEBRING (AUS)) Strong, compact filly with plenty of natural speed.
57  Filly by POMODORO  x CITY OF ATHENS (AUS) (ENCOSTA DE LAGO (AUS))  Beautiful type with a good action.
67  Colt by POMODORO  x  ELUDE AND AVOID (AUS) (ELUSIVE QUALITY (USA))  Very athletic colt, late foal that still has plenty of maturing to come.
80   Colt by TWICE OVER (GB) x HER EXCELLENCY (AUS) (EXCEED AND EXCEL (AUS))  Exceptional mover.
87  Colt by SOFT FALLING RAIN x SOFT JUROR  (STRIKE SMARTLY (CAN)) Powerful colt with a great hindquarter and gaskin, plenty of growing still to come.
92  Colt by POMODORO x LA ROSITA (AUS) (FASLIYEV (USA)) Well-grown colt with a superb temperament and a good action.
93  Colt by ELUSIVE FORT x LATE SUMMER (USA) (GONE WEST (USA))  Strong deep-girthed colt with a good hindquarter.
95  Colt by PATHFORK (USA) x LIBERAL LADY (DYNASTY)  Beautifully put-together colt, moves well.
96  Colt by EQUAL STRIPES (ARG)  x  LIZ FOR SALE (ARG) (NOT FOR SALE (ARG)) Big, strong colt, good bone, one of the big improvers on the draft.
101 Colt by QUERARI(GER) x MEMORABLE (IRE) (GALILEO (IRE)) Athletic colt with good rein that should go over ground.
102  Colt by POMODORO  x MISS DILLAN (ARG) (NUMEROUS (USA))  Well-grown colt that should develop into a nice staying type.
106  Colt by VERCINGETORIX x NANDI (AUS)(DANEHILL DANCER (IRE))  Athletic and correct colt with an elastic action.
108 Filly by CAPTAIN OF ALL x NEXT GENERATION  (CENTENARY (USA)) Eye-catching action, exceptionally athletic filly.
109  Colt by MASTER OF MY FATE  x  NITEINBLACKSILK (JALLAD (USA))  Powerful colt with good rein, girth and hindquarter, he has a lot going for him and works accordingly.
115  Colt by TWICE OVER (GB)  x   PRAYERS FOR RAIN (IRE) (DARSHAAN (GB) )   High quality, correct colt, precocious and quick.
117 Colt by TWICE OVER (GB)  x   PULSATOR   (CAPTAIN AL)    Well put-together colt with an elastic action.
‹ Previous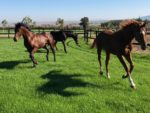 Meet The Paarl Diamond