The recent public criticism of race riding has evoked an emotional response from the wife of a hardworking middle of the road jockey who tragically died in an accident in 2007.
She says that she wishes that horseracing would lift its fragile golden veil of glitz and glamour and play more human open cards in the real world.
Life has gone on for Leonie Ermacora since her world was turned upside down two days after her 46th birthday on 15 August 2007.
17 August 2007 was the horrific day her then 43 year old jockey husband Peter Dillon was tragically killed when his motorbike mysteriously wobbled and fell in front of a vehicle driven by a 79 year old lady.
"He was five minutes from home. My Dad walked into the shop where I worked and I just knew it was bad. I said, 'please dad tell me he's alive!' He shook his head and my world was broken in pieces…"
As a mark of just how highly her husband was regarded in the industry, Leonie recalls that over 500 people attended his Memorial Service.
Peter Dillon, who joined the SA Jockey Academy in 1979, would often proudly recount how he had pipped Muis Roberts in a driving finish when he steered his first winner home. He was a leading apprentice but never quite got the support when he came out of his time.
He tried his luck overseas and had ridden in Singapore the year before he died. He also rode in Mauritius and his daughter Catherine is a Mauritian citizen as Leonie was eight months pregnant when they left Durban for Port Louis.
He rode 17 winners from 64 rides in the Middle East, among them two Listed races in Dubai, including the Emirates Sky Cargo Trophy on Baldaquin. His 50% win strike rate in Kuwait, 11 wins out of 22 rides was an outstanding achievement.
A regular Sporting Post reader and poster, Leonie has remarried and lives in Ballito on the KZN North Coast with her husband Edi Ermacora.
She stays in close touch with the sport through friends and social media and has strong opinions as to where horseracing fails itself in terms of public image.
"We need to stop fooling everybody. This is a wicked and a tough, tough game – and while some jockeys are driving snazzy cars and living in posh estates, and generally styling, a large proportion of them are eking out an existence. There is a fine line between great, good and plain average – and that normally comes about through a lucky break or two along the way. I know they say you make your own luck in life – but have a heart. And let's stop jumping on the jockeys every time a favourite gets beaten and we are looking to roast somebody!"
The recent high-profile spotlights on Do It Again and Hawwaam had Leonie suggesting that the trainers become the starting point of explanations to the public rather than the jockey in isolation.

"I know it's a cliché, but how many professions have an ambulance following the men at work? Sportsmen – cricketers, footballers, Springboks – all have off days and make poor judgements. Nowhere else is it highlighted and placed on the individual's head like a jockey gets it – and random people seem to say what the hell they like on social media," she says, adding that what racing needs is the explanation straight from the trainers mouth to the public of why a favourite got beaten.
"Good or bad! Just say it how it is! But racing has always had a problem of public transparency somehow. There is often the story – and then the truth beyond that."
Her personal feeling is that the game has lost its zest and appeal and that there are too many people who think that they are bigger and better than the sport.
"We all came in to the world the same way and we will mostly all go out the same way. So let's stop admiring and idolising the money and the power brokers. Events of the past two years in this industry should prove that money doesn't make one man any bloody better than the next!"
She suggests that while it's nothing new, there are 'too many fingers in too many pies'.
"Too many back-seat drivers too. Racing needs transparency – and it should commence with the small things that taint the image to outsiders – like the eradication of the fact that so many couch potato punters slate jockeys. The industry can do its bit and  help and educate and inform. Accusing the jockeys  of riding for the bookies – or riding a shocker – is conspiracy theorist uninformed hogwash!"
Leonie changes tack as she points out bluntly – from experience – that being married to a jockey is either 'very easy or very difficult.'
"If you are successful, life is always easier financially. Peter struggled his whole life to be the best he could. He rode work every single day, except Sundays. He was always running from ring to ring – and never ever without a smile. He rode many amazing horses and was one of the hardest working human beings."
She asked us never to label her late husband 'underrated'.
"I really dislike it when people say x, y or z is one of the most underrated jockeys. To any jockey that probably means he is worth his weight in gold. He is a great jock – but he just won't get rides. How is it that those same underrated jockeys will ride five winners in Zimbabwe and yet never get rides here? Then you have those jocks that just make it. Many times on the back of a huge win, a great horse and from there they are well away. I'm not discounting natural talent. Some guys just have the knack. But personality and a lot of luck counts too. I'm just proud of Peter's achievements. He was a real soldier."
Leonie recalls how unpopular she was when she stood up for her late husband with her 'big mouth'.
"I fought for him for 20 years. We were a team. I loved and I would have died for him. He was my soulmate – my best friend and I adored him. Many felt I fought his battles. Yes, I did! And would do it all again. He was too soft. Too kind. Always smiling – even if things went wrong. I watched him suffer. He would often come home deflated and cry. The public doesn't see that side of life in the saddle. That's why when I read 'experts' talking rubbish on social media, I get so mad."
Peter rode his last winner on 1 August. He died on 17 August.
"That just shows how tough things can be. We battled and often sold crockery to Cash Converters to feed our kids when things were bad and we had no food. But his love and devotion to his family and his job was incredible. I forgave many people and found peace after his death."
Leonie lived in Johannesburg and at age 12 moved to Hillcrest. She was hooked on racing at age 8 when listening to a commentary on Radio Port Natal. At the age of 16 she put R10 on Lightning Shot to win the July and duly pocketed R240. She became a young Mom to her daughter Gaylene and was working for a company in Pinetown at age 21 when she and the Foreman won a R9000 jackpot.
"We bankered a horse called Red Bikini. It was some time  before I met Peter and clicked that ironically he rode that winner. I bought my first car with that cash!"
Peter was 21 when Leonie met him at a braai with friends.

"He was a soft, kind guy. He accepted Gaylene as his own – that at the tender age of 22 when we got married. I recall he was riding for Doug Campbell and David Payne.  We had two wonderful children – Catherine and Kyle – he absolutely adored all three. Today my children are all happily married and successful in life. I have two gorgeous  grandchildren and little Daniel looks just like his Oupa Peter."
She and Edi have been married ten years now and her children call him Dad.
"I'm blessed but the road of life is often bumpy as it twists and turns. Edi has bone marrow cancer but he will be fine. I've never been afraid of a fight and he is blessed to have been granted the prognosis of a long life still."
She closes by saying that she often thinks about writing a book one day.
"It's called Jockey's Wives. It will make Footballer's Wives look silly! Racing is a sexy fast-paced tough and wicked game that sells itself all wrong. I have been there and got the t-shirt and actually miss it a lot. There were highs and lows. But I'm just so fortunate and honoured to have been a part of Peter's life for 22 years. He lived by the credo – 'I'm not afraid of tomorrow as I have seen yesterday and I love today'. And I use that today in my life still."
‹ Previous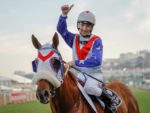 Family Counts