The winds of change are blowing through racing down South.
The appointment of Co-Chairmen of Kenilworth Racing in December was seen as the first step towards healing fractured relationships and rebuilding the foundations of what really should be the destination of choice for anybody looking to enjoy the very best of all racing worlds on the African continent.
Lesser known in the province where the turf meets the surf, Mark Currie and well-known local industry captain Robert Bloomberg are the men in the hotseat, tasked with overcoming the challenges facing Cape racing.
The duo will preside over their first Met on Saturday and we grabbed the opportunity to meet and introduce the Investec Executive and longstanding racing office bearer, 55 year old Mark Currie, whose face may not be familiar in the local racing fraternity.
The recreational 'bad' cyclist and 'even worse' golfer was keen to explain the mechanics behind the unprecedented move to appoint Co-Chairmen, rather than blow his own trumpet.
"The North and the South have been at loggerheads for a while and this needs to end – and by and large seems to have over the last few months. Having Robert Bloomberg, who was an integral part of the demerger that led to the formation of Kenilworth Racing (KR), on the ground in Cape Town will help to dispel rumours and fake news which has unfortunately been part of the industry for a while. It is important that the Western Cape have someone they know and trust and who they can interact with and turn to when required," explained the Port Elizabeth born Chartered Accountant who holds an honours degree in Financial Management from UCT.
Educated at Parsons Hill Primary and Alexander Road High and played various sports representing EP schools at hockey, the 21st century Mark spends a large part of his life in airports and living out of a suitcase, but is also a family man and a resident of Bryanston.
He is married to Louise and has two grown-up daughters, of whom he is noticeably very proud. "Claudia is 24 and has just started a medical internship at Baragwanath Hospital. Kimberley is 22 and  just completed a Bus Science (Finance) degree at UCT. She is doing her GDA this year," he adds.
The Currie kids have obviously followed Dad academically. "I served Articles with Coopers and Lybrand ("PWC"), worked for the Metro Group for 2 years then joined Investec some 25 years ago. The time has flown," he smiles.

Mark is an Executive with international specialist banking and asset management group Investec's Investment  Banking Origination. He is responsible for maintaining high level client relationships and seeking out Investment Banking opportunities.
One gets the feeling that he will need every bit of his business acumen and vast experience in his new role.
But he has a top-class track record and, besides his KR position, he is Chairman of the Thoroughbred Horseracing Trust, which has two investments – 100% of Kenilworth Racing (Pty) Ltd and just over 26% of Phumelela Gaming and Leisure Limited.
He explains:"The directorships of the operating companies are by virtue of the Trust's shareholdings in these entities and as such do not present a conflict of interest currently. I was previously a director of the Racing Association but resigned when accepting a trustee position."
We asked him about some of the challenges facing KR.
"Racing throughout the country is under pressure from other forms of gambling, a very weak economy as well as other forms of entertainment.  The challenges at Kenilworth are vast but the working relationship with the current executive at Phumelela has never been better and this should solve the operational problems that have seen a decline in Kenilworth."
He went on to add that the Sustainability Agreement signed in 2011 ensures that Kenilworth Racing will endure into the future – but that the board and management clearly want Cape racing to flourish.
"We have a property portfolio that if properly dealt with will add significant annuity income to Kenilworth.  To this end Robert has assembled a group of people to act as a property sub-committee to ensure the integrity of the properties is not lost in any transaction which is undertaken."
He says that together with property, there was a need to remarket KR both from a sponsorship as well as an entertainment perspective.
"Whilst we are grateful to those loyal sponsors who have stood by KR, we realize we need to lift our game when competing for ever dwindling marketing budgets. To this end, I am encouraged to see the involvement of significantly younger individuals at the WPRRA – people who really have the ability to attract a younger grouping of people to Kenilworth and racing in general.  This will attract sponsors and people to the course.  We have to understand that we must leverage off our facilities as people will not only come to the track to watch an ordinary horse race," he says with consideration.
Mark has walked a long road in the Sport Of Kings and believes in the future of the game.
"I am encouraged by the appointments at both Phumelela as well as the NHA.  For horseracing to succeed we all need to work as a community.  The various groupings need to put the past behind us and work towards an enduring solution-this is a work in progress, and I am encouraged to see progress already on many fronts."
He suggested it was important that we all need to understand that there is a whole industry that needs to survive as it employs so many people directly and indirectly.
"It is up to the industry to convince government of its efforts to uplift and include previously disadvantaged people associated with the industry so that government can be involved in ensuring that the industry endures and thrives for all participants."
During articles at Coopers and Lybrand (PWC) Mark was asked by a fellow commune member to do a shift for bookmaker Micky Nash.

One shift led to at least a five year stint where he realized he was quite good at odds – in an era before computers did the math. "That probably ultimately led me to being involved in Investment Banking and Investec where I have worked for over 26 years," he reflected.
Apart from Horseracing he enjoys recreational cycling and golf. "I have undertaken some interesting rides with the most challenging being Transbaviaans, a 230km single stage off road ride that tests mental rather than physical constraints. I love links golf as it requires creativity of shot making rather than brute force."
Out of his three sporting passions, he seems to have almost earned his Springbok colours for horseracing – and celebrated a big win in the Gr1 Summer Cup last month with Tilbury Fort.
He plays down the skill element. There is no question, he has been a lucky owner!
"Having never picked or bought a horse myself I have been quite fortunate to have had  5 Gr1 winners in Malteme (Summer Cup), Potent Power (Gold Medallion), Chestnuts and Pearls (Golden Slipper) and Lobo's Legend (1800 Classic) – together with Tilbury Fort. But my favourite horse has always been Hail Caesour."
He also has two small shares in mares that he has raced. "I know very little about horses.  As such, I have never bought or picked a horse.  Others tend to rope me into partnerships.  We currently have two  groups that I am part of and it is a huge amount of fun."
We asked what advice he'd give a new owner.
"Start out doing this for fun and try and find a trainer that you relate to.  The great thing about horses is they don't know what they were bought or sold for. Also, buy a share with partners first rather than an outright purchase.  Pay your school fees before shooting for the moon!"
As to Sun Met day, he says that he is looking forward to a great racing occasion. "I was also privileged to have attended the L'Ormarins Queen's Plate.  I like Strathdon in the Gr2 Stayers and would really like to see Lady In Black pick up a Gr1 for the owners and Dennis Drier,"he adds.
Mark says he wants to reach out to all stakeholders, including the media. "Robert and I are in total agreement about being as transparent as possible – which would mean that we are accessible to discuss issues of importance with the public, including through the press – our only agenda is to see Kenilworth Racing go from strength to strength," he said in closing.
A Familiar Face
The man sharing the wheel with Mark Currie in steering the good ship Cape Racing out of stormy waters is Robert Bloomberg.
His late grandfather Abe Bloomberg was Chairman of the now defunct Cape Turf Club for some 30 years and was widely known as 'Mr Racing'. It was Granddad who stirred Robert's first interest in the game – and the young man took the bit, starting early, and having his first bet on Jollify when he famously dead-heated with Sea Cottage in the 1967 Durban July. He was just 8 years old but it was the start of a passion that has grown into a science for the qualified Attorney. His highlight is the 2005 Durban July victory by Dunford – one of nine Gr1 wins for another lucky owner! Robert served on the board of Kenilworth Racing since inception, as well as many other industry platforms, before taking over as Co Chairman in December 2018.
‹ Previous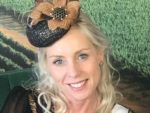 Cape Racing's Sugar 'n Spice