Like Formula One, racing is as tough as old boots. It's all about winning and sadly in a game where there's often only a whisker in it, second still sucks. So, when your number's up and there's silverware on the table, take it with both hands and enjoy the moment!
The senior statesman of South African horseracing, multiple champion breeder Mick Goss was speaking on the receipt of his Lifetime Achievement Award last year when he gave that sage advice to winners.
The legendary horseman and orator celebrates another big Ready To Run weekend in a matter of days. The concept spawned at a dinner party in Florida USA one evening in the 1980's has become a way of life for us all.
"Like many start-up studs, in our early years, we found ourselves struggling to sell our horses against the established brands, and we had to find another means of dressing our product up. At that dinner party we were told they had had the same problem trying to match the Kentucky farms, so they started selling their horses off their properties at the gallop. That prompted us to do the same, the difference being that we chose to establish a sale so that we could move bigger numbers at a time," he recalls.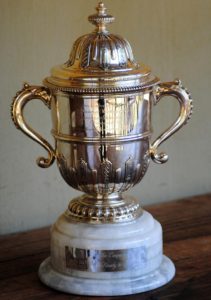 The first sale took place under the old oak tree outside the Summerhill farm office and for the 16 entries, 20 people turned up: 6 from the farm, 6 from Chris Smith Bloodstock, 6 customers and 2 children.
"But there was a bit of class about the attendees, Gary Player, the great cricketing legends Mike Proctor and Johnny Watkins, a former Miss World, Penny Coulen Rey and her husband, Mickey, and his brother Johnnie," says Mick proudly.
He then soberly recalls that only 4 of the horses actually found a home.
"Despite the negative comments that we would break our horses down, our instincts told us that there are no walking races, and that there was a considerable advantage in buying a horse you could watch at the gallop as opposed to the conventional way of parading horses at the walk. The concept caught on all around the world, and the more researchers looked into the development of bone in working horses, the more people came to realise that apart from all the savings in keep costs, Ready To Run graduates laid down more bone and developed more durable constitutions than they might otherwise have done."
Certainly a glance at the impressive statistics over the last couple of decades will reveal that Summerhill horses do generally run more often – and hence have more earning opportunities – than most.
Mick admits that a big turning point in the Ready To Run evolution came with their friendship with Bob Yearham at Emperors Palace.
"He and his team have been stalwart supporters, the best sponsors we could have wished for, and together with Phumelela and the sales companies, at one stage the Ready To Run Cup became the richest race in the country at R3,85 million, ahead of both the July and the Met! The present economic conditions have forced us to scale it back, but already this year it is worth twice last year's stake and the popularity of the sale is evident in this year's entry from vendors," he says with Sunday's catalogue in hand.
Horses and the Gosses go back centuries, the earliest recorded date being Ireland's Battle of the Boyne in the 1680s, when they rode alongside the Maguires on the wrong side of the outcome, as Mick puts it.
"As far as I know, the 'disease' has persisted throughout the generations since then, and I'm afraid it's as strong today as ever."
The years are creeping up slowly and there have been health scares in recent years. We asked him cheekily about retirement.
"I have often said to those that ask, this is a game you can grow old in – so no thoughts of retirement yet. We have one of the great teams in the industry at Summerhill, and they've come up trumps several times recently when I've had the odd setback with my health. Our farm is all about community, and we have many people who have dedicated the best years of their lives to our cause, so we live in a mutual dependency."
For Mick Goss there is no time like the mornings and he is at work at 06H30 every day for management meetings.
"It's one of our privileges to go to work with some of the best people imaginable and it's always a thrill to drive through the front gates of a farm which they have devoted their lives to beautifying. We are very fortunate to live in a bountiful neighbourhood with great land and good rain, which makes farming a lot easier than in many parts of the country."
Summerhill have lifted the prestigious champion breeders trophy a record ten times. Have things slowed in that magnificently beautiful part of the world?
"I guess the arrival of six new stallions at Summerhill, five of them Gr1 winners, is the best indication of our intentions going forward. We have been associated with some wonderful sires over the years at Summerhill, and yet we have never had five Gr1 winners on our roster at the same time."
Mick observes that since they took on National Emblem in the 90's, they have been avid adherents to the notion that locally performed stallions can do the job as well as any horses anywhere.
"You only have to look to the cattle, pig and sheep farmers of this country who have depended extensively on the best of their local produce for the ongoing improvement of their breed; then look at what Australia and Argentina have done with their local champions in the thoroughbred world, and you begin to understand the incredible success of the likes of Dynasty, Jet Master and Captain Al. Hopefully, there's another one or two 'lurking' in the wings at Summerhill," he smiles.
Chatting to a man who exudes confidence and positivity, one is inclined to want to duck the cloudy questions – like the recent negative news on our export protocols.
"While I'm not alone in these endeavours, I have spent a good deal of our 40 years at Summerhill batting for our exports, and I authored our first draft protocol with the EU in longhand in a Paris hotel together with four veterinarians as long ago as 1995! None of us could have foreseen then the drawn out impasse we have encountered in reviving our protocols, but we continue to make steady progress in achieving normalisation. Our scientists have done all the work that needs to be done, and it's up to the politicians now to get us over the line."
Always one to find a silver lining, he recalls having met some wonderful friends and supporters, locally and internationally.
"As recently as this past week, we were reminded of the value of great relationships when we met with the Hong Kong Jockey Club in Cape Town. They have been nothing short of stoic in their encouragement of our endeavours, and pledged almost R2 million towards our vaccine development programme while they were with us."
And the overall picture of gloom over our racing and breeding?
"I know things are extraordinarily tough in both environs at the moment, and I realise that the opening of our export trade has been a long time resolving itself. The national Task Team has worked tirelessly in bringing our respective governments together in order to find a way forward. Yes, chickens are the problem at the moment, but there are a few things we should bear in mind. Firstly, we take horses from all over the world without any hitches, including from the EU, and that should be respected in the course of our negotiations. Secondly, we have the support now of some of the most prominent people across the racing world, who recognise that our scientists have nailed their side of the deal and there needs to be some reciprocity for the 500 000 horses South Africa sent to the various World Wars and those of the British Empire, when they needed them."
He then frowns and says that we should remember that the urgency demanded that those horses were exported free of any protocols, and together with several thousand more since World War II, we have never exported Horse Sickness to any country.
"In a sense, we may have become victims of our own remarkable international success; when we had direct access to the UAE for our exports, in a space of about a dozen years, at the richest race meeting in the world, South African-trained horses won 6 UAE Derbys, 4 Gr1 Sprints, 3 Gr1 Duty Frees and 4 Godolphin Miles, as well as running second twice and third once in the Dubai World Cup itself. Pound-for-pound, these horses outpointed those of any other nation. While I don't know of anyone who is actively trying to block our efforts at the moment, if you put yourself in the shoes of other exporting countries,  it's understandable that several of them are doing very little to encourage us!"
We asked for his closing counsel to anyone questioning their future in the industry.
"Stick it out for all you can; we are closer than we have ever been, and it is the only bullet at the moment! Besides, what would you do without the characters and the banter that goes with the business?!"
‹ Previous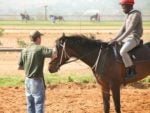 The Full Monty!