Eight times SA Champion Trainer Mike de Kock stands on the brink of a tenth Summer Cup victory on Saturday and with a diverse five-pronged attack fancies his chances of pulling off his 118th Gr1 victory.
A Gauteng bookmaker has priced De Kock up on a Summer Cup winning trainer board at 5-4 to win the race.
We asked Mike what he felt about the chasm in the weights and the general quality of the 2018 renewal of Gauteng's major racing and social event of the year.
"I wouldn't label this the highest quality Summer Cup field I have ever seen – but that is in the cyclical nature of seasonal quality. Horses are like wine. Some years are better than others!" he laughed.
Get your Summer Cup day racecard
As for the fact that Coral Fever carries 60kgs with De Kock's Irish-bred Cascapedia next on 54,5kgs, he said it was a typically open handicap.
"Look the merit ratings are what they are. The race conditions are what they are. Coral Fever has certainly earned his rating and weight. We can't blame anybody for that."
As to the overall quality of the field and the possible danger mooted in some sectors of the media of the race losing it's Gr1 status in years to come, De Kock was quick on the retort.
"What about the Durban July then? I think the essence of it lies in our natural territorialism – or call it provincialism in this country. It is difficult for a lot of our races to maintain their status as the national representation just isn't there. Bar Joey Ramsden, I don't see too many Cape trainers turning up to raid our features. Yet here in Gauteng we regularly look to take our better horses down South for their big features. That is what keeps the averages up and raises the quality. Unless you have the best racing against the best, the race status must come under pressure, I suppose."
In July this year, Mike de Kock matched the legend Terrance Millard's record of 117 Gr1 victories when the Australian-bred Soqrat won the Gr1 Premiers Champion Stakes at Greyville .
Saturday could be number 118 – but he would not be drawn on what he felt was the best of his quintet, suggesting that they were all fit and well.
He last won the Summer Cup with a filly called Flirtation, who ran in the Costa Livanos silks and was ridden by Randall Simons.
The same owner and jockey combination team up with Noble Secret  on Saturday.  Could that be a sign?
"He is a lovely classy horse and the 2000m is right up his alley. But they will all have their supporter , so let's go through them one by one."
"Cascapedia comes in off a top-class preparation. And she has picked up no penalties. She has drawn well and Gavin Lerena gets on with her really well."
"Like A Panther could be very competitive. He ran a quiet race in the Victory Moon but I'm happy with his work and fitness and this is his third run after a rest."
"Noble Secret has a wide draw to overcome and his last run in the Charity Mile was a rather flat disappointing effort. But the 2000m is his preferred trip and I expect him to be staying on strongly on Saturday."
"Takingthepeace has had a great prep. She won the Victory Moon and I realise that feature is teed towards the fairer sex on the conditions. But while she has a mountain to climb at the weights, her confidence is high and she is very talented, as you have seen."
"Kilrain is a 7yo now and in under sufferance. But we are riding him for luck and with stakes paid down to eighth finisher we are hoping that he puts in his usual finishing effort and runs into the money."
If anybody can win the Summer Cup, it is the maestro De Kock, now in his 31st year of training horses and who has succeeded at feature level all over the world.
Having held his training licence since 1987, he has been champion South African trainer 8 times and is backed up by a world -class support team headed by his wife Diane and son Mathew.
Born on Valentine's Day in 1964, Mike grew up in Alberton.
The eldest of six children, his late Dad, Terry, was a car salesman and his mother, Anne, a housewife.
It was a meeting with the now Hong Kong-based David Ferraris that saw Mike spending time at the Ormond Ferraris yard, where he got to watch and learn.
Mike spent his national service furthering his knowledge by joining the equestrian unit at Potchefstroom. After his discharge he contacted his old friend David and got a stable employee job for Ormond Ferraris.
He has described that period as 'some of the hardest, yet most rewarding' times of his life, but most importantly, his foot was now firmly in the door. He worked briefly for Robbie Sage, before joining Ricky Howard-Ginsberg in 1987.
When Ginsberg suddenly died of a heart attack in December 1987, a reluctant Mike was persuaded to take-over the reins.
The rest is history as they say.
Now bring on Saturday and the Summer Cup!
Mike On His Summer Cup Day Runners
Pigeon Post runs in the first
"The Irish-bred filly makes her debut. This well-bred 4yo has been a bit of a problematic horse to train. She must have an-each way chance."
Blonde Vision runs in the fourth
"He was a very impressive unextended maiden winner . He has been working well."
Firdoas runs in the fourth
"The Devon Air Stakes winner is well exposed – good run last time against the males. Decent effort expected in this mixed company."
Viking Trail runs in the fourth
"It is time to expose him and let him show us how good he is – I have a feeling though that he could be looking for further."
Dagmar runs in the eighth
"I really felt she should have won last time – if she gets the mile she will be right there."
Nafaayes runs in the eighth
"The mile is also a bit of a question mark in her case but she is a classy promising filly."
Silver Thursday runs in the eighth
"She will need another run to reach improved fitness levels."
Indy Ice runs in the ninth
"I am both surprised and disappointed that he is still a maiden. I am hoping for a good effort from him."
Secret Captain runs in the tenth
"I have thrown him in the deep end over the 3200m. He is an enigma – I don't know which distance suits him best. And he doesn't try too hard either. He will be fit and ready."
Well Connected runs in the eleventh
"I am expecting him to run a good race."
The Dazzler runs in the twelfth
"He is in a good space and his breathing issues are now a thing of the past. If he gets the 2000m I'm expecting a nice effort from him.
‹ Previous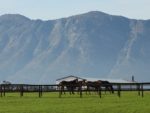 Always Ready To Run