While he will be warming the reserve bench for South Africa at the World Sports Betting International Jockey Challenge at Turffontein next Saturday, the tough as teak Port Elizabeth-based Wayne Agrella says joining Yvette Bremner's powerful Dippin' Blu Stables as first choice rider recently could make this his best season ever.
The 37 year old Joburg-born Agrella, a South African national champion apprentice of 2002/3, is an eloquent and charmingly philosophical conversationalist – something that probably flies in the face of the generally held perception of his tough guy demeanour.
Having just heard that he had received  the call-up for the South African Team to take on a powerful International side at Turffontein on 16 November, Wayne told the Sporting Post on Tuesday that life was often about plugging away at the basics and being in the right place at the right time.
"The chasm spanning the talents of one jockey versus the next is not ten or twenty lengths or 100 winners over a season. It's all about getting the opportunities and using them properly. Simply put – most guys are capable of riding winners, given the better horses," he says reflectively, recalling his recent slump.
"I was enjoying riding for Steph Miller in Kimberley. It's a good place – in fact, anywhere is a good place when you are riding winners and earning a living, believe me! But then I got injured and was out of action. I started trying to build myself up again. But human nature is a funny thing. You get one ride a meeting. It's not usually one of the better rides either. Then you ask for more – the trainer says you are not at work every day all day. But when you know you aren't getting the rides, or getting paid, and the drive to get up at sparrow and do the hard yards when the other jocks are flying in and picking the plums, is a tough call. It's a catch 22. You try hard. You keep banging your head against the door. And then, hey presto – one day, mine opened!"
And it was that timing again.
Wayne says he had just walked into the Fairview dining room after his solitary ride on an afternoon, when he greeted Hedley McGrath.
"Hedley summoned me over. He said, sit down my boy. He asked me straight out– 'if I gave you a chance, would you do your best?' It felt surreal. It wasn't 1 April, either. I said, what a question – of course!"
The rest is history, with Wayne now sponsored by Fat Frank Clothing and first call jockey to the powerful Yvette Bremner yard – currently seventh on the national log, and a team with an impressive away strike record, as they demonstrated again at Turffontein on Charity Mile day.
"This is really a wonderful opportunity. I can handle pressure as I know my ability. Good horses get themselves out of trouble. Riding slow horses is no fun, believe me. The Dippin' Blu team are world-class and collectively have some of the best owners in the game. Yvette Bremner is a top horsewoman and it's not easy succeeding in a man's world. Carl Hewitson has decades of experience. My brother Rocky knows everything there is to know about stable management. The entire team is professional. I'm really excited about the challenge," he says confidently.
On his weight, Wayne says that he is restricted to 58kgs but is in prime fitness and his weight is right down.
"I can't thank Mark Wright enough. He financed my return to health, fitness and a proper diet programme. It has made the world of difference to me."
Wayne says he loves playing squash and it's a great way to keep fit.
"The only man in racing I haven't managed to ever beat on the squash court is Dennis Bosch. Don't even hint that I was suggesting a challenge, please! He is super competitive and world-class," says Wayne admiringly of the man who gave him his first winner.
"I won on Razor Boy for Dennis at Clairwood on Saturday 2 November 1999. Coincidentally, my elder Brother Rocky won on the same horse at Scottsville four days earlier! I beat Weichong Marwing – so that was no mean feat. But sadly I picked up a week's suspension and they didn't give me the credit of a qualifying ride. So I missed out on the traditional academy braai too! But I have gotten over that character building early trauma," he laughs.
A former Westonaria and Jacques Fourie High School pupil, Wayne, who also has three sisters, grew up in Johannesburg and is the son of a champion boxer.
"My brother was at the Academy and we were all short – so I went too. I loved it. We were brought up tough and played rugby – in fact I could have given Faf de Klerk a lesson or two."
He proudly pulls out a scrapbook pic of himself on the front page of a newspaper scoring a try. He has strong opinions on the standard of rugby today.
"It's not the tough hard game that we used to play. The referee used to be miles from the scrum and the two packs of forwards were already climbing into each other. It's almost elegantly soft today. I think we need to reduce the cash bonuses and reintroduce some patriotism into all our sport."
And on the subject of national pride, he is really proud to have got the SA call-up.
"I must thank RA CEO Larry Wainstein and the SA team captain Muzi Yeni for the confidence when they asked me to step in as a reserve. I'm not a spring chicken – the Dippin' Blu job and the call-up would have been even nicer a decade ago – but they are lifechanging honours today, nevertheless. And even that blonde Faf de Klerk did his time warming the bench," he grins in reference to the Springbok hero who has captivated the world on social media since his chat to Prince Harry in his Rainbow Nation speedo.
Wayne is the only jockey still riding from his first year at the SA Jockey Academy.
"Nathan Danster had that bad car accident. Lisa Jones went overseas and got married. I was eventually transferred to PE and to Uncle Barry Steenkamp. Those were great days. He was a superb teacher," he says sentimentally.
Wayne tells how he topped the national apprentice log for three years – Warren Kennedy was two years ahead of him and achieved the same feat from PE.
"It doesn't happen anymore. To think we did it with one, maybe two meetings a week, whereas the other guys had plenty of meetings in the major centres. And look how well Warren is doing today! He is a top jockey and he cut his teeth right here in the Windy City," he adds with pride.
Wayne was also the leading PE-based rider from the 2010/11 season for three years while riding for the likes of Barry Steenkamp, Justin Snaith and Dorrie Sham.
So he has shown that timing is crucial. What about saying all the right things?
"Minding your p's and q's in the public space of the post-race interview is borne out of respect for the owner, trainer and the viewing and punting public. They put bread on our table. But I think that Andrew Fortune is living proof that expressing oneself frankly, and stating the hard truths that people don't always want to hear, doesn't stop you from becoming a champion jockey either!" he laughs.
Frankly Speaking…
Wayne's sponsor is South African Triathlete and professional Ironman, Travis McGrath – son of leading owner Hedley McGrath.

Travis' clothing brand FATFrank's story begins in 2013 when an overweight guy with a vision decided to turn his life around. Nicknamed 'Pumba', Travis had no idea what the future had waiting for him. Living an ordinary life, without many expectations for himself, he made the decision to change his life.
He lost 48kgs. Today he finds himself representing his country at one of the highest levels in sport. Through wanting to give back and show anything is possible, he joined forces with his best friend and together they've launched a brand that they hope will bring joy, fulfillment and self-confidence to any and every individual. Their brand philosophy is based on cutting out all unnecessary adornments to present products which pride themselves in the art of simplicity.
FATFrank celebrates those with the confidence to value the essentials while aiming to create a platform to build your persona from. In the fast-paced world of contemporary lifestyles, take a step back, simplify, and begin to truly value the sophistication of minimalism. Wayne Agrella says he is sold on it!
Visit www.fatfrank.co.za for more.
‹ Previous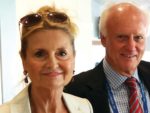 Ready – For Absolutely Anything!