It's been an interesting journey for the young lad from PE, whose father enrolled him in the Jockey Academy without his knowledge all those years ago. Undisputedly one of the best riders this country has produced, with approaching 4 decades of experience in the saddle and 6 National Championships to his credit, it is worth remembering that Piere Strydom is one of the most decorated of our active riding ranks.
He has a lot of respect for the new, young talent rising through the ranks and reflects that with a lot of jockeys now attached to stud farms or retained by big owners, it is increasingly tough as a freelance rider. A lifetime in the saddle also means an assortment of injuries, which means he chooses his engagements with care. "When you've been riding for 37 years, something's got to give," he says ruefully. "There are some rides you can't turn down, but I'm trying to maintain a certain level, but not overdo it."
However, while he may not be chasing the championship, having achieved the 5000 milestone, he's not going to make it easy for anyone trying to match it. He remains as lethal as ever and chatting after Thursday's Vaal meeting, there is a hint of pride when he says that in addition to his carded rides, he'd got an additional 3 pickup rides on the day, of which two were winners.
Stellar Career
It's an incredible achievement to have ridden at the top level for so long. Is there any hint of weariness? "I'll tell you a secret," he confides. "I never wanted to be a jockey. My dad made me go to the Academy. They said I had talent, so I persevered because I didn't want to let my dad down. And when success came, I just carried on. It's a tough game and it can be hard on the horses, but when you're in the winner's box, you know you've done your job."
'Success' began on 29 September 1982, when Piere rode his first winner at Scottsville aboard the Johnny Nicholson-trained Saadabad. It continued through to his milestone of 5000 career wins in the Selangor Cup on Act Of War on 22 November 2014, and has included riding the Pick Six, 6 SA championships and big race trophies, both home and abroad. It is a storied career of which chapters are still being written.
Given his stellar record, one does a double-take at realising Piere has only won the Met once, but he confirms with a laugh that it's true. It was back in 2003 on Angus, trained by Brett Crawford for Plattner Racing. He's also ridden three seconds – including that agonising battle between Imperious Sue and North By Northwest in 1998 – three thirds and three fourth places.
Met history
Piere had his first Met ride on the Stanley Greeff-trained Western Wind in 1988, when he finished second to Mark Anthony. "I was based in PE at the time and rode for Mr Scribante in the orange and white colours. My horse finished second, but Mark Anthony caned them," he acknowledges. "I moved to Joburg in September or October 1988, that's why the following year, I rode a Joburg horse."
It's something of a bittersweet memory for him as he rode Yardmaster to victory in the Queen's Plate on 31 December 1988, and then finished 1.75 lengths 5th behind Fearless Streaker in the Met. "I won the Queen's Plate and after the Met I got fired by Old Man Spies. I'd managed to lead in the Queen's Plate because no-one wanted to go. In the Met, they went a bit harder and it's a bit further. I sat 4th or 5th and a horse ran in behind me," he shrugs.
"I've been a bit stiff on a few. I've often ridden Joburg horses and sometimes I feel they just need that left turn experience. If you go straight to Cape Town, it sort of just costs you that length or two. I've experienced that quite a bit with the Cape Guineas – when they're young 3yo's who are still learning and you suddenly put them around a left hand turn, it can affect them even more. I think if you ride a Cape Town horse, it is an advantage."
One That Got Away
Piere isn't one to harbour regrets for missed opportunities, but he does name London News as one that got away. Having won the July on him in 1996, Piere was in Hong Kong for the 1997 Cape season. "They asked if I wanted to ride him, but the Hong Kong Jockey Club are very strict about allowing you off. And maybe if I rode, he wouldn't have won," he quips. "Douglas Whyte got the ride in the Queen's Plate and from there ended up riding in Hong Kong."
1998 delivered one of the most memorable Met finishes, when Piere fought out the finish on North By Northwest with Anthony Delpech on Imperious Sue. "I think there was a headwind. I had been tracking horses and it looked like I was going to get up. It was heads up, heads down, who'd won it. North By Northwest was Ok, but wasn't the most talented horse. But in those days it was a handicap and the best horse didn't always win. It was disappointing that the result went the other way." But as with all things in racing, one has to take it on the chin.
If North By Northwest was one of the less talented horses to go close, is there a real talent among the ranks that didn't quite make it? "Gimmethegreenlight was a very good horse. The 2000m was probably just a little too much for him at that stage of his life – he was only three at the time, but he was a good one."
Angus Met win
Piere won the Met from the outside draw on Angus back in 2003. Some skilful riding overcame the draw and had them in contention by the time the field turned for home. When Set Afire made a break for it, Angus gave chase, running him down to win by 1.25 lengths. Asked for his recollections of the race, Piere says "In those days it was a handicap and he was nicely handicapped for the race. The race worked out well, he followed the right horse through and managed to get up in the last 100- 150m. I've been very lucky for Brett, we've had a good record together."
Last Winter
It was confirmed on 11 January 2018 that this year Piere will be on board Khaya Stables' Last Winter and speaking on the last minute change, Dean Kannemeyer commented, "Look contracts have to be honoured. Anthony has gotten to know Last Winter and in a race like the Met we need things to go our way. But Piere Strydom is a man who knows his way around Kenilworth and I couldn't have hoped for a better sub at this late stage."
Since his Met debut in 1988, the ensuing 3 decades have seen Piere at Kenilworth faithfully every year with the exception of 1991, 1992 and 1997, so Last Winter is in very safe hands indeed.
"It's quite interesting how it happened," explains Piere. "I flew back to Joburg with Anthony Delpech after Queen's Plate day. At that stage he was obviously going to ride Last Winter in the Met, but he's contracted to ride for Mary Slack and was going to ride Cascapedia in the London News Stakes. I hadn't committed to a ride yet and Anthony said to me 'please hold on,' so when the filly won as well as she did and they decided to run her in the Met, that left Last Winter without a rider and I managed to get on. I did get offers on one or two others, but I thought it could be worth hanging around for this one," he admits.
Planning ahead
Known for his tactical and analytical skills, has he formed any thoughts or opinions on his chances for this year, particularly given the revised conditions? "A lot of people criticised Anthony for his ride in the Premier Trophy, but I can't criticise that ride at all. The pace was on and he was stuck behind me on Black Arthur. Black Arthur was on the wrong leg and wasn't negotiating the turn very well, so we were tiring and Anthony had to go round us. He's been criticised for not moving earlier, but it was out of his hands. In saying that, the horse couldn't get up to beat Milton and one can't compare Milton and Legal Eagle, so he'll have to improve a bit to be competitive in the Met."
"The L'Ormarins Queen's Plate is run at set weights and going on that result, for the Met one's still got to lean towards Legal Eagle, Marinaresco and Captain America. I'm a Merit Rating man and believe you earn your Merit Rating. But obviously a horse that is still improving might also have a chance. It's a tough race at level weights, but I'm hoping as he's lightly raced, that he can make the improvement."
Piere hasn't had a chance to ride the Dean Kannemeyer charge yet, but confirms he's flying to Cape Town this Thursday to gallop him, "So I'll have a little feel."
There is a subtle change in his tone as he says it, hinting that he is looking forward to the outing. If being in the winner's box is his definition of getting the job done, it's clear Piere's mind is already firmly on it.
‹ Previous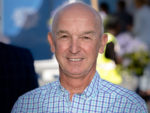 Karl Neisius