A touch over a quarter of a century since he walked through the doors of the SA Jockey Academy at Summerveld on an unlikely career path, Piet Botha quietly exited the jockey ranks for the second time in his life on Saturday.
He starts a new career as a fully fledged trainer in Barn 9 at Milnerton on Wednesday.
The MR 72 Handicap, run in the lengthening shadows of a chilly Kenilworth late on Saturday afternoon, was a mere blip on the national programme radar on a raceday dominated by the feature action of Super Saturday 1700km away at Greyville.
But the modest handicap at the Southern Suburbs track was a milestone for Piet Botha – the end of another chapter and the beginning of a whole new challenge for the unassuming former Kempton Park High School pupil.
But there was typically no fanfare or hype. Piet's not the kind of guy to wax lyrical or get overly excited about boosting his own ego or reputation.
He won his last race as a professional jockey with a beautifully judged ride from near the pace on the courageous gelding, Jay Rock. In a sentimental twist, Jay Rock just also happened to be the very same horse that opened his account in April 2017 when he returned after a five year absence from the game.
"I am really thrilled that it ended on a high. I knew a month in advance that this was going to be my farewell meeting. I always felt Jay Rock would give his all. He is a gutsy big-hearted horse. When we reached the 300m marker I asked him for an effort and he gave me everything. It was a really nice way to close this chapter," said Piet as he wiped the sweat from his brow and greeted friends and colleagues outside of the Kenilworth Weighing Room.
But the plan had almost not come together.
"I was sick all week. On Thursday I thought I'm going to have to find a replacement rider. On Friday, I put it off again. On Saturday I pleaded with my wife Nicole to drive me to Kenilworth. It's amazing what the tonic of the adrenaline high of a win can do for aches and pains," he laughed.
On Sunday Piet and his family were giving the new Dare 2 Dream Racing barn and offices a fresh coat of paint.
He explained why he had decided to change direction and take to training racehorses in what must be the toughest of economic times in living memory.
"I established my coffee business when I needed to build another career after my injury and handed my licence in around 2013. I came back to riding in 2017 with great enthusiasm. While I am hardly a pensioner at 41, I found that the break from the rigours of regular race-riding for those years had actually taken its toll. I am a perfectionist and like doing what I do properly. I can say with honesty that I was not able to be as competitive as I had always been and at the level that I would like to be in the saddle. That, coupled with the fact that the plan was always for me to take over at Glen Puller meant that I am making the move at what I believe is the right time. Glen has opted to continue to train."
Piet has spent the past year managing the Puller yard and learning everything he could about stable management. Even in his apprentice days he took a special interest in the yard.
"Glen (Puller) is one of the finest horseman in the game. I have been fortunate to learn from him and the past 15 months have been invaluable."
Piet is at pains to stress that his starting out afresh this week on his own is with Glen's full support and their 'parting of ways' was not acrimonious at any level – as had been suggested in some quarters.
"We have known each other for many years and are good friends. He has told me I can come and bounce things off him when I need help. I just want to clear that up, if I may."
He has been allocated 33 boxes and starts out with nine unraced 2yo's which he bought himself.
"So you may not see my runners until December. But I intend, and have the time at my disposal, to bring them along with individual care and attention. I believe that a horse's future hinges on the mental and physical platform that is established at a young age. I will be riding my own work and have four top Grooms who I know well, who will be starting out with me,"he says.
Piet is a student of the school of feeding horses less, more often.
"I have been doing a lot of research on feeding and have also been talking to Gordon Hindmarch of Epol. I am going to feed my babies four times a day. I will be here all day – but 14 hour days are the norm in the corporate world – why shouldn't they be in racing?"
Piet's plan is to create a family environment where owners and friends of the yard can come and live the passion and fun that should go with owning and racing horses.
"They are the most beautiful creatures and have such character. They find their way into our hearts. Many owners have never seen their horses. I want my owners to get more than an invoice at month end. I am hoping to have a get-together on a Friday evening and Saturday mornings. I will have fresh steaming hot Illy coffee on tap all day, every day. Win, lose or draw, it always has to be fun,"he suggests.
Married to Nicole and the father of two boys, Petrus Albertus Wilhelmus Botha had aspirations of playing senior level rugby at fly-half or flank as a high school pupil in Kempton Park,  when his father initiated his pursuing a career in the saddle.
He suffered a career ending injury while riding work at Summerveld in 2010. A  broken rib, which was never diagnosed, led to years of agony and pain that culminated in him being medically boarded at the end of 2013. He said that it had taken him some time to get over the depression and anger that followed the end of his riding career
Piet built his own coffee business – Illy Coffee – and still owns shares in the company, which is managed by a third party.

We asked him again whether he actually realised just how tough things are in the game today.
"As a jockey I arrived to ride work – and at races to ride. Then went home and repeated the cycle all over. It was only when I was forced to look at building my own business that I realised just how important the customer and service really is. I am a very positive person and this is my real passion. I believe that the owners are out there. They just need to be communicated to with honesty, given bang for their buck and a good experience. That may sound like oversimplification. But if the basics are in place, I believe the rest will flow."
Piet says he is very fortunate to start out with a band of great owners that includes Barry Nel, Ron Caris, Ian Robinson, Francis Carruthers, Roger Marais, Colin Naidoo, Michael Le Roux and Dane Padayachee.

His wife Nicole will be doing the accounts and the social media aspect to get the Dare 2 Dream news out into the public domain.
"I am look forward to this great opportunity. I am not reinventing the wheel. Just putting the basics in place and basing my operation on family values. Thanks so much for giving me the chance to tell your readers about it."
Share In A Dream!
Piet has shares available in the following 2yo's.
1- Rockachino (filly)
Dam is Mochachino and Sire is Oratorio. She is a beautiful strong filly that is very well bred and although I will be taking my time with her, she could come to hand very quickly if asked to.
2- Unnamed filly
Dam is Sioux She and Sire is Where's That Tiger.This is a smart little filly that will come to hand quickly and I have high hopes for her.
3- Unnamed filly
Dam is Shadow Sport and Sire is Bold Silvano. This is a filly that will take a bit of time before I can race her but in the time that I have had her, she has already grown a lot and is making excellent progress.
4- Unnamed filly
Dam is Malakeh and Sire is Philanthropist. This is the latest filly that we bought. She is a big strong filly and is family of stakes performer Harlem Shake.
5- Unnamed colt
Dam is French Girl and Sire is Gitano Hernando. This is a colt that really could perform.  I like everything about him and I get excited every time I look at him.
6- Warrior Tiger (gelding)
Dam is Eternal Sunshine and Sire is Where's That Tiger. This is a very strong little Gelding and is another that will come to hand very quickly. He is also an eye catching individual and I have no doubt that we shall have lots of fun with him.
Contact him on email [email protected]
‹ Previous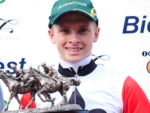 Living Life – Lyle Style