Four decades after riding his first winner at the Vaal, six-times SA Champion, five-times Mauritius Champion and multiple Brisbane and Queensland champion Jeff Lloyd will throw his leg over Lonsdale Stirrup Cup winner Made To Conquer for the first time at the official Vodacom Durban July gallops at Greyville on Thursday morning.
The Guv thus launches what will be his final bid to win a race that has eluded him for close on a lifetime.
Jeff flew into Durban on Tuesday evening accompanied by his wife Nicola, daughter Tayah and son Zac, together with his London-based Mom and Mom-In-Law. The  trip is sponsored by Cape-based Kuda Insurance and the family will be staying in Umhlanga Rocks for the duration of their stay.
The 56 year old legend of the saddle, who has ridden over 5500 winners, told the Sporting Post that besides being an opportunity to visit his eldest son Jaden, who is in his first year at the SA Jockey Academy, and a catch up with many old friends in Durban, this would also be his 26th and absolutely final attempt to win a race that ranks among the world's great turf contests.
"It's certainly not for a lack of trying," he mused as he chatted to us from his home in the beautiful Hope Island on the Queensland Gold Coast shortly before flying out to South Africa.
Starting with his first ride aboard the aptly named So Humble in the 1978 Rothmans July, where he finished 3rd, Jeff has filled that frustrating position on a further ten occasions.
"I have ridden some really smart horses and have had the race within my sights in that home straight a few times. I remember Pedometer ran third to Royal Chalice and Bodrum was just three quarters of a length back in third to Devon Air in 1984. Then in 2012, Mike Bass' Chesalon was going like a winner under me and I thought, oh boy, here we go! But he hung badly and pulled up lame when a game 3rd behind Pomodoro and Smanjemanje in that close finish."
Jeff's incredible journey back to his old adopted home town is reminiscent of another great in Michael Roberts, who, despite being SA champion jockey eleven times and conquering the UK, had never had the honour of standing on the Durban July winner's podium. 'Muis' famously returned in 1997 to score on Super Quality in the twilight of his career.
Can the Guv enjoy a similar fairytale celebration next week?
"Jeff Lloyd's record speaks for itself and nothing would give us greater pleasure than to celebrate the Guv's first ever Durban July win and share in a moment of turf history," said Snaith Racing spokesman Jono Snaith.
In the typical style of the professionalism that has characterised his illustrious career, Jeff confirmed that he had been following the fortunes of his July mount over the past few months and was thrilled to be riding for a top yard. He is leaving the rest of his July day engagements in the hands of Deez Dyanand.
"I will only be riding at the July meeting and am looking forward again to experiencing the heady atmosphere at Greyville. It's a great racecourse and the buzz on the big day is something very special."
He says that the Snaith team are enjoying another great season with their Sun Met success a dazzling highlight.
"Made To Conquer has been brought along slowly and is on the up. He has done nothing wrong in his build-up. We will play the draw as it comes and with a bit of luck in running I am really hoping that this could be the icebreaker!"
The Australian season runs on the same time-frame as ours and Jeff says he could afford to take a few weeks break now as he is 34 winners ahead of his nearest rival.
His intention is to call it a day at the end of the current term, but that decision is not final. He has recovered fully from the stroke he suffered in 2013 – a shock that was expected to put an end to his career.
"I was very fortunate. At the time I accepted I wouldn't ride again. My family and friends were amazing and I never expected myself to be riding in the July five years later! There have been no side effects or impact on my riding," adds the tough as nails horseman.
As regards his decision to possibly hang up his boots, Jeff says he still loves the game and the job that he has done for over forty years.
"But age catches up with all of us – and I want to feel the same passion that I always did. It is a tough call and the inclination is to keep pushing. But history shows that in any sport, it is always better to step down when you are still able to do your best. The Australian programme is a busy one and I'd like to spend more time guiding my sons in their careers. They both want to become jockeys and Nicola and I would never stand in their way".
His 16yo son Jaden is currently in his first year at the SA Jockey Academy and it is Jeff's intention to meet with his riding masters to assess his progress.
"There is the option to let him complete his time under a trainer in Australia at the end of this year. They do have an academy in Melbourne which they need to attend a few times a week. But he can only benefit from the grounding that the Academy at Summerveld gives the youngsters. So we won't rush him and will let him find his feet. Zac is a year younger and he will follow suit."
Jeff was born in the UK on 1 September 1961. His family settled here in 1973 and he joined the SA Jockey Academy in 1975 under the tutelage of Cyril Buckham, David Cave and Vince Curtis. Seniors of the time included the likes of Stephen Jupp, Paul Gadsby and Felix Coetzee – the latter is still a close friend.
Apprenticed to Brian de Villiers, Jeff had his first ride at Greyville and his first win was aboard Panache in a 1200m sprint at the Vaal in January 1978. It was his 38th ride after riding for 7 months!
The Transvaal Champion Apprentice in 1977, 78 and 79, Jeff left Brian de Villiers to join the Ricky Maingard stable in what he has always said was one of the best decisions he ever made.
He was SA Champion jockey 6 times and finished on 313 wins for the 91/92 season to break Muis Roberts' long-standing record. Beyond Ricky Maingard, he regards Mike Bass as one of the best trainers he has ever ridden for and lists David Payne and Philippe Henry in the same top league.
His SA CV includes five Met wins, three Queen's Plates and a Summer Cup.
The Lloyds moved to Australia in 2007 and Jeff won his first Gr1 there aboard Nom Du Jeu in the 2008 AJC Derby for the Murray Baker yard. He is due back in Australia after the July to complete his championship hat-trick.
So will he really finally be calling it a day?
"I want to spend more time with my family. The kids grow up so quickly. And my golf game needs working on too. I'm a really bad golfer. And that doesn't fit well with my competitive nature! But let's focus on enjoying this trip kindly sponsored by Kuda, seeing the old faces and places, and hopefully winning the July!"
‹ Previous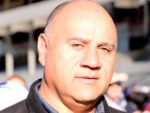 Painter Of Dreams