Michael or Muis as he is affectionately known had a brilliant career as a jockey becoming one of the first foreign jockeys ever to become Britain's champion jockey. Without setting the training world alight Muis has quietly gone about his business getting some good results with nice horses. He has now moved to Summerveld and more may be expected of him as Summerveld has all the facilities needed to get top class results. The stable had a set back with a virus but now all seems ready for Muis to get back into top gear and his results will be watched with keen interest.

What is your name? Michael 'Muis' Roberts.
Where do you live? In the process of moving from Karkloof to Kloof.
Tell us about your family? Wife Verna and two daughters, Melanie and Carolyn.
You started training at Ashburton but have since relocated to your farm in the midlands. Tell us about the move and how your tracks are set up and what are the advantages or disadvantages of your new set up?I have sold and moved to Summerveld.
How many horses do you currently have in your yard? 48.
In recent times you have been rather quiet when it comes to turning out winners. Is this because of the move to your new training establishment? No, had a virus in the yard.
How difficult is it to have regular jockeys to ride work for you? At Summerveld that is no problem at all.
Who does the majority of work riding for you? Jockeys and apprentices.
Tell us about the team who assist you in running your stables? My wife Verna, my P.A. Carolyn, Assistant Nicole, Head-man David and some loyal grooms I've had from day one.
Which do you rate as the best horse in your yard right now? Mike's Choice.
Which of your horses do you think will win their way into the top ranks? I have some lovely 2 year olds still to race.
Training methods appear to have changed quite dramatically in the last couple of years with much more use being made of treadmills etc. Have you gone with the changes in any way or are you sticking to the tried and tested methods you started with? No – I like the proven methods.
Having had time to reflect on your career what would you say was the best horse you were associated with? Mtoto was a really great horse.
With the feeding of the horses vital have you tried different feeds? For instance Mike de Kock's feed, or do you find that your  feeding methods and the feed you have been using does all you need of it? Capstone has been my main feed since I  started. I find it the most consistent of all.
You have bought some well-bred expensive horses in Australia. Will you be continuing to do this or is it, perhaps, too expensive? I have not bought expensive horses in Australia – all were cheap that have done well for me.
Your other great passion in life is farming with cattle. Are you still big into this enterprise? No – I have retired from farming.
You have now been associated with many top class racehorses but is there any one of them which you will remember with particular affection? To me all my horses are special – present and past.
As a person who appears to be very meticulous about planning his way what are your immediate plans for yourself and racing in South Africa? To enjoy my racing and to train decent horses for my clients.
Which horse do you believe is the best racing in SA right now? Dancewiththedevil.
What has been the most exciting moment you have experienced in racing since your return to South Africa? Planning and successfully winning my own race, the Michael Roberts Handicap at Scottsville for two years running – mission accomplished!
How do you like to celebrate a big win? Good night out with my owners.
What is it about racing that makes you passionate about the game? The horse.
If you have to name the most important lesson you have learnt about racing thus far what would you say that is? You never stop learning!
How do you like to spend your free time, if you have any? With my family.
Do you ever have time to spend studying form? No, I am quite good at summarizing a race once I have seen the horses.
The control of racing is now very strict. Is there anything more, in your opinion, that you think the authorities could or should do to make racing even straighter? Yes – be more alert and informative about race riding tactics to the punters on beaten favourites.
What is your philosophy on the racing game? You are only as good as your last winner… it's a long game!
If you had one piece of advice for your fellow associates in the racing world what would it be? Racing is a great sport – let us all work together for the sake of the horse which is all important!
‹ Previous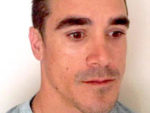 Brandon Morgenrood