Women's month has come and gone, but there is no denying the fairer sex talent in the riding ranks.
While our own Rachel Venniker has made a relatively slow start to the new season, her Irish counterpart Rachael Blackmore admits that 'having a taste' of winning big races like the Boodles Cheltenham Gold Cup and Randox Grand National continue to spur her on, but insists she is still not setting the champion jockey title as a goal.
In 2021, Rachael became the first female jockey to win the Grand National in the 182-year history of the race. She also became the first woman to be leading jockey at the Cheltenham Festival with six victories, including the Champion Hurdle, in 2021. The following year she became the first female jockey to win the Cheltenham Gold Cup.
Blackmore's groundbreaking achievements saw her named the 2021 RTÉ Sports Person of the Year and the BBC World Sport Star of the Year making her one of the most prominent female athletes in the world.
The 33 year old has made a habit of creating history and followed up her historic Aintree success on Minella Times in 2021 by winning the most prestigious race in the jumps calendar at this year's Cheltenham Festival on A Plus Tard.
Blackmore now has a staggering 26 Grade One victories to her name and counting and while there is very little left for her to win, she revealed winning the biggest races help her focus on success.
She told Racing TV: "Last year was incredible and I just feel so lucky to be able to ride the horses that I do. Coming home from Cheltenham with victories in the Gold Cup and the Champion Hurdle was just unbelievable and it was an incredible week.
"As a jockey I've never really set myself big targets, I kind of just try to focus on my next ride. There are so many variables out of your control so I've just tried to deal with things in the short term. I try to ride as many winners on that day and then move on to the day after and do the same again and it seems to work for me.
"You want to ride winners at places like Cheltenham and when you get a taste of doing that or a taste of riding a Grand National winner, it's only natural that you want to do it again. You're always striving to have winners on the big stage and to be in the position to do that."
However, Blackmore admitted that sealing a first champion jockey title is still not something she sets herself as a goal and continued: "I don't really think about things like that and it's not something that I ever thought was achievable really.
"Even the one year where I was close to Paul Townend, I was still extremely far away because he and Willie Mullins are a force to be reckoned with at Punchestown!
"It's not really something that is ever on my mind, I just want to ride winners every day that I go racing. If it's getting to the end of the season and you're close to it you're going to start having a look, but it's definitely not something I'd be aiming for in terms of goals."
Victory on A Plus Tard in the Boodles Cheltenham Gold Cup was certainly a big moment for Blackmore and it offered a moment of redemption for the jockey, who found herself on the wrong mount when stablemate Minella Indo was victorious 12 months earlier.
While it is too early to contemplate the chances of repeating that success next March, Blackmore is looking forward to the new campaign and a potential return to Haydock Park in November for the first Grade One race of the season, the Betfair Chase.
She said: "When I was watching Minella Indo win the Gold Cup in 2021 you honestly don't think you're ever going to be in a position to win it yourself, but luckily that happened this year.
"The way he accelerated after the last was just incredible. He's an extremely special horse and he's just so talented. He's a Grade One winner over two miles and a Gold Cup winner, so he just has so many different attributes. Right now it's August and I just can't even think about that to be honest!
"He's only just back in and is doing slow work at the moment – I know for the people that organise The Festival that it's getting closer, but for me it still feels like a long way away.
"Henry will make his plan and he'll speak with the Cheveley Park team. Going to Haydock Park worked last year, so you'd think it would be a plan this year. He was incredible in the Betfair Chase and he definitely gave a preview of what was ahead for the rest of the season."
Another horse Blackmore is synonymous with is two-time Unibet Champion Hurdle winner Honeysuckle, who heads into her final season with a perfect record of 16 victories from 16 starts under Rules.
Connections had hinted at potentially trying the eight year old over fences but that plan has been shelved and Blackmore is looking forward to getting going once again.
She said: "Honeysuckle is back in now as well and has been for two or three weeks. She's looking really well and I'm really looking forward to her again. It's hard to comprehend what she's already achieved – she's an incredibly special mare and they don't come around very often.
"Her record is incredible and it's also massive testament to how Henry has trained her and how he's produced her every day in the manner that he has. It's no mean feat to have a horse winning on her every start and it's not like she's winning at a low level, she's winning in extremely competitive Grade One races. He has her ready to go every day and she's just an incredible mare to be involved with.
"Going chasing was definitely talked about at one stage but I think that ship has sailed now, she's got one season left and hopefully all goes well."
‹ Previous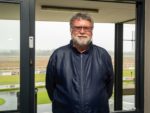 A Return To Kimberley Remains The Dream