Nineteen year old KZN matriculant Rachel Venniker scored the biggest victory to date in her singleminded pursuit of following a career as a professional jockey – and a superbly well-timed one slap bang in the middle of National Women's Month – when she won the Workriders Race at Hollywoodbets Scottsville on Sunday.
The Roseway Waldorf student, who can be seen at Summerveld from 4am most mornings riding work, was thrilled and elated at having registered her first winner at just her sixth ride when she steered Enjoy The View to victory for top owner Nic Jonsson and SA racing legend, Michael Roberts, in the opener on Sunday.
"Wow! There is little to beat that! My thanks to Mr Roberts and his team, to owner Mr Nic Jonsson, as well as Lyle Hewitson who did the final work on Enjoy The View and gave me such great confidence," Rachel told the Sporting Post on Sunday evening, clearly still on cloud nine after her big win on the Capetown Noir gelding.
She spoke enthusiastically of how everything had gone according to plan and how she had mulled over trainer Michael Roberts' extended instructions in her mind on the way to post.
"I was listening intently in the parade ring to Mr Roberts' instructions. I kept running through them in my mind and behind the stalls I thought I hope I haven't muddled anything! In the end, he is such a kind horse and he helped me. When I asked, he delivered," she added.
The 4yo Enjoy The View was hanging late in the race and we asked Rachel if a crop would have made a difference at that point.
Watch the race here
"A crop would doubtless have helped to keep him straight, but the rules don't permit them. And we are all in the same boat, so it was not a big deal in the end," she added maturely.
In the post-race interview, trainer Michael 'Muis' Roberts repeated the British racing maxim that one always aimed 'to keep your horse in the worst company and yourself in the best'.
"As trainers, we are all trying to find the right races for our horses and thanks to Nic Jonsson for allowing us to place Enjoy The View here. A great job done by my whole team and well done to Rachel – she has a nice seat and good hands," said the eleven-time South African champion who became only the sixth non-British jockey in 1992 to win the British Flat Jockey Championship.
Roberts added that there was some irony in the fact that owner Nic Jonsson raced the winner as it was his late Dad Benji Jonsson who initiated the introduction of female riders into the SA Jockey Academy.
That irony won't be lost on winning rider Rachel, however, who has twice been rejected by the SA Jockey Academy on the grounds of weight concerns.
Hailing from a dynasty of showjumping champions headed by her Dad Brett, Rachel has been riding since the age of 4, competing in the show arena, and riding work on racehorses since the age of 14.
Going to scale at around 53kgs, the sports-crazy workrider-cum-matric student enjoys road running, tackles obstacle courses, runs half marathons, and can ride most horses with her hands tied behind her back.
She is surely bred to be a jockey – or certainly warrants being given a chance – yet the internationally respected institution at Summerveld don't see their way clear to giving her a break.
"I have tried twice but they are worried about my size. Both my parents are light-boned. I wish they'd just give me an opportunity!" she says with courteous frustration.
South Africa's loss could be Britain's gain as Rachel hopes to pack her bags once her Matric certificate is in her hand at the end of this year.
"I'm determined to race ride. It's what I really want to do, and I have made inquiries about pursuing my goals in the UK. I love this country but need to go out there and create my own opportunities if I can't create them here."
Resident in Summerveld, Rachel says she wouldn't swap her hectic saddle-and-studies lifestyle for anything.
One of four girls, she takes her studies in her stride, although she concedes that Afrikaans is not exactly her strong point.
She is a stable employee to Wendy Whitehead and starts off riding work at the Mike Miller Stables in the wee hours.
"I then move on to Garth Puller and Michael Roberts, before ending at Wendy Whitehead. It probably sounds hectic on the face of it, but Wednesdays and Sundays are off mornings and the schedule keeps me fit and busy. And there is little time for anything much else – which is maybe not a bad thing!" she laughs.
‹ Previous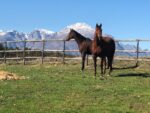 Wow! Welcome To Wind River Farm