Proudly flying the South African flag in Singapore, trainer Ricardo Le Grange saddled a superb hat-trick at Kranji on Saturday and reinforced his position in the toughest year for racing all over the world.
Talking to the Sporting Post earlier this week, Ricardo was still on a high after his treble at Kranji on Saturday.
"I follow the South African racing closely and I note there is plenty of reciprocal interest on that side too. I'm fortunate to enjoy staunch support from the likes of a wide spread of patrons, including familiar names to yourselves like Marsh and Guy Shirtliff, Fred Crabbia and Bernard Kantor," he says with enthusiasm.
Ricardo loves life in Singapore. He has been there close on two decades.
But he admits readily that there is a part of his heart and soul that will always live on in South Africa.
"Singapore is wonderfully run. The government housing schemes; the schooling; the hospitals – they are world class. But there is something special about South Africans. One probably has to live abroad to really appreciate the beauty and unique character of the country and its people. I have friends from Singapore, Australia and other countries. But the South African is different," he says as he moves on to our racing.
"Were it not for the export protocols, we'd probably be there bidding in Joburg this week as the SA-bred has proven that they are genuine value for money and can compete with the best on the world stage. But if I purchase a horse in Australia, he can be in my yard in six weeks. It's sadly a really big ask in terms of time, money and stress to bring a horse across from South Africa."
He explains that the out of kilter SA racing financial dynamic of cost of keep versus stakes, exacerbated through Covid-19, has not been felt as hard in Singapore.
"We didn't escape entirely, but the Singapore Turf Club has focussed on the higher level races. About 80% of our features have been cut 50%. But we also have big feature stakes – like the SG$1 million Gold Cup in two weeks' time, where we hope to have a runner."
He explains that the lower level races, from Class 1 at SG$100 000, through to maidens at SG$75 000, make ownership very viable.
"We go right down to SG$20 000 for a maiden race restricted to 4 and 5yo's. That's not bad for really ordinary horses that are battling!"
Horses also get paid a SG$1350 appearance fee.
"There are conditions, but broadly, depending on the field size, if you don't win or run last, you could enjoy a cheque. It helps a lot and is paid by the club as a credit to the owner's keep account."
When asked about the cost of keep, Ricardo says that the basic is SG$3300 per month, to an all-in of SG$4000.
As South Africans, and with the rand at around R11-40 to their dollar, we naturally tend to convert and might start seeing telephone numbers. But Ricardo suggests that it's important to remember that when paying dollars, the owner is also racing for dollars.
We asked him about Grooms wages and labour issues.
"There are thankfully no labour issues. We have excellent staff. A Groom earns in the region of SG$2200 per month. That is a very liveable wage here. As I mentioned earlier, the government have an excellent subsidised housing scheme. Really top-class and well managed," he adds.
On his prospects for the season, which runs until late December, he tells of his hopes of getting Senor Don, who runs at Kranji this coming Sunday, to qualify for the S$1 million Gr1 Singapore Gold Cup on 21 November.
The 2000m race, a handicap, is the third leg of the Singapore Triple Crown series.
"Senor Don, an Argentinian-bred by Senor Candy, has won three of his twelve career starts. He has his fourth run in Singapore on Sunday, and I'd really like to qualify him for the Gold Cup. But he needs to win on Sunday. He is fit and well so we go in with hope!" he adds as he proudly reflects on his treble on Saturday.
From 65 horses at his peak, the 47 year old has rationalised to a post hard lockdown level of a population of 33 horses, and says he is really not complaining.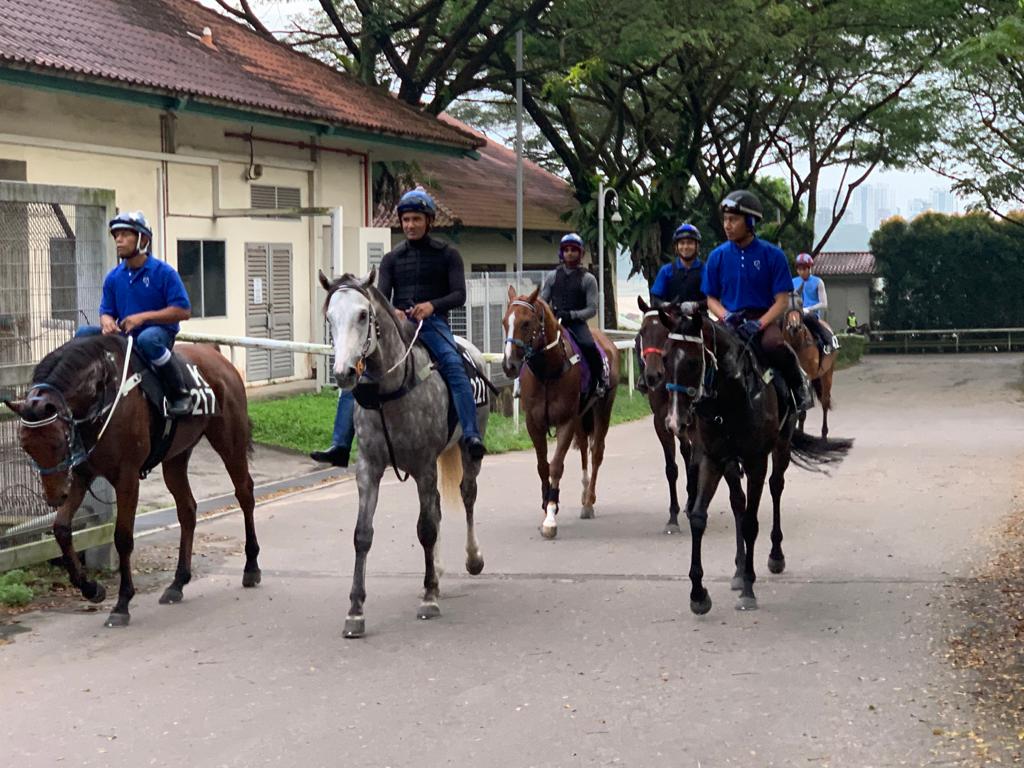 "It's good to have my string hitting form. Saturday's hat-trick was very pleasing for the team and we are proving very competitive – as shown by our position on the trainer's log," says the man who has only ever worked under two top trainers – the still toiling Gr1 legend Joey Soma and the now retired, Patrick Shaw.
Educated at St John Bosco's College at Daleside, Meyerton, Ricardo has been resident in Singapore since 2001 and says that he has learnt to ride the wave of racing's ups and downs.
From humble beginnings as a stud farm assistant, Ricardo was licenced as an assistant trainer in 1993 here in the land of his birth.
He worked for Joey Soma before joining Patrick Shaw in 1998. From their first winner Kiwi Brooke, the pair enjoyed much success here, which continued when the duo made the lifechanging move to Singapore in 2001.
It is well documented that he was an integral part of Shaw's multiple successes at the highest level at Kranji, including a Singapore champion trainer title in 2011 and the rise to prominence of what is Singapore's most famous racehorse of modern times, Rocket Man.
Ricardo went solo in December 2016, and achieved instant success opening his account quickly when winning the Gr3 Fortune Bowl with Big Brother in January 2017.  He also won the Gr1 Queen Elizabeth II Cup and the Gr2 Saas Fee Stakes in the same year.
His 65  winners in his first season was a record, and with 22 winners on the board after an unprecedented disrupted 2020 season, his 12% win strike-rate and 35% place strike-rate keep him positive and always looking to grow his string in one of the world's most desirable racing jurisdictions.
‹ Previous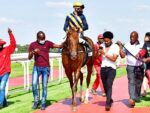 Paul Peter – Power, Pride & Pudding