The recent passing of John Nerud was a stark reminder that the old guard of horsemen are a dying breed. It is a precious group whose grey hair and grizzled faces carry an invaluable repository of knowledge and old wisdom. These are men of few words and many experiences. They know the old stories and carry with them the ghosts of the past that lit up the tracks in racing's glory years. Their knowledge and expertise is hard fought, acquired by necessity from the school of hard knocks and handed down by word of mouth, or passed from one calloused hand to the next. They have seen a lot of things come and go and marvelled at surviving the lot, knowing that a good life is measured by simple things – a good woman, a good friend, a good horse and a good dog.
While other racing jurisdictions revere their past, South Africa seems to have a short memory beyond the handlers of our current super stars. It is a shame, as we still have the likes of Patricia O'Neil, Terrance Millard, Ralph Rixon, Peter Kannemeyer, Colin Palm and Herman Brown snr right on our doorstep, albeit now retired from service. The likes of Ormond Ferraris, Billy Prestage and Ronnie Sheehan are still at the coalface and so it was a particular pleasure to see Ronnie Sheehan's Captain Chaos handed the award for Champion Juvenile Male at the recent Cape Racing and Breeding Awards.
His story
Ronald George Sheehan was born in Gwelo, Southern Rhodesia on 25 September 1936. His father, who hailed from Okiep in Namaqualand, worked for the old Post Office, putting up lines between the major towns. One assignment saw him posted to Oudtshoorn, where he met and married Ronnie's mother and the couple later moved to Gwelo. Ronnie was the fourth of their five children and most of his siblings are still alive. "I've got good genes for this long distance thing!" he jokes.
His dad loved horses all his life and set himself up as a private trainer, with about 6 horses in his string. Ronnie recalls that the horses travelled to races by train. They would leave on a Friday morning and on arrival would be walked across town to the racecourse.
He laughs ruefully that of all his siblings, he's the only one to have inherited the horse bug. "I started riding as a teen. Back then you could start race riding at 13. I started at 14 in 1950. I rode right through to 1961 and then the weight got me." That's no mean feat considering the required weight in those days was 7 stone 6. He counts Ginger Halfpenny, who passed away in England last month aged 79, as one of his contemporaries and still rates him as one of the best riders he's ever seen. "The best horse I ever rode was Guelder Rose – I won 15 races on her. I stopped riding halfway through 1961 and basically the day I stopped riding, my dad stopped training and I took over." He made a good job of it too. "I won a lot of features. I can't remember all of them, but we won the Rhodes Cup and things like that. I won the Matabeleland Championship five years in a row."
Rolling stone
With racing starting up in Zambia in 1962, Ronnie decided to go over for a few meetings. "I ended up staying for seven years." With the copper industry booming, times were good. "There were lots of ex-pats and that's where I met people like Ralph Rixon and Anton Barnard. We had good times and the money was unbelievable. It was a very good experience." One gets the feeling that the brief description covers quite a lot.
Of course, nothing lasts forever and eventually things started to close down. "When I arrived, the exchange rate for Kwacha to the Rand was 10-1. When I left it was 10,000-1. At that stage the Bulawayo track had been closed for 5 years and it was going to reopen in 1976, so I went back to Rhodesia." There he met Jackie, a professional singer from the UK, over on a working contract. "Third time lucky! Jackie's been my sweetheart for 40 years," he beams proudly.
He refuses to be drawn on the first two marriages, saying "I'm not an easy customer," but mischievously admits that he has three children. "I've got a bit of form. I went to stud on three occasions!"
South Africa
With the Rhodesian war on the go, Ronnie and Jackie moved to South Africa and settled in Alberton. Jackie bought her first horse in 1976 and is a lifetime colour holder. They'd been in Johannesburg about six months when Ronnie won the Autumn Handicap with Amazing Man in April 1977. Other horses he did well with included Cornish Gold and a horse called Fleeting Gold, which he rates as the best horse he's trained. "He was a big chestnut horse that I bought from Lionel Witkowski. Dana Siegenberg used to come up and ride for me and he rang up one night. He said 'This horse will do you good, buy him' and so I did. We won lots. He won the UTA Handicap and the Johannesburg Champion Stakes beating horses like Pedlar and My Hyacinth. He went close in the Gold Cup finishing 5th, 3 lengths back. He was injured just before the July and had to have a layoff, so finished midfield."
He didn't enjoy Johannesburg much though. "I'd come from a town with two robots and now I was having to take flyovers. It wasn't for me." Fortunately, PE was for him and Ronnie and Jackie moved south in the early 80's. He has a fun story from his time there. "Glen Hatt rode a horse for me one day and they finished second. Glen said 'bring it to Cape Town, it's good enough and it will win.' I owned the horse, so I brought it here and it ran second. I sent it back to PE and two weeks later it won its maiden. A few weeks later I was told that the horse that beat me in Cape Town had been disqualified, so my horse won two maidens!"
In around 2002 he and Jackie made the move to Cape Town. "Probably the biggest mistake I ever made. In those days a maiden plate in PE was worth R2,000 and a maiden in Cape Town was R9,000. The grass is always greener, you know?" he chuckles ruefully. He started out at Philippi where he met his good friend Alan Higgins. After narrowly avoiding an attack en route to work one day he decided he'd had enough and he and Alan moved to Milnerton. "Alan and I shared the barn, but we never actually trained as Sheehan and Higgins. He's been gone a year on 11 August, can you believe it? I miss him terribly. He was a wonderful man."
About the horse
The office is sparsely furnished, with little wasted in the way of aesthetics, but the yard is about horses, not home comforts. His feedroom is neat and rations are mixed by hand and eye. His medicine shelf contains time and patience and the office key hangs from an old snaffle. He has a small string, many of which are homebreds, or 'cheapies', so the horses are a mix of shapes and sizes. Asked what he likes, he quips "I just prefer winners!" but he chooses well-made individuals and although they seldom hit the headlines, they rarely come home without a cheque either.
There's Do Be Snappy, Galaxy King (who falls asleep on my shoulder as we chat) and Private Doowaley that he's leased and runs in Alan Higgins' silks – "I wanted to keep them going for a bit longer," he says gruffly. There's the wonderful Captain Chaos, an unraced Ashaawes colt, Prince Lateral, an unraced Alado and a Black Minnaloushe. On the fillies' side there's an unraced Dan De Lago, the high quality Like Janis, Miss Priss, Mambo Fever, Elusive Empress, a newly arrived Soar With Eagles, Rush For Roses, Kwando and the exquisite Elusive Stars. All have lovely temperaments and put their heads over the door as we do the rounds – "I don't tolerate any of this biting business," he says firmly. The water buckets are full and the feed is a sweet-smelling mix of cubes, chopped hay and oats which the horses tuck into contentedly.
A good eye
Elusive Stars, the first winner for Elusive Fort, was bought off the Roy Eckstein dispersal sale. "I saw her and immediately thought 'this is for me', but all the others turned up and I figured I had no chance, so I went home. But it kept worrying me, so the next morning I rang Craig (Carey) and he said I could have her for the minimum bid. So I did!" he beams.
He had to work a little harder for his stable star, Captain Chaos though. Ronnie was prepping a Trippi colt called Escape Route for the Ready To Run sale. "He was a nice, big horse and showed me a bit. I talked some people into buying him and they set me a budget of R400k. I bid up to R400, but lost to Sean Tarry. I was left with nothing, so the guys told me to go and have a look around and I found this horse. Oswald Noach rode him in the gallop and said he was a nice horse. I looked at him, I liked him and we got him for R375k. He was a little on the small side, but very well put together. I didn't even look at the pedigree until afterwards, but he's from a nice family. We put him into work and he just took to it. He's a natural athlete and a really easy horse to train. He won on debut over 1100m. His second start was in the Listed Somerset Plate where he finished 3rd and next time out he won the Nursery. To me that run really showed his class – he won comfortably by 3 lengths."
"The handicapper has been very harsh giving a merit rating of 100 to a 2 year old. I mean, that's half his career gone! I'm not a lover of the Merit Rating system, I don't believe it works, but you work with what you've got," he says with a shrug. "I decided to skip the Langerman as he'd have got top weight and I felt he'd done enough for a 2 year old." He certainly has been pretty eye-catching. I ask whether there hadn't been any offers for the horse. "Yes, there have, but the owners are all comfortably well off and just want to enjoy the experience of a good horse, so he's not for sale. It does take a lot of pressure off," he admits frankly. Going forward? "I wanted to run him in the Sophomore which always used to be a September race, but they've moved it to January. I found a 1300m Graduation Plate at Durbanville and if we don't go for that, there's the Matchem in October, although he'd have to take on older horses. So either one of those and then the Cape Classic, but our main target is the CTS Sales Race."
Reflecting
"It's become a numbers game, so it's tough as a small yard, but I've been very blessed with good clients over the years. I'd have to thank Wayne Jackson, Mark Campbell and John Cameron, but there have been plenty of others. Willempie Engelbrecht was with Alan Higgins for 20 years and he's also been very good to me."
"I'm also in the departure lounge now, but there are no pensions in this game. I guess I'll just keep going till it's my turn," he says with a wry grin. I get the feeling he doesn't mind much though. After a lifetime with horses, it would be unthinkable to do anything else.
‹ Previous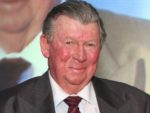 John Kramer