Mission accomplished and after a short family island holiday, Denis Schwarz flew into Johannesburg from Port Louis on Tuesday after a very successful stint with Mauritius trainer, Vincent Allet.
Looking suntanned and refreshed after an experience he described as both rewarding and of great value in terms of his race-riding experience, the Alberton-born 23 year old is looking forward to picking up from where he left off in August.
"I feel I have benefitted tremendously in terms of my skill set as the Champ de Mars track has a unique structure. As you know it's very tight and the margin for recovery is very limited in view of the short home straight. It's a very tactical racetrack and you snooze, you lose. I really enjoyed it!"
The 2019 Gr1 Summer Cup-winning rider told the Sporting Post that the on-course atmosphere and vibe was 'amazing'.
"It lifts any sportsman's game to be playing in front of a crowd. It gives one an energy boost and the roar is amazing from the fans as we hit the home straight. It really is a tonic and the Mauritian people's passion for racing is unparalleled in my experience!" he adds.
Joined by his Mom, Dad, Sister, Granny, and girlfriend Alexis Terry, the family soaked up the Mauritius sun over Christmas and New Year.
In just over three months last year, Denis rode 17 winners from just 60 rides, with a number of places. A pleasing achievement for a young rider in a racing jurisdiction notorious for shattering dreams and bringing South African riders plans down to earth, particularly in recent years. He rode alongside fellow countrymen Bernard Fayd'herbe, Billy Jacobson and Chase Maujean.
Denis was a Northern Cape Champion Apprentice and his only other 'international' experience prior to last year was in Zimbabwe.
"I am looking forward to obtaining my clearances to ride and will start riding work this week. I am at 55kgs in my boots and am feeling relaxed and motivated," he says with enthusiasm.
Denis Willem Schwarz was born on 6 July 1999 and grew up in Alberton in Johannesburg.  He went to Orion Primary and attended Marais Viljoen High, before transferring to the SA Jockey Academy.
The inspiration for applying to the SA Jockey Academy came from his step-father Pieter Brown, who encouraged him to consider it as an option because of his size.
"It was never something I was definitely going to do, he just told me about it and said if I was interested, I should try.  When Grade 9 came, my step-father told me it was time to apply if I still wanted to do it, so I decided to try and see.  Just after my first interview, he took me to Summer Cup day at Turffontein.  When I saw that, I was totally interested and it convinced me that's what I wanted to do," Denis is on record as having told the Sporting Post in an earlier interview.
Denis joined the intake of 2015 alongside the likes of Ashton Arries, Calvin Habib, Louis Burke, Sandile Mbhele, Dylan Lerena, Khanya Sakayi, Liam Tarentaal and Daniel Kotzen.
Denis' first ride under rules came on Sunday, 20 March 2016, when he piloted the Craig Eudey- trained Last Summer and Gavin van Zyl's Ginger Biscuit at Scottsville, grabbing a 5th place cheque with Ginger Biscuit.
His first winner was Chronological for Gareth van Zyl on 11 May 2016.
The former SAJA Head Boy is geared for the next phase. With some international experience to his credit and a Gr1 victory under the belt, the promising 23 year old has the world at his feet.
Have you seen the SPRINT?
‹ Previous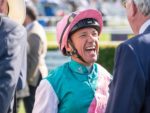 Dettori To Call It Quits In 2023